Admitted Students Day
Connect with us and secure your spot at Point Park!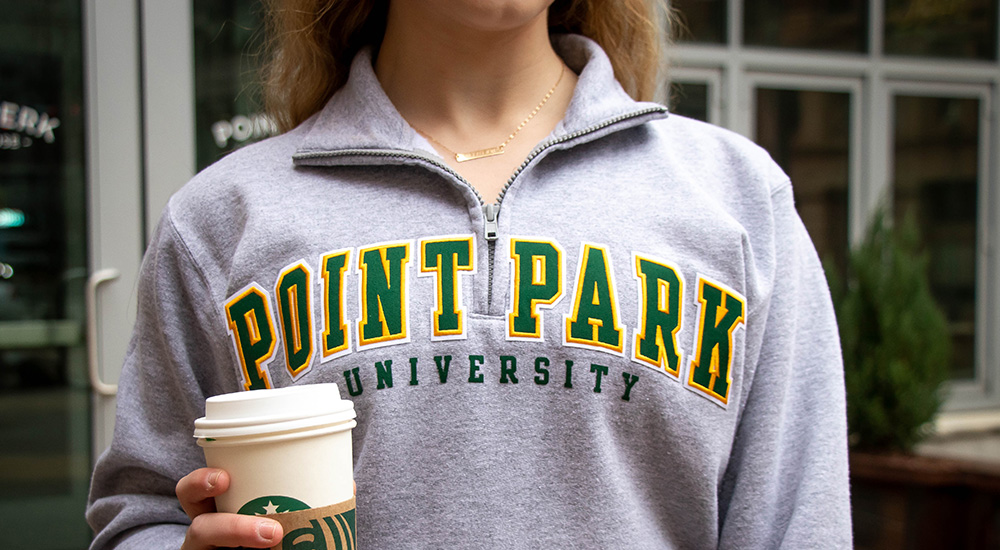 Fun, Food and Safety at Point Park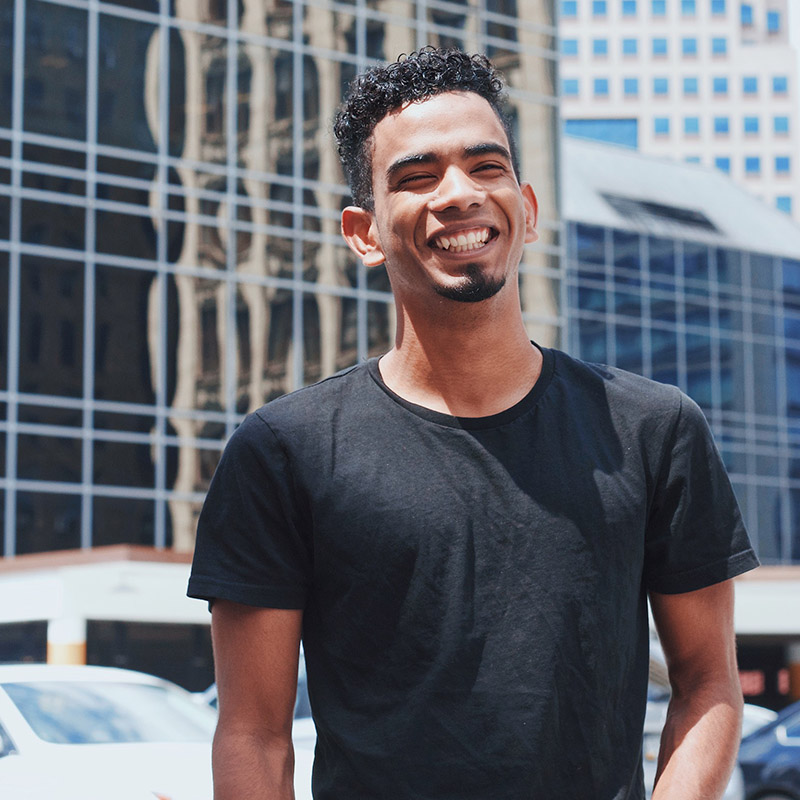 No. You will not be bored at Point Park. You will probably feel sorry for your parents being bored at home while you're having so much fun on campus and in Downtown Pittsburgh.
Pittsburgh is one of America's great cities and our students have it as their campus! You are steps away from the cultural district, concerts, museums, more than 200 restaurants and three professional sports teams. You'll receive free admission to The Andy Warhol Museum, Carnegie Museum of Art, Carnegie Museum of Natural History, The Mattress Factory and the Heinz History Center — and discounted tickets to many plays and performances in the Cultural District.
If you don't feel like exploring Pittsburgh, our Office of Student Activities, Involvement and Leadership (SAIL) will provide you with opportunities to connect to the campus community, develop your leadership abilities and create meaningful college experiences.
Don't take our word for how exciting Pittsburgh is for our students. In #PittsburghMe profiles, students from far away — and not so far away — share how Downtown Pittsburgh and Point Park University have changed them for the better.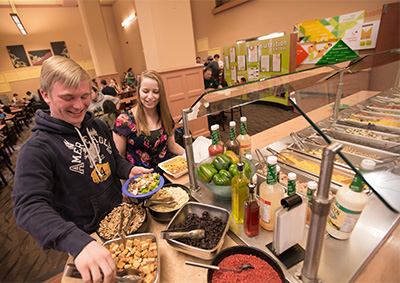 Point Park has four dining halls/restaurants on campus (and there are more than 200 restaurants near campus).
Lawrence Hall Dining Room, on the third floor of Lawrence Hall, is an all-you-care-to-eat facility that features a balance of traditional foods and a variety of upscale, cutting edge American entrees, ethnically-inspired foods, vegan and vegetarian selections and more.
There's something to satisfy even the pickiest eaters — plus there is always cereal, yogurt, fruit and pizza.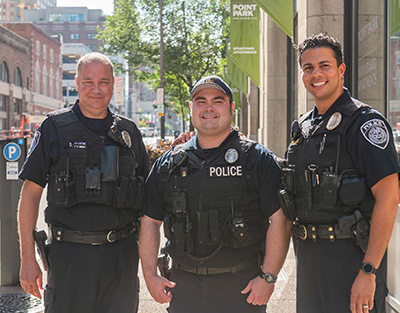 The Point Park University Police Department is responsible for providing all members of the University community with a safe and secure environment in which to work, learn and live. The department has sworn police officers and dispatchers. Police officers respond to criminal, security, fire and medical emergencies, and are on duty 365 days a year.
Police officers patrol University-owned buildings by foot, vehicle and bicycles. When requested, the Police Department provides escorts for anyone on Point Park's campus to parking garages or to any destination on campus, 24 hours a day, seven days a week. 
Point Park University police officers are vested with all the police powers, authority and responsibilities of any police officer of the commonwealth. Point Park police officers have arrest powers and are armed. Our police officers must successfully complete 751 hours of initial training at an approved police academy.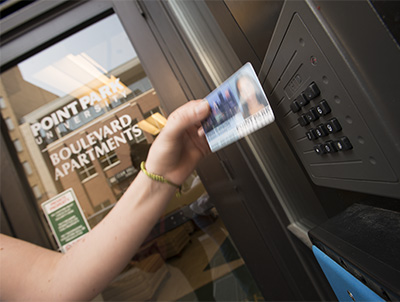 Living on campus is easy, fun and smart:
All residence halls have controlled access.
A security desk is on the first floor of every building and is staffed during evening hours.
Each room has a smoke detector and sprinkler system, and is tied into the building fire alarm. 
All residence halls are equipped with smoke detectors and fire extinguishers.
Residence hall common spaces and entrances are equipped with security cameras that are monitored by Public Safety.
Living on Campus
We provide safe, comfortable, amenity-rich living options on our unique urban campus.
Our residence halls offer students a dynamic living and learning environment with different options — single, double and triple rooms, suites and apartments — as you progress through your years at the University.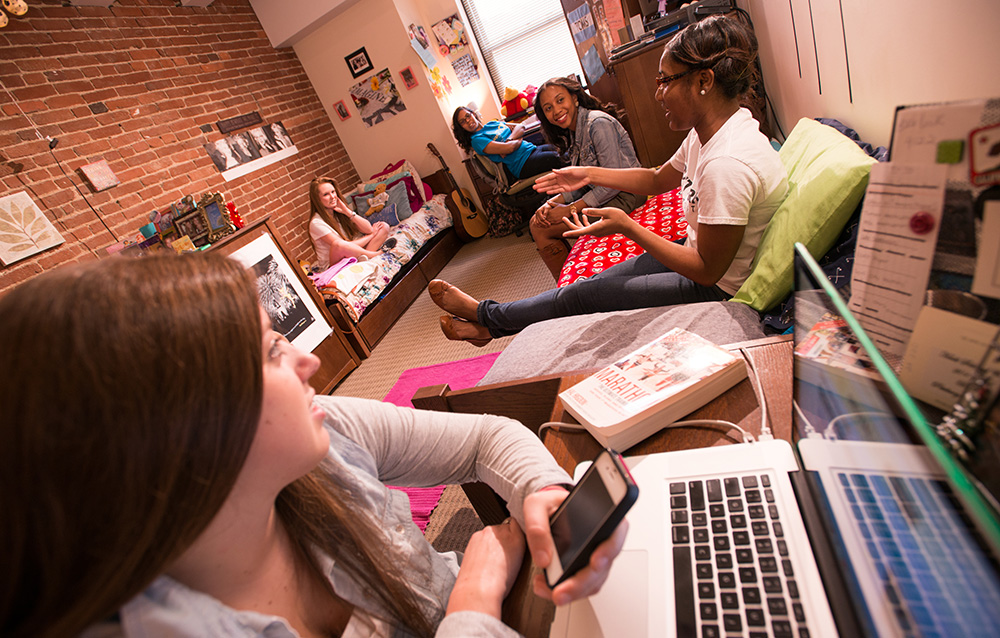 ---
Questions for our Faculty, Students and Alumni?
Our Admission concierge service will find answers from our faculty, students and alumni to your questions. You can contact the Admission Office with general questions at 412-392-3430 (1-800-321-0129 outside Pittsburgh), or via e-mail at enroll@pointpark.edu.
Contact the admission counselor listed below in your major area and you will be connected to a Point Park University faculty member who teaches in that discipline.
Admission Counselor Contact Information

| | | |
| --- | --- | --- |
| Business majors (accounting, applied computer science/IT, bus. mgmt, economics/finance, HR, marketing/sales, organizational leadership, public administration and sports, arts and entertainment management) | Kate Mulvey | |
| CJIS majors (criminal justice, forensic science and intelligence/national security) | Rachel Zdebski | rzdebski@pointpark.edu  |
| Communications majors (journalism, graphic design, media production, multimedia, photography and public relations/advertising) | Devin Ryman | dryman@pointpark.edu |
| COPA majors (cinema, dance and theatre) | Nathan Petrak | npetrak@pointpark.edu  |
| Education majors (early childhood, elementary, instructional studies and secondary education) | Jarrett Bittner | jbittner@pointpark.edu  |
| Honors program and humanities majors (global cultural studies, history, interdisciplinary, legal/liberal studies and political science) | Dave Waugaman | dwaugaman@pointpark.edu  |
| Literary arts majors (creative writing, English and social justice studies) | Dave Waugaman | dwaugaman@pointpark.edu  |
| Natural sciences/engineering majors (biology, civil engineering technology, electrical engineering and mechanical engineering) | Cheryl Ford | cford@pointpark.edu  |
| Psychology majors (behavioral sciences and psychology) | Natalie Batchen | nbatchen@pointpark.edu  |
| Undecided/exploratory majors | Joell Minford | jminford@pointpark.edu |
---
Surprisingly Affordable
Paying for college can be confusing. Let our experts in the Office of Financial Aid help you sift through the confusion.
When considering college costs, many families and students may come across incorrect information about the financial aid application and approval process. Every financial situation is unique, including yours. With some research, you will likely find that financial aid is not only available to you, it's really a good option.
Read the Top 10 Financial Aid Myths and the facts that debunk them.
Get your financial aid questions answered now by contacting 412-392-3930 or financialaid@pointpark.edu.
---
Secure Your Spot at Point Park
We recommend academically admitted students submit their tuition and housing deposits as soon as possible to reserve a space in the incoming #PointPark2027 class. Submitting your $300 tuition deposit means you are able to register for classes and receive housing information as early as possible.
---
Experience Point Park Virtually — the Second Best Thing to Being on Campus!
Take a guided virtual tour to explore all of the opportunities that Point Park University and the world-class city of Pittsburgh have to offer.
Check Us Out
---