more news
New Civil Engineering Technology Grad Lands Position with Consulting Engineering Firm
Tuesday, August 18, 2015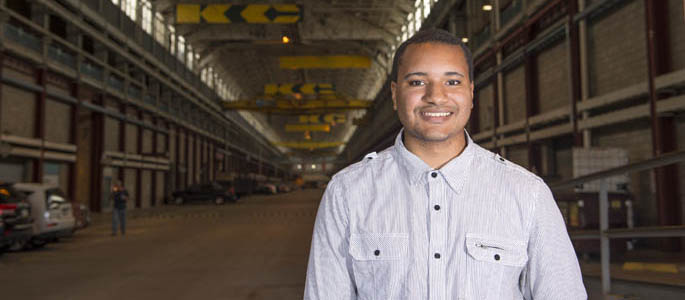 Meet Colston Cooper
Job title: Engineering Technician
Employer: Murray Associates, Inc.
Degree earned: B.S. in Civil Engineering Technology
Graduated: May 2015
College activities: Honors Program and disc jockey for WPPJ Radio
Hometown and current residence: Pittsburgh, Pa.
High school: Pittsburgh Taylor Allderdice High School
Hobbies/interests: Golf, baseball, traveling and ceramics
LinkedIn: Colston Cooper
How did you land your position with Murray Associates just days after graduation?
I first heard about the job from one of my classmates. I then spoke to my academic advisor, Dr. Robert Garson, to hear more about Murray Associates. I learned the company already employed two Point Park alumni, one of which I knew personally from my surveying class. The company was looking to hire another Point Park graduate — which put me at the top of the list of candidates. I felt Murray Associates was the right fit for me because it was a small company and it was highly recommended by my advisor.
How did the Career Development Center help you?
I worked with Santina Frazer in the Career Development Center during my last two years of school. She helped me to fine tune my resume and my LinkedIn page. She also gave me good advice about networking and how to have a successful job interview.
What factors made you select Point Park?
I selected Point Park first and foremost because it had the major I wanted, which was civil engineering technology. I also liked Point Park because it was a small school where I could receive individual attention from all of my professors if necessary. It was also close enough to my home that I could live off campus and easily commute to all of my classes. Lastly, I was very impressed by Point Park's high rate of job placement after graduation, for which I am very thankful for now.
Why did you decide to major in civil engineering technology?
As a child, I was fascinated by construction sites. Whenever I walked by one, I loved seeing the heavy machinery and I enjoyed watching structures being assembled piece by piece. I was formally introduced to civil engineering through a middle school science project which involved testing the effects of vibration on model bridges. I then decided to further pursue engineering in high school, where I was part of the pre-engineering magnet program at Allderdice. That program introduced me to several different types of engineering, but I learned that the one I liked the most was civil. That is when I decided that I wanted to make my passion into a career.
What are your favorite memories from Point Park?
Some of my favorite memories from Point Park involved spending time with my friends outside of class. For the first three years of college, I co-hosted a radio show called A to Z Sports with two of my friends on WPPJ. Every show was entertaining since my friends would always find a way to make me laugh, sometimes unintentionally. I posted videos of some of the best moments on YouTube, so we can relive them as much as we want.
Some of my other favorite memories are from volunteering with the Honors Program. I especially enjoyed the alternative spring break trip we took to New York this past March. I was able to see more of New York during that trip than any other time I have been there. It was also one of the few times I had an extended stay away from home. By the end of the trip, I felt as though I lived there, and I didn't want to go home.
What are your career goals?
My career goal is to one day have a job that allows me travel all over the country or even the world. I would like to live and work in another city or country and be able to use my engineering skills to help improve the infrastructure of developing countries.
Final thoughts?
I just want to add that networking is really the best way to land a job. I might not be in my current position if I had not made strong connections with my classmates and my advisor. They knew that I was a hard worker and a determined person so they were ready to recommend me when employers came looking for job candidates.
More About: Pittsburgh Taylor Allderdice High School, Pittsburgh Promise, civil engineering technology, WPPJ, engineering technology, success story, Honors Program, alumni