more news
Accounting Students Finish First Place Again at Auditing Case Study Competition
Friday, April 1, 2016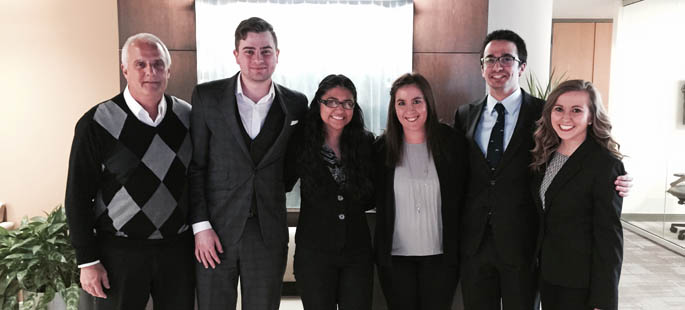 L to R: Accounting Instructor Richard Neish with Perry Ninness, Destiny Medina, Abby Wohlfarth, Gabe Dubin and Julia Grubbs

One of Point Park University's student accounting teams captured first place again at the Institute of Internal Auditors Pittsburgh Chapter Case Study Competition March 21 at Schneider Downs.
This is the third time in four years that a Point Park student accounting team has won the competition against teams from Carlow University, Duquesne University, Robert Morris University and the University of Pittsburgh.
The winning team - named The Dollar Draft Knights - was made up of Julia Grubbs, Gabe Dubin, Destiny Medina, Perry Ninness and Abby Wohlfarth.
"The Drafts' presentation provided a very unique perspective into the world of internal auditors through the various interviews they conducted making them a clear first place choice among the judges," remarked Richard Neish, who teaches auditing and forensic accounting courses at Point Park and is vice president of independent risk management for PNC Financial Services Group.
Neish added: "However, the extent to which all three teams absorbed constructive advice from their classmates, and then incorporated that into their final presentations, was nothing short of awesome."
Grubbs, a senior accounting and dance double major, attributed Neish's forensic accounting class with helping her team capture the win.
"Our forensic accounting class really helped us look at the control environment of organizations so that we can be aware of any gaps in controls. Also, the auditing class prepared us to understand the processes of internal audit so that we could knowledgeably speak about these concepts with the people we interviewed," explained Grubbs.
"As a team, we were able to use the knowledge we gained from class to connect with the professionals we interviewed. Our case was a learning experience in which we compared book knowledge with the real world," said Medina, a junior accounting and business management double major.
Both Grubbs and Medina plan to pursue their certified public accounting license after they graduate.
"Having my CPA will allow me to move up in a public accounting firm and reach my ultimate goal of one day becoming a partner or CFO," explained Medina.
Grubbs added: "Point Park helped me find my niche and pursue two of my passions. I plan on moving to New York to pursue a career in dance while also working as an accountant. Point Park has given me the confidence and tools to pursue and succeed in both areas."
More About: business management, Rowland School of Business, student competition, dance, accounting, Schneider Downs, PNC, student presentations