more news
Campus Event Focuses on Reintegrating Veterans into the Workforce
Wednesday, April 13, 2016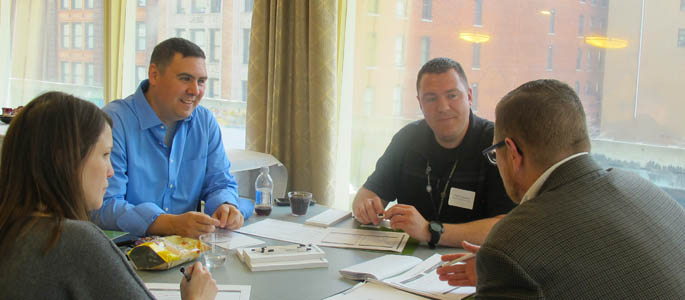 In support of effectively reintegrating veterans into the workforce, Point Park University's organizational leadership program in the School of Business hosted a Joint Leadership Initiative event on campus April 8.
"This initiative is designed to bring together both veterans and business leaders to gain a better understanding of each other's organizational cultures. A more systemic understanding will likely result in a smoother transition and greater retention of veterans in the workforce," explained Patrick Mulvihill, D.Ed., assistant professor of management.
In addition to Mulvihill, Point Park faculty and staff Helena Knorr, Ph.D., Sean Elliot Martin, Ph.D., Jennifer Fedele, M.A. and Daniell Matthews, M.A., along with leaders from regional organizations, engaged in veteran-focused roundtable discussions on reintegration challenges and opportunities, leadership and followership, organizational culture, communication and ethics.
"My table discussed the need to offer holistic services to veterans that would help their bodies, minds and spirits. We talked about what some of those services might look like from a therapist, educator and registrar's office perspective," said Knorr, an associate professor of organizational leadership.
Martin's table focused on operations and the applications of intelligence and psy op analysis to private businesses.
"The primary theme we kept coming back to was translation and how to help veterans communicate their experiences and value in a way business owners can understand and appreciate," said Martin, instructor in the Department of Criminal Justice and Intelligence Studies.
Jason Brown, manager of the Pennsylvania State Civil Service Commission and a Point Park 2006 M.S. in criminal justice administration alumnus, said: "I greatly enjoyed the event because it allowed me to hear different perspectives and provided issues to think about."
Brown's table discussed the differences between military culture versus civilian/corporate culture and what could be done to facilitate military members' integration into corporate workplaces.
"Overall, this event really demonstrated a need within the region to connect all of the incredible efforts and resources of the many organizations working on behalf of our veterans," remarked Mulvihill.
According to Mulvihill, a second Joint Leadership Initiative event, continuing to bring together veterans and organization leaders, will be held at Point Park in the fall.
Learn More
Learn more veterans benefits and the variety of undergraduate and graduate programs offered at Point Park.
More About: veterans, organizational leadership, M.S. in criminal justice administration, Rowland School of Business, faculty