more news
Career Connections Continue with HR Management Student and Employer Partner Program
Friday, November 2, 2018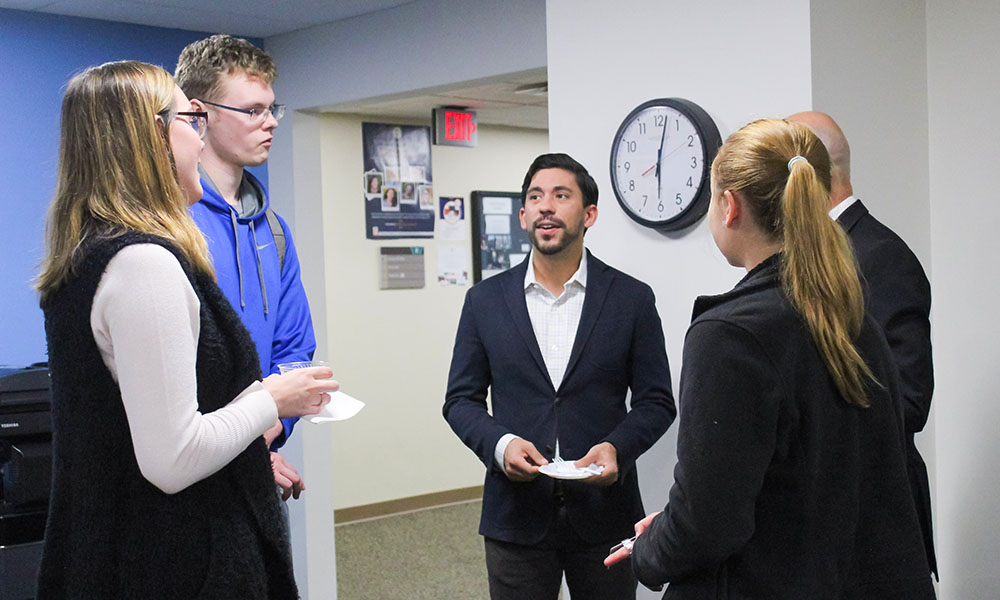 "Through this program, we are gaining insight and information that you just cannot get from a textbook. Point Park University has found a way to go out and get that information and bring it back to its students."
Karen Drew, a sophomore fully online HR management major
Now in its second year, the HR Student and Employer Partner Program at Point Park University is thriving. Recently, a networking event was held on campus where several HR management students met their employer partners.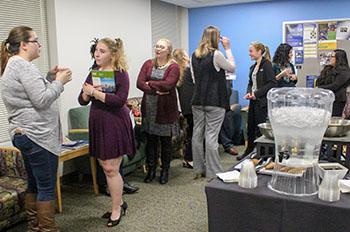 According to Karen Drew, a sophomore fully online HR management major from Woodland Hills High School in Turtle Creek, Pa., the partner program has been a valuable opportunity to learn from HR professionals in the field as well as network with Point Park students and faculty.
"Being an online HR management student and working full time, it was great to interact in real time with my professors and peers," Drew said.
Developed by Sandra Mervosh, M.S., SHRM-SCP, SPHR, assistant professor and coordinator of Point Park's human resource management major, the partner program matches HR students with employers throughout the Pittsburgh region.
This year's employer partners include PNC Financial Services, Vincentian, Pitt Ohio, Omni William Penn Hotel, Ferra Search, TE Connectivity and First National Bank.
"I believe in sharing the knowledge you've learned to help others achieve their goals. Being a mentor is important to me personally and professionally. It's a great way to teach and learn as well," said Erin Long, HR manager/recruiter for the Omni William Penn Hotel.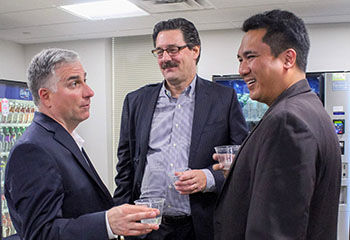 Long's shadowing student is Marian Brucker, a sophomore HR management from Woodland Hills High School.
"Marian will shadow me in my office and see firsthand what HR is all about in a hospitality environment," Long explained.
Rick List, vice president of HR for First National Bank, has sophomore HR management major Ryan Peat, a graduate of Norwin High School in Irwin, Pa., as his partner student.
"I hope to discuss with Ryan the many opportunities and challenges we face in HR since we play a dual role — advocating for the business with our HR peers and vice versa. Our goal is to help business leaders maximize their performance while getting the most from their team's talent. I'm looking forward to this HR partner role at Point Park University again this year!" List said.
Drew's favorite part of the HR partner experience has been expanding her knowledge of the industry beyond the classroom.
"From this partner program, I have learned that there is so much more to HR than I had ever imagined. I have worked in the staffing sector for 11 years and thought I knew a lot about the industry. Then I was expertly matched with Josh Stewart, a vice president at PNC, who currently works in an HR department with approximately 1,000 employees," she explained.
Drew added: "Through this program, we are gaining insight and information that you just cannot get from a textbook. Point Park University has found a way to go out and get that information and bring it back to its students."
More About: Rowland School of Business, human resource management, student workshop, Downtown Pittsburgh, Norwin High School, PNC, Woodland Hills High School