more news
Chase and the Barons Win Face the Music Battle of the Bands Contest
Tuesday, November 7, 2017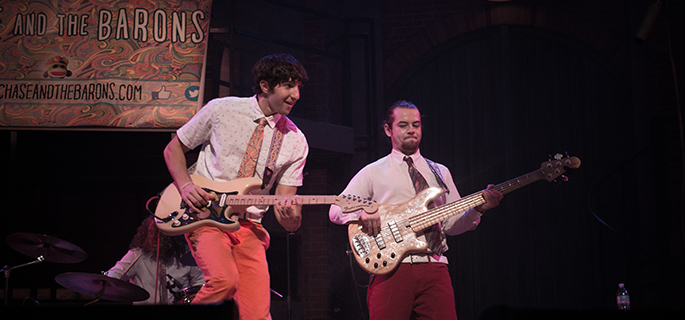 Chase and the Barons — the third band/artist signed by Point Park University's Pioneer Records label — won the Face the Music Battle of the Bands contest sponsored by Pittsburgh City Paper Nov. 2 at Jergel's Rhythm Grille in Warrendale, Pa.
As the Critics' Choice award winner, Chase and the Barons won $2,000, a City Paper cover story, an opening set for a Drusky Entertainment show, 75 shirts with their band's logo, a Pittsburgh City Paper advertising package valued at $1,500 and 24 hours of recording time at Tonic Recording Studios.
Pittsburgh City Paper received more than 80 music submissions from artists throughout the Pittsburgh area. The top six bands were chosen to perform based on an online voting campaign.
"We were up against the best of the best. It just so happens that we played our cards right that night and won over the judges," said Chase Barron, a senior multimedia major from DuBois, Pa.

"During our set, I knew we had a shot to take home the prize when I looked out into the audience and saw the local legend Donnie Iris serving as judge and head banging along to our original music!" he added.
Since signing with Pioneer Records in the fall of 2016, Chase and the Barons has achieved many milestones including:
Interviewed and performed on KDKA's Pittsburgh Today Live, Spring 2017
Released first EP of music onto worldwide online sales and local physical sales, Spring 2017
Performed more than 80 shows across Pennsylvania for various causes including hurricane relief efforts, animal rights organizations, LGBT equality, cystic fibrosis awareness and more, 2017
First place, Duquesne University Battle of the Bands contest, Fall 2016
Barron added: "We've been working relentlessly for the past two years as a band and 2017 has been fantastic for us. Our hard work is paying off. Our mission to grow as a band and to create a movement for positivity in the worldwide music scene is unfolding fast."

Photo by Brandy Richey, junior multimedia major
More About: multimedia, sports, arts and entertainment management, Rowland School of Business, Pioneer Records