more news
Corporate Sales/Marketing Manager Talks to Students About Selling the Steelers
Friday, October 28, 2016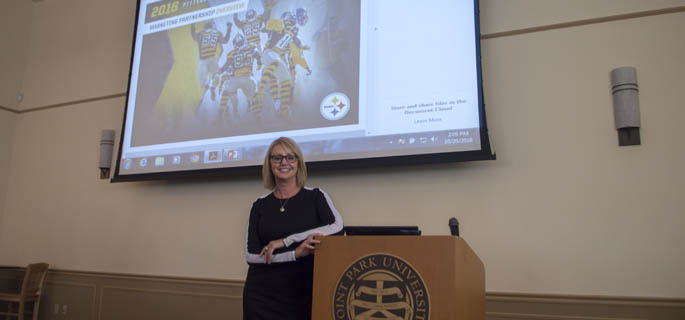 Kathy Wallace sells the Pittsburgh Steelers for a living.
As a corporate sales/marketing manager for the legendary six-time NFL Super Bowl champions, Wallace came to Point Park University Oct. 20 to share with students her experiences working in this unique role.
"I find events like this beneficial because they expand my overall knowledge of the business world," remarked Mitchum Donatelli, a freshman SAEM major from Gateway High School in Monroeville, Pa.
Hosted by the SAEM program, Wallace spoke with students and alumni at an interactive lunch session and a lecture workshop about a variety of topics - from selling corporate sponsorships and advertising to serving as both the promoter and protector of the Steelers' logos, licensing and trademarks.
"I found it interesting how the different sponsors are promoted in field signage, giveaways and community programs," said BreeOnna Springer, a sophomore SAEM and dance double major from Interlochen Arts Academy in Interlochen, Mich.
In addition to students from Paige Beal and Teresa Gregory's Personal Branding and Development and Event Management SAEM classes, high school students from Carrick, Montour and Westinghouse Academy also attended.
"What really stood out to my students were the variety of ideas that Kathy comes up with and how she invites marketing professionals from other franchises to collaborate with her," explained Melissa Selko, a business education teacher at Westinghouse Academy High School.
Shirley Hill, a business teacher at Carrick High School added: "My students were intrigued with Kathy's duties working for the Steelers and what it takes to run a sports team. Also, it was good for my female students to see a woman in this position."
Wallace also talked about the career path that led her to where she is today and encouraged students to consider positions in sales.
"People who move up the ranks often begin their careers in sales and operations," Wallace said. "In one way or another, everyone does selling in their jobs. Some just have it in their title."
"Kathy offered students a great example of someone who persevered to get her dream job. She said it took her 30 years, but it was worth it!" Beal remarked.
Springer said she took away an important life lesson from the workshop: With hard work, you'll end up in the profession in which you're meant to be.
"Ms. Wallace gained knowledge and experience working in radio, TV and sports and she constantly worked toward her ultimate goal, which was to work for the Steelers in marketing," Springer said.
"She accomplished her ultimate goal and this for me was inspiring and very encouraging as a student."




Photos by Shayna Mendez, a senior photojournalism major
More About: Rowland School of Business, student workshop, sports, arts and entertainment management, Gateway High School, Pittsburgh Public Schools, Westinghouse Academy High School, Pittsburgh Steelers, Carrick High School