more news
Get Career-Ready with: David Keyser, Accounting Major and Co-Op Intern at SMS Group
Student Profile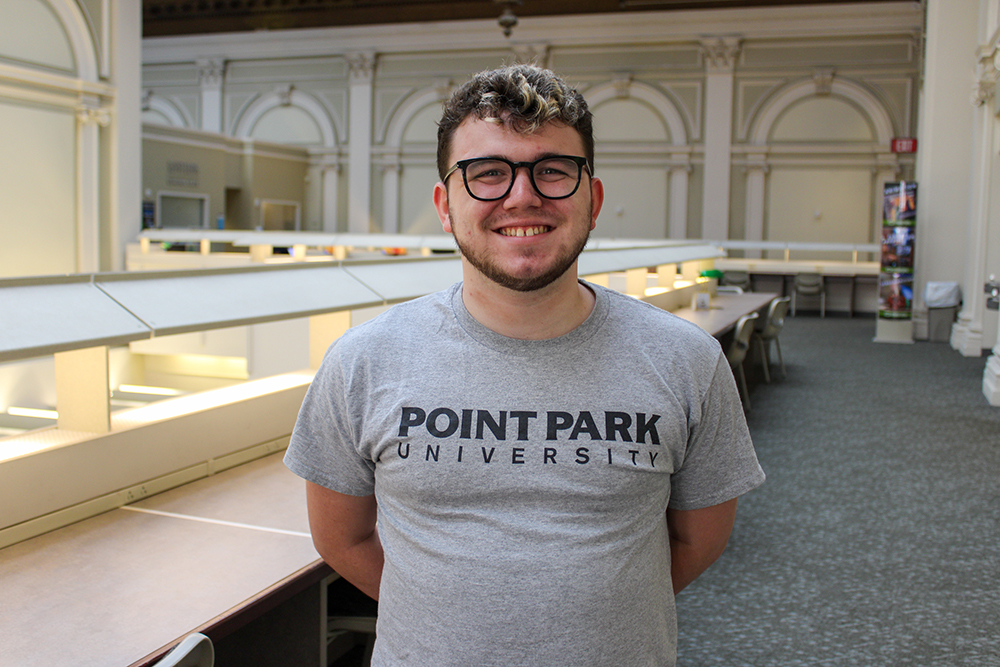 Photo by Nadia Jones '25
Meet David Keyser '23
Job Title & Employer

Accounts Payable/Accounts Receivable Co-Op Intern, SMS Group

Major

Accounting

College Activities

Student Accounting Association, Accounting Career Awareness Program (ACAP), Student Government Association

Hometown

Penn Hills, Pa.

High School

Penn Hills High School

Dream Job

Working in international accounting somewhere in London or Italy

Hobbies & Interests

Reading, writing, playing piano, knitting and crocheting; Anything and everything Taylor Swift, Harry Potter and "Sex and the City"
"Point Park is an overall amazing school, from the classes and faculty to the beautiful city campus. It feels like a family here, and I couldn't imagine my life anywhere else."
David Keyser '23
How did you land your co-op with SMS Group?
My summer started as a never-ending search for internships. It's a very competitive market in Pittsburgh, especially since we have so many top-tier accounting firms and business students throughout the city. I was getting rejection after rejection until my advisor, Professor Amy Cesario, MBA, CPA, introduced me to her contact at SMS. After learning about the company and the work environment, I couldn't pass up the opportunity, and I am so thankful I landed the position. I really applied myself, and I saw the results. I love staying busy and feeling like what I do matters. I started out working on processing invoices and then later I worked through the payment process for them. The hard work paid off, and it was truly a full circle moment of, "Wow, I did this."
Toward the end of my internship, I felt sad about eventually having to leave the company because I really connected with my coworkers, built friendships and I loved everything I was working on. I approached my manager about my future with the company, and from there, it was a whirlwind of planning and discussions. I received the offer to stay on indefinitely as a co-op intern. Now, on the days I'm not in class, I'm in a cubicle with my teammates working as hard as I can every day. I'm very thankful for each moment I get to walk into the office and just get to work. Point Park couldn't have prepared me more for this role. Every day I utilize the poise, work ethic and fundamental accounting knowledge my professors instilled in me.
Describe your favorite professors and courses. 
I love, love, love any class taught by Professor Cesario or Jayne Olshanski, MBA, CPA. I really feel challenged to put in the work for them, which is probably why I honorize so many of their classes through the Honors Program. They are seasoned professionals, and our coursework and lessons are not just from a book. They help us make real-world connections and provide a valuable perspective of the accounting profession.
I also really loved my Intro to Creative Writing class with Jennifer Schaupp. I love writing, and she really opened my horizons to so many cool opportunities. Because of her, I was able to share an autobiographical piece at Point Park's Department of Literature, Culture and Society and Honors Program Symposium last spring. I'm really proud of the work I contributed to that class.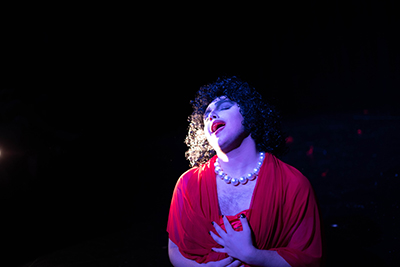 David Keyser as Dr. Frank N. Furter
What are some of the activities you have been involved in on campus?
I'm the acting Parliamentarian of Point Park's Student Government Association (SGA). I maintain SGA's constitution and by-laws. Being the Parliamentarian also puts me in charge of the committee that works with student-run clubs and organizations that utilize student activity fees. I was motivated to get involved in the organization because I am passionate about LGBTQ+ representation. I want to be a voice for every single student who falls under the LGBTQ+ umbrella.
Last year, I was extremely thankful to be a part of Ghostlight Theatre Company's production of "The Rocky Horror Picture Show" as Dr. Frank N. Furter. Through this student-led theatre group, I was able to pursue my passion for acting even though I'm not a Conservatory student. It was an amazing experience! I love to perform, and Frank N. Furter is a character that has always been near and dear to my heart as a gay individual. It was literally a dream role come true.
What do you like about living and learning in Downtown Pittsburgh?
I love the hustle and bustle of a city! I grew up watching censored episodes of "Sex and The City" on E! and "Will & Grace" with my mom, and the city aspect always spoke to me through these shows. I've always said Pittsburgh is a mini–New York, so I get to be close to home and still have my Carrie Bradshaw and Karen Walker moments strolling through the streets of Pittsburgh.
How would you describe Point Park's campus feel?
Being a private school smack dab in the middle of a city, Point Park has a greater sense of interconnectivity than other schools. Instead of sprawling acres, we have a cluster of buildings all within three blocks, right in the heart of Downtown Pittsburgh. You see the same faces everywhere, and everyone knows each other. It's much more of a tight-knit community compared to the bigger schools in the area.
Why would you recommend Point Park to a prospective student?
Point Park is an overall amazing school, from the classes and faculty to the beautiful city campus. It feels like a family here, and I couldn't imagine my life anywhere else.
Connect with David Keyser '23
More About: Pittsburgh, internships, accounting, co-op program, Get Career-Ready, success story, Downtown Pittsburgh, Student Accounting Association, Rowland School of Business, ACAP, faculty, Student Government Association