more news
Student Q&A: Four Things to Know About Point Park University's Human Resources Management Program
Tuesday, September 20, 2022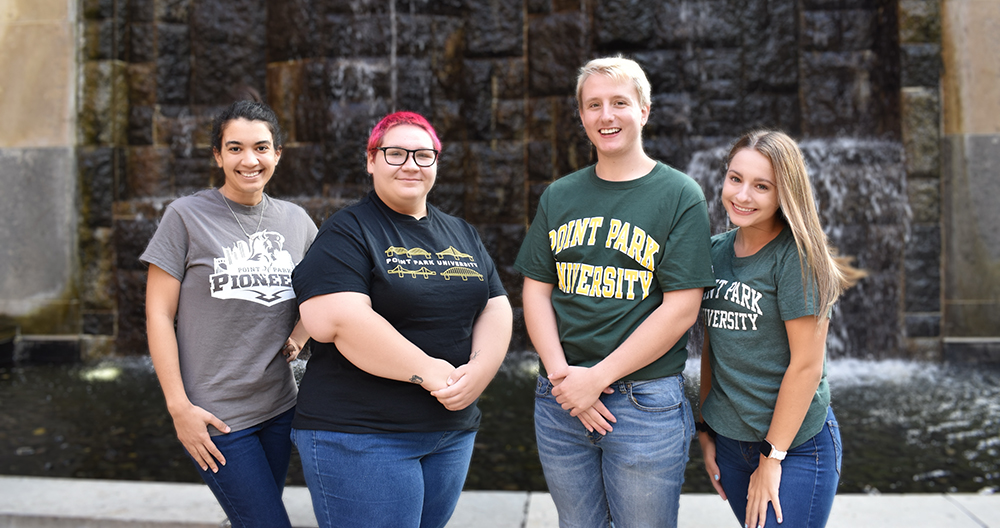 Pictured from left to right are human resources management students Keyara Sowell, Mara Van Thiel, Kyle Arnold and Danielle Eggert.
"Point Park University's human resources management degree program has empowered me to make many network connections, and I've gained applicable, real-world experience. I will leave after my senior year career-ready."
Mara Van Thiel '23, human resources management major
In and out of the classroom, Point Park University's human resources management degree program prepares students for fulfilling careers as strategic business leaders, making them qualified for a variety of HR-related roles. Coursework is relevant and hands-on, but the program also offers networking and teamwork opportunities essential to building a well-rounded skill set.
Point Park's Student Human Resources Association received the 2022 Superior Merit Award from the Society for Human Resources Management for providing superior growth and development opportunities to its members. The Point Park chapter's notable achievements included: 
Attending the Pittsburgh Human Resources Association's "Your Job Search in a Virtual World," during which prominent HR leaders in the field shared tips on how to adapt job search skills in the changing business environment.
Attending the Pittsburgh Human Resources Association's "Understanding Behavior Change to Promote Positive Mental Health" event, where they learned steps to help employees adopt healthy behaviors in and out of the workplace.
Hosting a charitable event for Alina's Light, a nonprofit that raises awareness about domestic violence issues. 
Producing an HR marketing video with the Pittsburgh Human Resources Association.
In the Q&A below, hear from human resources management majors and Point Park SHRA executive board members Mara Van Thiel, Kyle Arnold, Danielle Eggert and Keyara Sowell about the top four benefits of the University's human resources management program. 
1. You will graduate with a solid HR skill set.
Senior Mara Van Thiel said she owes a lot to the University's HR program because she has learned many key concepts that she applies every day at her internship with Cook MyoSite, a Pittsburgh-based life sciences company.
"Point Park University's human resources management degree program has empowered me to make many network connections, and I've gained applicable, real-world experience. I will leave after my senior year career-ready. The program touches on many aspects of a career in business, including accounting, marketing and leadership, but it also offers a deep focus on fundamental HR competencies.
During my internship experience, it became clear how much my degree program prepared me for the workplace. I was able to come into an organization, analyze their structure, culture and strategy and quickly begin adding to discussions and offering solutions. I self-managed several projects during my internship and received great reviews from my superiors. Through different classes across the program, I have amassed an array of resources such as readings, videos and assessments that I use to answer questions and guide research during my internship. Proving the impact of Point Park's program, several other HR students and I were asked to continue our summer internships into the fall semester. We will be able to use these experiences to transition into a lasting sustainable career in HR."
2. You will make valuable network connections.
In addition to building a diverse skill set, Van Thiel has grown her professional network through the HR program, as well as SHRA. 
"My involvement in SHRA has made me more assertive in my knowledge and abilities. Since my sophomore year, I've had opportunities to network with HR professionals, including representatives from the Pittsburgh Human Resources Association and the Society of Human Resources Management. My experiences with SHRA and the people I've met through it have helped contextualize and solidify the concepts I was learning in class and gave me the ability to transition smoothly into the workplace."
3. Your professors will guide and support you while using their real-world experiences to educate you. 
Senior Kyle Arnold switched majors last year, unsure of where he wanted to go with his life and career.
"I knew that I wanted to go into business but still deal with human interactions. I met with Professor Patrick Mulvihill, D.Ed., and he recommended I consider the HR program and connected me with Professor Sandra Mervosh, M.S., SHRM-SCP, SPHR. After my meeting with her, I knew that human resources management was the major for me. I've enjoyed taking a variety of courses that all touch on current issues and topics in the field, including Regulations in the Workplace and Ethical Leadership. My coursework and professors have helped me prepare for my future. Professor Mervosh and Professor Wayne Grim have been amazing educators, using their own professional experiences in HR to enrich the content of our courses."
4. Involvement with the SHRA will enhance your HR education and boost your confidence as you prepare to enter the field. 
Both Danielle Eggert and Keyara Sowell have benefited from SHRA in terms in a variety of ways. The club builds upon what they learn in the classroom.
"Being a member of SHRA, I have felt so much support in pursuing my career in HR," Eggert said. "The club offers many resources for students to utilize, my favorite being access to SHRM, which allows members to build such a strong foundation of knowledge involving all things HR. SHRA participates in all kinds of networking events, especially with professionals throughout Pittsburgh. If it weren't for SHRA, I wouldn't have landed my summer internship, successfully composed my resume or learned how to effectively network. I love collaborating with the other members of SHRA and learning from their experiences and perspectives on human resource management topics. It is SHRA that allows me to feel both more knowledgeable and confident in my ability to pursue my future career."
"I joined SHRA in Spring 2022 in hopes of joining a student organization that would help me work toward my academic and professional career goals," Sowell said. "I am so happy that I joined! Professor Mervosh, along with the members of the association, made me feel welcomed on day one. This organization is a huge benefit to any student looking to enter the world of HR, as it provides many skill-building and networking opportunities, both on campus and in the surrounding Pittsburgh region."
More About: success story, Rowland School of Business, human resource management