more news
High School Students Taking SAEM 101 Class Raise Over $43k for Pediatric Cancer Research
Friday, April 24, 2015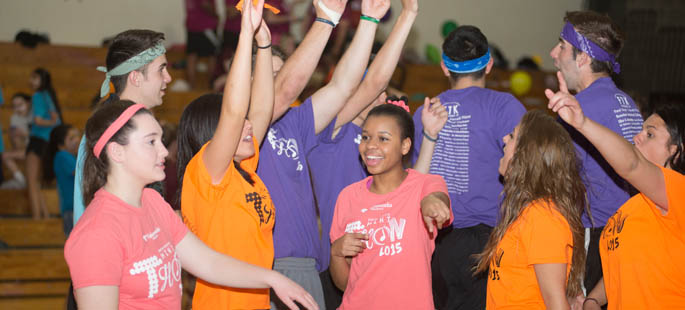 Seniors at South Fayette High School who are taking Point Park's sports, arts and entertainment management introductory course used their new skills in event management to help host a Mini-THON April 17, raising $43,201.75 for pediatric cancer research.
"While my students learned about event management in theory, this was the first time they truly applied these concepts in a real-world context," explained Brandon Flannery, a business teacher at South Fayette who teaches the SAEM 101 course. "They helped our student government with almost every aspect of the THON from selling sponsorship packages to executing the 12-hour event."


According to South Fayette senior Natalie Hilton, the SAEM class helped with the Mini-THON event "immensely."
"We worked every day in that class getting sponsorships from local businesses and creating signage and using social media to publicize our event," said Hilton.
The SAEM program offers high school seniors with the opportunity to take "Introduction to the Sports, Arts and Entertainment Management Business" at their high schools and earn three college credits toward an undergraduate degree at Point Park.
Taught in collaboration with Point Park's SAEM faculty, the course provides students with a broad overview of the structure of the sports, arts and entertainment management industry as a business.

"I decided to enroll in the SAEM class because I was interested in the marketing and execution side of events and businesses," remarked Tommy Iagnemmea, a senior at South Fayette.

"The South Fayette students were a hard-working, terrific group. The money they raised will certainly make a difference," said Steve Tanzilli, J.D., SAEM associate professor and chair of the Department of Management. "This experience will provide positive results for the students and give them an advantage entering college in the fall."
"I really enjoyed all of the planning and preparation for the Mini-THON. It's fulfilling to know that all of the hard work our class put into this event went to a great cause," said South Fayette senior George Slater.
Senior Gabi Guadagnino's favorite part of the event was when it was revealed that over $40,000 had been raised.

"It was pretty cool to see and I am so glad I was a part of it," she said.
"The support and expertise we received from Point Park's SAEM faculty has been an invaluable factor in this class reaching such a high level of success," remarked Flannery. "We are extremely proud of the relationship we have built with Point Park University and look forward to continuing to build upon it."
More About: South Fayette High School, high school programs, sports, arts and entertainment management