more news
Internationally Acclaimed Summer Dance Festival Selects SAEM Major for Internship
Wednesday, June 19, 2013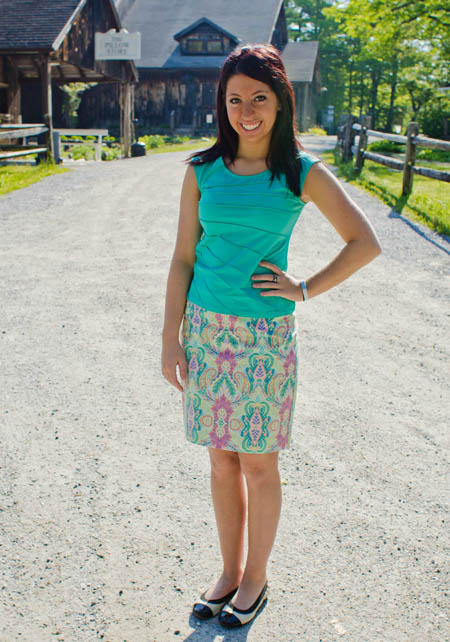 Photo by Em Watson, courtesy of Jacob's Pillow Dance

Meet Rachel Winkler
Internship: Ticket Services and Marketing Intern for Jacob's Pillow Dance Festival
Major: Sports, Arts, and Entertainment Management
Expected Graduation: May 2015
Hometown: Cranston, R.I.
High School: Cranston High School West
College Activities: SAEM Club and Brackets 101
Hobbies/Interests: Shopping, dancing, sleeping, networking and watching sports
LinkedIn: Rachel Winkler

Update
Rachel is now the development operations assistant for the Lincoln Center for the Performing Arts in New York City. Read Rachel's alumni web profile.

How did you hear about your internship?
It's actually a funny story - I had no idea what Jacob's Pillow was until my roommate mentioned they were offering a marketing internship there. When I told my mom that I was applying, she got so excited and began telling me stories of how my grandparents used to take her to see dance performances there when she was growing up. After I was offered the internship position, I went to the SAEM faculty for their opinions. Professors David Rowell and Teresa Gregory praised this opportunity and I am pleased to have listened.
What's it like living and working in Massachusetts for the summer?
I grew up in New England about two hours from Becket, Mass. in an urban community where there is a Dunkin Donuts on every corner and every one does his or her own thing. Currently, I am residing in a log cabin in the middle of the woods where my neighbors are wildlife (literally, I have seen bears) and it's a 15-minute drive into town. The food is produced locally and is usually "healthy" which is a challenge for a picky eater. Living where I work has its ups and downs but it is convenient for those early morning meetings.
Why did you choose Point Park's SAEM program?
When I began my college search I wanted to convince my parents that arts management was a solid career field. During my tour at Point Park, Professor Steve Tanzilli, director of the SAEM program, spoke about his background, the program and what's unique about this industry. My dad was sold. Unfortunately, I did not choose Point Park initially because of distance and personal reasons. Two months into my first year of college, I received a letter from Point Park's admissions department. The letter stated that many students make the wrong college decision and invited me to reapply if I was one of those students. I reconnected with Steve and joined Professor Ed Traversari on the Stage AE high school tour in March. I am a hands-on learner and I connected so well with the SAEM professors. They convinced me to take the leap, so I transferred 11 hours away from Rhode Island to better my education.
What's been your favorite SAEM class so far and why?
My favorite class so far was Professor David Rowell's Marketing and Promotions class. The class was 100 percent hands-on, which is how I learn best. We received real-life assignments and got to present actual marketing proposals to Stage AE's marketing director. The skills I learned in that class have helped me be successful here at my internship.
What are your career goals?
I want to work in and/or establish my own nonprofit organization providing arts education for children, specifically those in lower-income communities.
Is there anything else you'd like to add?
Never give up - the sky's the limit. You can follow my journey at www.rachelwinkler.weebly.com.
June 2014: Rachel was part of a leadership team who raised more than $20,000 for the CCChampions' March to Friendship fundraiser, an NCAA bracket competition benefiting children who have cancer.
More About: transfer, sports, arts and entertainment management, Stage AE, internships, Rowland School of Business