more news
Interning at CONAN: SAEM Student Discusses Her Experience as a Talent Intern in Los Angeles
Thursday, September 7, 2017


Meet Cassandra Crisp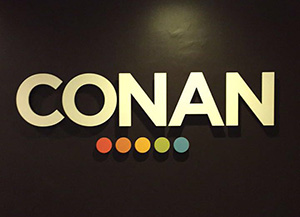 Internship: Talent Intern at CONAN
Major: Sports, Arts, and Entertainment Management
Expected graduation: Spring 2019
College activities: Pay it Forward, SAEM Club and Music Association
Scholarships from Point Park: Founders and Point Park University Grant
Hometown: Newark, Ohio
High school: Newark Catholic High School
Hobbies/interests: Going to concerts, traveling, petting any and all dogs and spending time with friends and family
Twitter: @cassiecrisp123
LinkedIn: Cassandra Crisp
How did you land a talent internship with Conan?
I originally applied and was interviewed to be the music intern at CONAN, but they decided to go with an intern from the previous semester for that position since this person was already trained in that area. The internship coordinator then emailed me and offered me the talent intern spot and I gladly accepted. I worked at as many events as I could before applying for this internship because I know how important experience is in this industry.
Tell us about the work you did.
As a talent intern, my main responsibilities included setting up the dressing rooms, putting out catering and making sure the green room was clean and looked nice. During the show, I would either be in the office covering phones, in the green room making sure everything was running smoothly or at the talent entrance checking in the make-up artists and managers and escorting them to where they needed to go.

I also helped the music interns when things got busy. It was an amazing internship for an amazing show and I am very lucky to have gotten this opportunity.
Why did you choose Point Park University?
I chose Point Park University because of the sports, arts and entertainment management program. When I went to an open house and met the professors, I was sold. I knew that this was the place I wanted to spend my college career.

The professors are truly my biggest role models and the most supportive and encouraging group of professionals one could hope for as a college student. I knew that I could learn a lot from this program and I was right.
How did your SAEM classes help you with the work you did in this internship?
The Intro to SAEM class I took that was taught by Professor Paige Beal helped me so much in the work setting. It taught me how to write a professional email, how to dress for different work settings and how to be an overall strong professional.

The Career Prep class I took with Professor David Rowell helped me a lot with how to do well in an interview and how to create an impressive resume.
What plans do you have for your upcoming junior year at Point Park?
For my upcoming junior year, I plan on working as many concerts as I can. I am also planning on getting more involved with the SAEM Club. I work for PromoWest Productions in Columbus and plan on working there during school breaks and some weekends. I am also on the Grey Area Productions street team so I will be doing things with them as well.
What are your career goals?
My main career goal is to work for the Warped Tour. After graduation, I would like to move to Los Angeles and be a concert promoter or have some kind of touring job. I would also like to work in the music or talent department for a talk show. I think working for The Recording Academy would be an amazing job as well. There are just so many areas in the entertainment industry that I am interested in pursuing.
More About: sports, arts and entertainment management, Rowland School of Business, scholarships, internships