more news
Junior Mikyla Slater Finds Success Balancing Studies and Accounting Administrator Role at Gunning Mechanical
Student Profile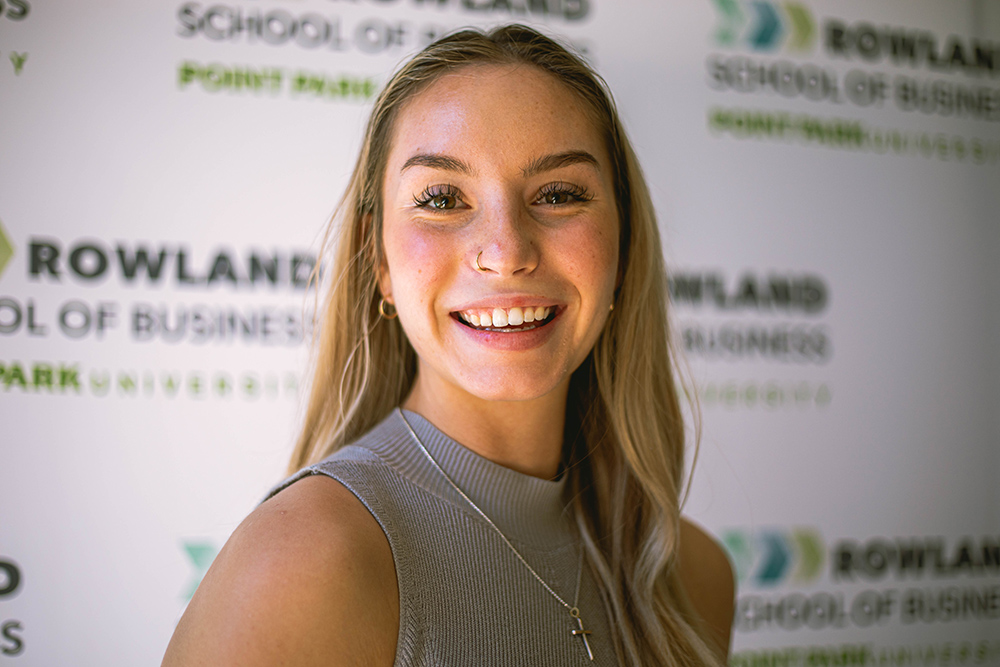 Photo by Madi Fisher '23
Meet Mikyla Slater '24
Job Title & Employer

Accounting Administrator, Gunning Mechanical

Major

Accounting

College Activities

Student Accounting Association, tutor

Hometown

New Castle, Pa.

High School

Laurel Junior/Senior High School

Now Living In

Pittsburgh, Pa.

Dream Job

I'd like to be a travel accountant, and, in the future, land a higher management position with a flexible schedule and ability to work from home.

Hobbies & Interests

Reading, going to the gym, walking, yoga, Pilates, cooking and spending time with my younger siblings (I'm the oldest of six).
"An accounting degree opens the door to so many career opportunities, and Point Park's program has taught me that my potential is honestly limitless."
Mikyla Slater '24
How did you land your role with Gunning Mechanical, and what are your duties and responsibilities?
I applied over Indeed and landed an interview. I met with President Dawn Gunning over Zoom, and we really clicked. She is such an inspiration and definitely the type of woman I aspire to be. After the first interview, she asked me to come to the office for a second meeting with their controller a week later. I tried to stress that, even though I did not have the experience they were originally looking for, I am quick with learning new things and overall very dedicated when it comes to any position I am in. My responsibilities include handling payroll, drafting subcontracts and purchase orders, journal entries and invoice entries, cash receipts, filing, managing receipts of lien waivers and certificates of insurance, payment to vendors, bank reconciliations and more. 
How has Point Park's accounting program helped you excel in this role?
Everything is linked in some way. What I do at work is connected to things I am learning in school, which helps me understand the class material more and vice versa. Point Park's accounting program has helped me more than I could have ever imagined. It's not just what I have learned in the actual accounting courses that have helped me – and believe me, they really have helped me – but the advice I've received from professors, upperclassmen and alumni has taught me a lot, too. An accounting degree opens the door to so many career opportunities, and Point Park's program has taught me that my potential is honestly limitless. 
What are three things you love most about Point Park's accounting program?
The faculty – Any experience I have had, whether it was scheduling my courses, getting set up as a tutor, asking about scholarships, asking for help on homework or any other accounting-related questions, the faculty have always been incredibly kind and informative. All of my questions and concerns are answered in a timely manner with no problem. They really do care about your education.
Opportunities – There are so many career and networking opportunities offered through the accounting program and the Student Accounting Association. I have learned so much about the future of accounting and learned from others in my field and those who have been in my shoes. It has helped me shape the future I envision for myself career-wise. The Student Accounting Association regularly invites alumni to our meetings so they can share what it's like to work in real-world accounting positions at large companies. You're able to connect with these people, which usually results in opportunities opening up for you. This is actually how I got a summer 2024 internship opportunity with PwC, one of the Big Four accounting firms.
My peers – The students in the accounting program are serious about their education and reaching their goals. At Point Park, you get to meet like-minded individuals and build friendships. This is especially important when you need help on difficult assignments! 
I was on the fence for a long time about whether I wanted to get my MBA and sit for the CPA exam or go to law school. At the beginning of this year, I finally decided to continue on an accounting career path, earn my MBA and sit for the exam. The choice to continue at Point Park was an easy one because of how positive my undergraduate experience has been. After talking to friends from other nearby schools, I 100% feel like there is no better place to learn than Point Park.
Describe some of your favorite faculty and courses you've taken.
I absolutely adore my accounting professors. Amy Cesario, Jayne Olshanski and Elaine Luther are all great professors. I'm taking Intermediate Accounting II right now, which is really challenging. I definitely appreciate how it has pushed me and tested my understanding. Another course I loved was Ethical Leadership with Michele Langbein, which I took online. It was educational, challenging and so much fun. I still find myself using the lessons I learned from the projects we did and applying them to daily life. That class is a must-take in my opinion!
Why would you recommend Point Park to a prospective student?
Everyone here is working for you, not against you. You have people surrounding you with support and help as you navigate school. The professors are literal rock stars who genuinely care about your education. They make themselves accessible, so if you don't understand a concept, you can easily get extra instruction from them, which you might not get at other schools. Being in Downtown Pittsburgh is amazing, too, and the campus has been very safe for me. I love learning and being a student here. It's truly an amazing school and I am very grateful for the opportunity to attend.
Learn more about Point Park's accounting program:
Connect with Mikyla Slater '24
More About: Student Accounting Association, M.B.A., accounting, faculty, Rowland School of Business, success story