more news
Pioneer Records EP Release Party Features Artists ALLISSA and SouthWest DFRNT, Premieres Behind-the-Scenes Footage of Music Video
Tuesday, March 26, 2019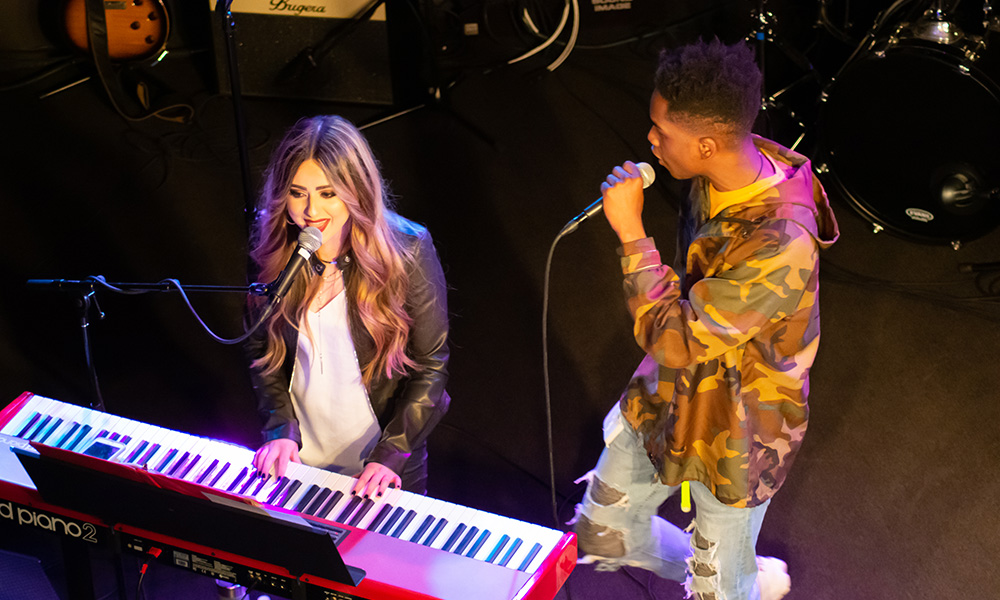 ALLISSA and SouthWest DFRNT perform their song, Here, from their new EP.
Photos by Brandy Richey, senior multimedia major, and Tyler Richey, senior SAEM major
Text contributed by Lauryn Nania, sophomore journalism major
"Being part of the Pioneer Records team that created such a professional looking concert with two college students who have a talent for music was amazing. I'm really lucky to go to a school that provides its students these opportunities."
Dana DeSantis, sophomore SAEM major and marketing intern for Pioneer Records
Pioneer Records 2018-19 winners Allissa Logsdon, stage name ALLISSA, and Victor Gariseb, stage name SouthWest DFRNT, performed March 19 at The Club at Stage AE to celebrate the three-track EP, ALLISSA.
As Point Park University's student-managed record label, Pioneer Records holds a contest annually to sign an artist as its Pioneer Star, with the opportunity to record a short EP at Red Caiman Studios with owner Jesse Naus, who is also part of the SAEM part-time faculty.
New this year, Pioneer Records also signed a collaboration artist (Gariseb) for the first time in the label's five-year history.
"It was really fun working with Victor. He is such an easygoing guy. He is really talented, and has a lot of natural, raw talent. I was excited to see him bloom into what he is now," said Logsdon, who is a senior sports, arts and entertainment management major and native of Pittsburgh's Munhall Borough.
"I was excited to be accepted. The thought of sharing it with someone else meant way more to me because I'm new to everything," Gariseb said when he found out he was sharing a spot with Logsdon.
Derek Makin, director of multimedia for Pioneer Records and SAEM junior from Forest Hills High School in Sidman, Pa., describes the duo as something different he hasn't heard before.
"When their sounds are combined, it's incredible," Makin said.
The concert kicked off with a five song, ukulele performance by Pittsburgh artist Meg Wills, lead singer of the indie pop band, Young Lungs.
Gariseb and Logsdon then performed on their own and together for their collaboration song, Here.
"It's really satisfying to see a project like this finally come together on the night of their release party. It takes months of hard work not only from the artists, but also from the Pioneer Records staff to make something like this happen. It's amazing how far this label has come in five years," said SAEM Associate Professor Ed Traversari, MBA.
Megan Clista, director of operations, and Dana DeSantis, marketing intern, are among the Pioneer Records staff who helped run the release party.
"From establishing photography and videography to ensuring that all performers and announcers were ready on time, my role was essentially to ensure that the event ran smoothly, that everyone had a great time and that Allissa and Victor's vision of their performance at Stage AE came to life," explained Clista, a sophomore public relations and advertising major from Cumberland Valley High School in Mechanicsburg, Pa.
"The most beneficial thing I learned during this process was how to run an event. The environment was quickly changing and fast paced. Learning how to manage the unexpected like time changes or nervous artists was really unique and extremely rewarding," Clista said.
"I focused on social media for the concert. All posts, stories and snippets that day and days later were most likely from me," said DeSantis, a sophomore SAEM major from Thomas Jefferson High School in Pleasant Hills, Pa.
DeSantis added: "I've realized that I really enjoy doing social media and I love the atmosphere of working on a team to create something for others. Being part of the Pioneer Records team that created such a professional looking concert with two college students who have a talent for music was amazing. I'm really lucky to go to a school that provides its students these opportunities."
Clista also added: "Getting hands-on experience is so helpful. It really is the best way to determine what brings you joy and what does not. This experience taught me that I love managing events under high pressure and that a career in event planning is a route for me to consider."
---
Behind the Scenes of Here
In addition to the artist performances, the behind-the-scenes footage of the music video for Here, was shown at the release party.
With being a Pioneer Star comes the opportunity to shoot a music video with Point Park's cinema arts and SAEM course: Music Video Workshop, co-taught by Cinema Arts Associate Professor Andrew Halasz, M.F.A., and SAEM Part-Time Instructor Greg Joseph. 
The director of the music video, Kelly Tran, a junior cinema production major from Norwin High School in North Huntingdon, Pa., described the process of working with Logsdon and Gariseb as creative and upbeat.
The music video for Here will premiere April 3 at 8 p.m. in the Lawrence Hall Ballroom during the SAEM Club's End of Year Bash.
More About: cinema arts, public relations and advertising, cinema production, Rowland School of Business, Forest Hills High School, Stage AE, Pioneer Records, sports, arts and entertainment management, Norwin High School