more news
Student Q&A: Inaugural SAEM Pittsburgh Penguins Events Team Reflects on Semester of Hands-On Experience
Friday, May 12, 2023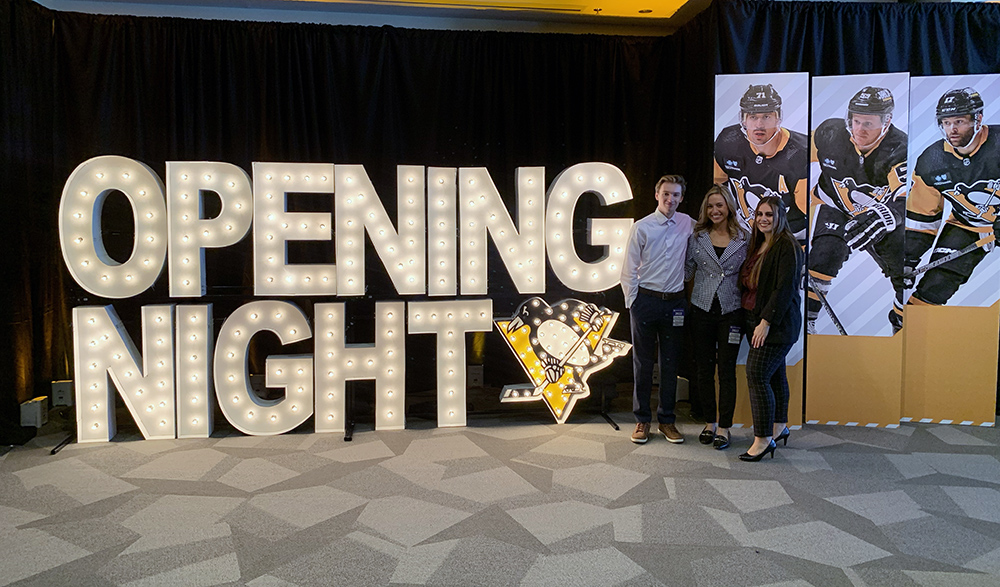 Austin Alkire, Olivia Stawovy and Delaney Metikosh are among the students who participated in the pilot of the SAEM Pens Events Team, which allows students to gain hands-on experience working a variety of events and game days with the Pittsburgh Penguins.
Point Park University's Sports, Arts & Entertainment Management program prepares students for careers in live entertainment by leveraging its distinctive location in Downtown Pittsburgh and faculty's industry relationships to connect students with experiential learning opportunities. 
For years, students have assisted with all kinds of events at venues all over the city, including high-profile concerts and sporting events. This year, Robert Derda, assistant professor and chair of the SAEM program, formalized that practice by launching the SAEM Pens Events Team. Similar to the SAEM program's sports sales teams, the events team paired students with Pittsburgh Penguins staff to give them experience working real-world events, such as special game nights and corporate events. Some of their events included:
The season's opening night reception
CGI Tech Academy
Hispanic Heritage Night 
Rethink the Rink
84 Lumber L.I.F.T. Panel 
"At Point Park, students learn by doing, and partnering with the Pens has opened doors for our students to apply their skills and network with others in the field, laying the groundwork for their future careers," Derda said. "Given the positive feedback we've received from students on the Pens Events Team, we're excited to take this approach to Acrisure Stadium this summer, with students slated to work at Taylor Swift's Pittsburgh stop on The Eras Tour." 
In the Q&A below, hear from students on the SAEM Events Team about this exciting crash course in event planning and execution. 
Laken Alexander '23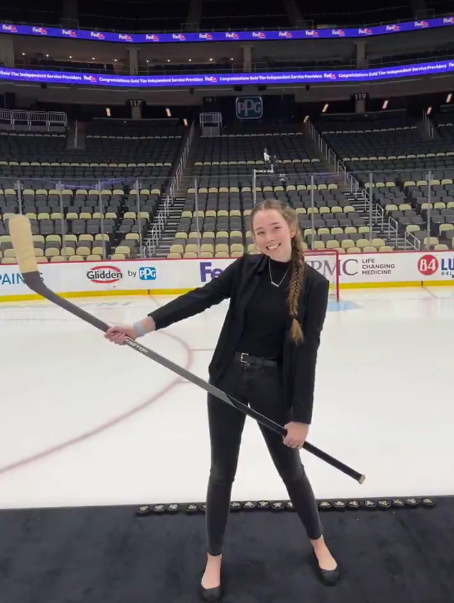 Major: SAEM
Hometown: Delmar, Md.
High school: Delmar Senior High School
Dream job: Area leader with the Walt Disney Company or working on the Pittsburgh Penguins' social media team
What have you learned from the Pens Events Team?
This experience has helped me gain so many skills. I've improved my public speaking in front of large audiences by leading tour groups and managing credential tables. This experience also developed my professionalism, particularly around high-profile guests. The Christmas party particularly was an event that tested this because the Pittsburgh Penguins players were present. As a big fan of the team, I had to rise above that and do my job.
How do you see yourself applying this experience to your future endeavors?
Having event experience on my resume, especially with a reputable organization like the Pittsburgh Penguins, is a huge asset. So much goes into event planning and execution. Public speaking, organization and working diligently in a fast-paced environment are just some of the skills needed to succeed in this role. No matter where I find myself upon graduation, these skills will be valuable in any field.
Kate Houser '24
Major: SAEM
Minor: Psychology
Hometown: Beaver Falls, Pa.
High school: Lincoln Park Performing Arts Charter School
Dream job: Social media content creator for the NHL or Team USA
What have you enjoyed about working on the Pens Events Team?
The Pens Events Team has given me a taste of the high-speed business of professional hockey and allowed me to meet so many people that I otherwise wouldn't have met. It is a great way to learn about the industry, get your name out there and put your best foot forward in front of professionals.
Why would you recommend Point Park to a prospective student?
Point Park allows you to gain real-world experience right out of the gate. Your professors want to see you succeed and will be there for you every step of the way. Within my first year, I was able to make so many professional connections because of the relationships Point Park has with all the large companies in the Pittsburgh area.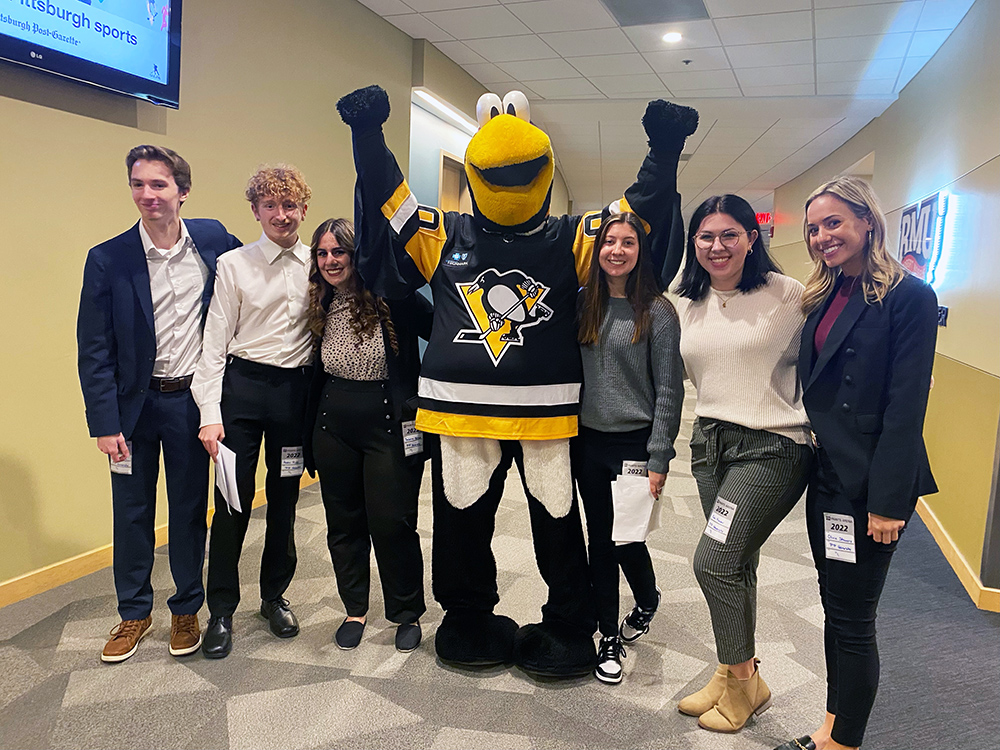 Major: SAEM
Minor: Public Relations, Advertising and Social Media
Hometown: Jefferson Hills, Pa.
High school: Thomas Jefferson High School
Dream job: Marketing and social media manager or events coordinator for the Pittsburgh Penguins, Pittsburgh Penguins Foundation, Pittsburgh Pirates, PNC Park, AEG/PromoWest Stage AE or OVG360 PPG Paints Arena
What did you gain from this experience?
As someone who has always been invested in creating events, this opportunity allowed me to gain professional skills in the execution of events of all sizes, from small to extravagant. I have honed my communication and time management skills and strengthened my attention to detail. I would personally like to thank Matt Uzar, events coordinator, and Kat Smerdel, vice president of events and hospitality, for allowing me to grow in these areas and furthering my experience.
I landed a community relations internship with the Pittsburgh Penguins Foundation through my involvement with the Pens Events Team. I gained such a passion and love for events with the Pens that I knew I wanted to further my experience with the organization. It was because of the Pens Events Team that I met so many amazing people at the organization who believed I could further help the staff while building upon my education. 
Olivia Stawovy '21 '23
Major: MBA, SAEM 
Hometown: Belle Vernon, Pa.
High school: Greensburg Central Catholic High School
What skills did you develop through the Pens Events Team?
I've improved my leadership and communication skills. As the graduate assistant for the SAEM program, I immediately got to take on a leadership role for the Pens Events Team. I was responsible for putting the team together and coordinating its members for all events. Additionally, I was able to build on my communication skills as every event I worked on involved interacting with guests, vendors and stakeholders to some extent. 
Naturally in events, you will encounter some last-minute changes and challenges, and, in these situations, it can be easy to panic. Throughout this experience, I have learned how to overcome these challenges by staying calm, taking a step back, and simply thinking of the most logical solution to the problem.
It's been great meeting and networking so with many amazing professionals, both inside and outside of the Pittsburgh Penguins organization.
Why would you recommend Point Park to a prospective student?
I would recommend Point Park to a prospective student because of its unbeatable location, especially if you're looking to work in sports. Point Park is within walking distance of the Pittsburgh Penguins, Pirates, Steelers and Riverhounds. Being so close to these teams has provided me with endless opportunities as I was able to work two part-time jobs at Acrisure Stadium, as well as intern with the Riverhounds and Penguins during my time at Point Park.
Learn about Professor Derda's sports industry experience in the video below:
More About: Sports, Arts, Entertainment and Music Partnerships, Pittsburgh Riverhounds, Pittsburgh Pirates, success story, Downtown Pittsburgh, Stage AE, sports, arts and entertainment management, Pittsburgh, internships, Pittsburgh Steelers, M.B.A., Pittsburgh Penguins, PPG Paints Arena, faculty