more news
President of Dare Enterprises Speaks to SAEM Business Models Class
Thursday, March 22, 2018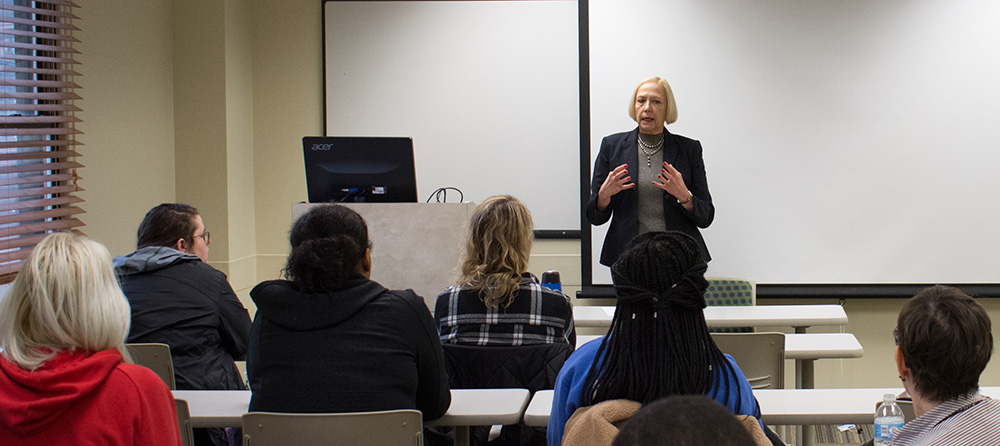 SAEM Associate Professor Teresa Gregory, CFRE, M.F.A., recently welcomed Brenda Dare, president of Dare Enterprises Inc., a human resource business solutions firm based in Pittsburgh, to her Business Models of Sports, Arts and Entertainment class.
"Brenda was selected as a guest speaker because I was looking for a woman small business owner, and someone with a strong HR background," Gregory said.
Dare was recommended by Assistant Professor of Human Resources Sandra Mervosh, M.S., SHRM-SCP, SPHR.
"What I found most interesting about Brenda's presentation was how she started her business. After being with a large company for numerous years, she took a leap of faith (as she said, more like jumped off of the cliff), and grew her new business from the bottom up. I was inspired by Brenda and her story," said senior SAEM major Alexa DeLozier, who graduated from Belle Vernon Area High School.
Prior to founding her current business, Dare held various management positions in human resources and operations management during her career with Xerox Corporation.
Stefanie Boltz, a senior SAEM major from New Castle Senior High School, said: "Brenda demonstrated how a strong professional network is vital to success in business. She also showed us how staying well informed on what is happening in your industry can help you identify opportunities that may have otherwise gone unnoticed."
"In addition to learning from their real-world experience, we are able to carry on a dialog, ask questions and gain valuable insight into the industry in a setting that is comfortable to us as students," Boltz explained. 
DeLozier added: "Having guest speakers come into our classes are very beneficial. They take you out of the typical class mode and make you focus in on the real world. With every guest speaker, I learn something different; whether it be a fun fact about a certain industry or a great piece of advice. You can really learn a lot from these guest speakers." 
Photos by Brandy Richey, junior multimedia major
Learn More
More About: Belle Vernon Area High School, Rowland School of Business, Pittsburgh, sports, arts and entertainment management, human resource management