more news
Public Administration Program Celebrates its Alumni With Reunion on Campus
Monday, December 18, 2017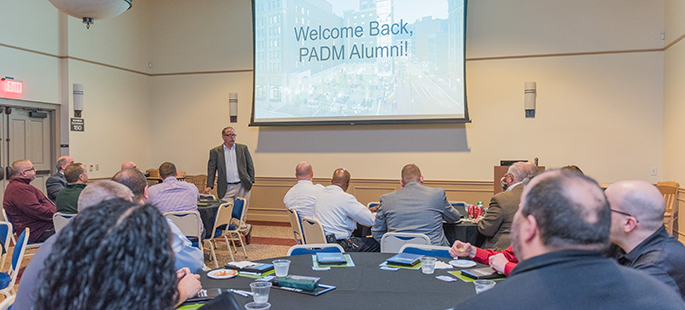 From fire chiefs and EMS professionals to business and borough administrators, alumni from a variety of service professions were warmly welcomed Dec. 5 at Point Park University's public administration reunion event.
Attendees had the opportunity to catch up with faculty in the program as well as network with fellow alumni working in the public administration field who graduated between 1975 and 2017.
Also at the event, Robert Skertich, Ph.D., associate professor and coordinator of the public administration program, spoke about the new initiatives for the Rowland School of Business and facilitated a discussion on the latest trends in the field.
"This was a chance to meet some of my classmates, professors and fellow alumni in person, many of whom I had only talked with through my online classes," said Lee Schmidt '16, department business administrator for the City of Pittsburgh Department of Public Safety, Bureau of Police.
Schmidt added: "My degree from Point Park expanded upon my knowledge to make me a prime candidate for my current position. I also really liked the flexibility of Point Park's online public administration program and having professors with real-world field experience."
Hear More From Our Public Administration Alumni:
"I strongly believe what makes the public administration program at Point Park University unique are its instructors. You have professors who have been in the trenches only to come out on top as true professionals and leaders. My education gave me not only the knowledge and leadership skills necessary to operate a municipality, but also the confidence to do it right." - Harry R. Faulk '14, assistant manager, Borough of Green Tree
"My degree was the catalyst to help me change careers completely and go into public safety. It also gave me the tools to advance in the field." - Jeff Gooch '16, risk reduction coordinator, fire and emergency services department of Cranberry Township
"I had a wonderful experience at Point Park. My classmates and I shared a special relationship. The public administration faculty became career counselors and friends throughout the course of the program. The combination of the two has created a network of confidants to share ideas with and gain insight from." - Greg Porter, '13, assistant director of Ross/West View Emergency Medical Services Authority
Photos by Nick Koehler, freshman photography major
More About: online programs, Rowland School of Business, faculty, public administration, EMS administration, fire service administration, alumni