more news
Rolling Pepperoni CEO, SAEM Alumna Featured on Take The Hill Leadership Podcast
Friday, December 18, 2020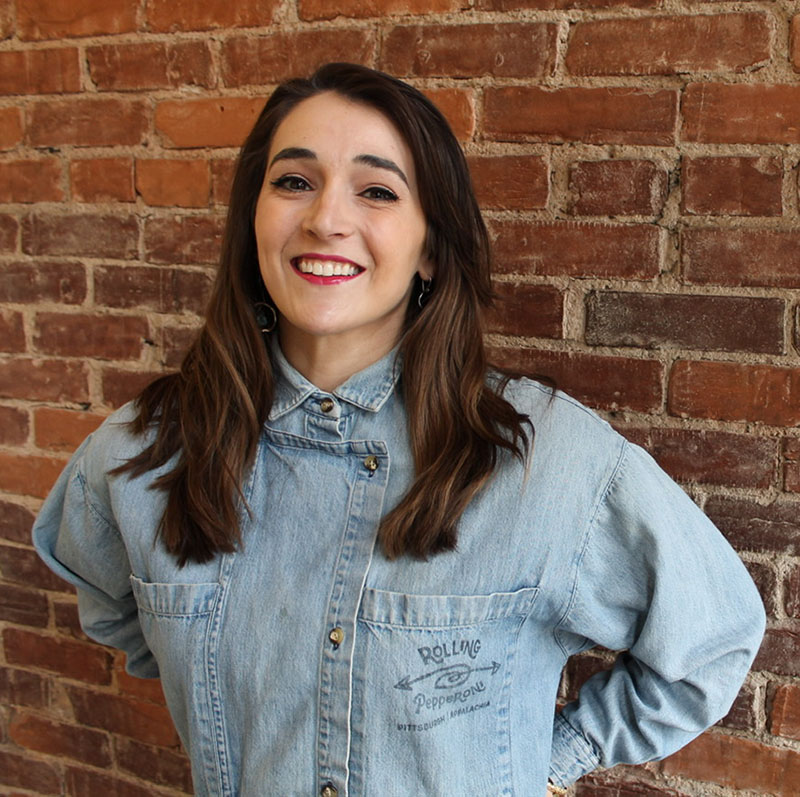 The Point Park University Rowland School of Business Take The Hill Leadership Podcast covers a range of topics related to leadership, management and organizational behavior with guests representing a wide array of industries and roles. For their final episode of 2020, hosts Patrick Mulvihill, D.Ed., and Dennis Frketich, D.Ed., spoke with sports, arts & entertainment management alumna Katherine Schuler about her social enterprise business, Rolling Pepperoni. Listen to the episode here, and learn more about Schuler and the podcast below. 
Meet Katherine Schuler '15
Job title and employer: Founder and CEO, Rolling Pepperoni
Degree earned from Point Park: B.S. in sports, arts & entertainment management
Hometown: Elkins, W.Va.
High school: Elkins High School
What brought you to Point Park?
I transferred from West Virginia University as a psychology student and a member of the dance company. I was bored with psychology and auditioned for the dance program. I did not get in, but they told me about the SAEM program, and it was a perfect fit.
In what ways did the Rowland School of Business faculty and classes impact you?
The Rowland School of Business faculty and classes reinvigorated my sense of learning and curiosity. The teaching methods revolve around projects and hands-on learning within Downtown Pittsburgh. Getting that kind of experience gave me so much inspiration and understanding of the possibilities that a college degree could unlock.
You were a commuter student. What was that like, and how did you balance your time?
I drove in from Uniontown, Pa., and then Morgantown, W.Va., for my first year. After learning more about Pittsburgh, I moved there for my next two years. Point Park's scheduling actually is what kept me going. I was able to coordinate all of my classes onto two days a week. I would drive up for classes from 8 a.m. to 8 p.m., but it was lovely and it created windows for studying in the library. Spending time in the library at Point Park are some of my favorite memories.
What have you been up to since graduating from Point Park?
I got a job at Shady Side Academy through my work study that I maintained during my undergrad. I also started Rolling Pepperoni, a social enterprise business that sells pepperoni rolls retail, wholesale and ships nationwide. As a social enterprise, we are mission-driven and work to unite rural and urban Appalachian communities.
How have you pivoted your business in response to the pandemic?
During the pandemic, we actually opened our first retail location. It was entirely accidental and something I would not have done knowing what was coming. That being said, opening up our doors during the pandemic has felt like a blessing. I've never valued talking to strangers more. Every conversation and sale has meant so much to me and my family. We were already in a transition when the pandemic started, but the pandemic has taught me a lot about trust – trusting in yourself and others.
---
About Take The Hill Leadership Podcast Series
Patrick Mulvihill, D.Ed., assistant professor and chair of the Department of Management in the Rowland School of Business shares the goals of the podcast.  
What is your mission?
Our mission is to illuminate the human experience of leadership through the narratives of our guests.
How are you using it as a tool in your classes?
As educators, we are always thinking of ways to align the podcast content with our courses. Many episodes show up as either a primary or secondary resource for a given assignment. For example, Episode 17, which focused upon the current legal challenges related to TikTok and WeChat, was used as part of a lesson about the international legal environment.  For 2021, we are rolling out educational resource guides for each podcast episode that will be a free download for educators. This resource will enable them to integrate the content more easily into their classroom.
What work goes into an average episode?
As it is our goal to have a deeply impactful conversation with our guests, our team will usually spend about three or four hours preparing for each episode. Once the show is recorded, we have an outstanding team of students who assist with final video production, marketing and social media outreach.  
What do you want students to take away from it?
I want students to realize that they have more control over their academic and professional journeys than they realize. We hope our conversations provide some inspiration and insight that motivates them to keep moving towards their dreams whatever they may be.
Recommended episodes:
More About: sports, arts and entertainment management, Rowland School of Business, alumni, transfer, faculty, success story