more news
Rowland School of Business Partnering with Startup Studio Better Work Ventures to Create Entrepreneurship Learning Opportunities for Students
Tuesday, November 29, 2022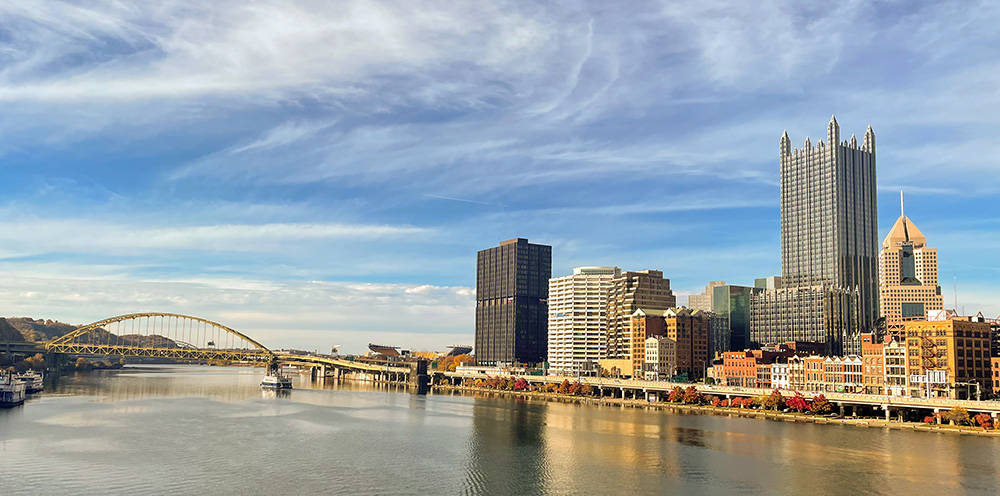 Photo by Natalie Caine '25
Point Park University's Rowland School of Business is partnering with startup studio Better Work Ventures to bring experiential learning opportunities in entrepreneurship to the Downtown Pittsburgh campus in 2023 through internships, job shadowing, guest lectures, curriculum and more focused on what it takes to build a business from the ground up.
"This exciting, new partnership is a great example of the hands-on experience students receive at Point Park," said Don Green, president of the University. "Exposing students to business incubation paves the way to future entrepreneurship and career success."
"The Rowland School of Business strives to connect the marketplace to our students on a daily basis," said Stephen Tanzilli, dean of the Rowland School of Business. "We pride ourselves on bringing the real world into the classroom and providing our students with the necessary skills they need to be employable. Better Work Ventures, which works with new businesses from the idea stage onward, will help us do this. Our partnership will help our students better understand what it takes to be successful in business."
The partnership is reflective of national trends pointing to students' increased interest in creating their own businesses. A recent survey by Intelligent.com found that, "17% of 2022 grads currently operate their own businesses, 16% say they 'definitely' plan on starting a business post-graduation and 27% are 'considering' it." Earlier this year, Junior Achievement USA released a study that found 60% of teenagers would rather start their own business than get a traditional job, adding that "nearly half of teens (45%) feel it's most beneficial to hear about starting their own business from business owners."
Better Work Ventures works with overlooked founders across the midwest to build community-driven tech companies. The founders, Lynsie Campbell and Nathaniel Minto, bring years of experience as startup leaders in the tech sector and other industries. The company is slated to open a studio on Point Park's campus in 2023 where they will work with entrepreneurs on taking their ideas to the seed-funding stage, offering assistance with:
Research
Marketing
Engineering
Product development
Operations
Branding
Fundraising
Finance
Human resources
User interface (UI) and user experience (UX)
"The studio model will allow students at Point Park to work alongside our team and entrepreneurs at all stages of the company building process," said Nathaniel Minto, Better Work Ventures co-founder. "From the earliest moments of ideation and validation, to building and scaling, the studio centralizes all of those activities, giving students the opportunity to observe, investigate and participate with experienced operators." 
Adjunct instructor Hagen Starz, who teaches entrepreneurship courses at the University, said students will learn from and assist Better Work Ventures and its companies through a variety of activities focused on:
Product management
Communications
Event planning and execution
Learn more about the Rowland School of Business in the video below:
More About: Rowland School of Business, economics and finance, business management, human resource management, organizational leadership, Downtown Pittsburgh, Pittsburgh, faculty, accounting, sports, arts and entertainment management, applied computer science, marketing and sales