more news
SAEM Student Interviews Musicians at CMA Week, Country Music Festival in Nashville
Friday, July 1, 2016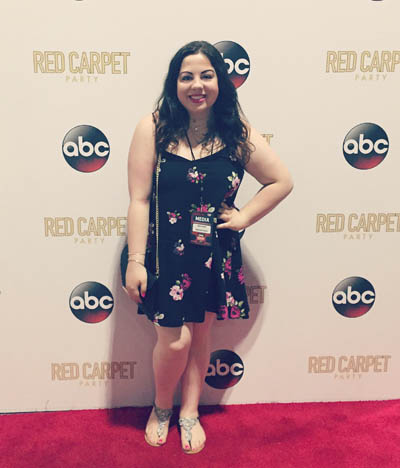 As a member of the media, Thomas modeled a
dress (sponsored by REVV) on the red carpet
at the CMA Music Festival.
Meet Angela Thomas
Job title: Journalist
Employer: Stage Right Secrets
Major: Sports, Arts and Entertainment Management
Expected graduation: May 2017
College activities: SAEM Club, Music Association Club and writer for Her Campus at Point Park
Scholarship from Point Park: Founders
Hometown: Moon Township, Pa.
High school: Moon Area High School
Now living in: Pittsburgh, Pa.
Hobbies/interests: Writing, going to concerts and shows (been to over 200!) and traveling
Twitter: @ang_xo
LinkedIn: Angela Thomas
How did you learn about Point Park's SAEM major?
In 2012, I attended the SAEM High School Summer Workshop and absolutely loved it. I knew for my career I wanted to be involved with music and entertainment so the sports, arts and entertainment major at Point Park really interested me. Also, I liked the fact that it was a business-focused degree program that incorporated classes like accounting and business law.
Tell us about how you landed your position and your recent trip to Nashville.
Through social media, I met Jacklyn Krol, co-founder and editor-in-chief of Stage Right Secrets, an online music and entertainment media outlet with over a million hits and 15,000 reads a day. We share the same interests in music and entertainment so we really hit it off and I became one of her writers.
Jacklyn has a staff of 40 people but I was one of only four journalists from Stage Right Secrets selected to go to Nashville and cover the KLove Fan Awards, Country Music Television Music Awards and Country Music Association Festival.
Music labels really like us to interview their artists because they know we have a large reach. With my media pass, I had access to interview artists right after their performances and in their pressrooms. I also interviewed artists from Sony Music, Warner Music Nashville and Big Machine Records. One of the biggest "pinch me moments" I had was at the CMA Music Festival when our booth was right next to Facebook Live and we got to interview some of the same artists they did.
What have been your favorite classes at Point Park?
Digital Marketing with Paige Beal was cool because we focused on social media marketing and Facebook Live, which I actually got to see firsthand at the CMA Music Festival.
Also, Marketing and Promotion with David Rowell was really helpful because we learned how to write press releases. This tied into what I do for Stage Right Secrets because I take the most important parts of press releases and form them into articles.
Concert and Music Festival Touring class with Ed Traversari was great, too. It prepared me for the music events I attended in Nashville. Overall, the networking opportunities and career fairs at Point Park have been amazing.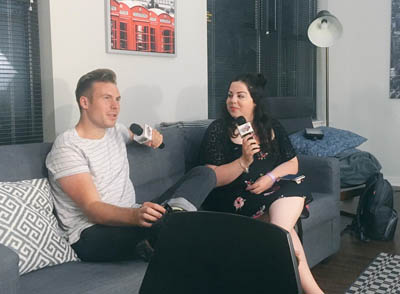 Thomas interviews music artist Kyle Reynolds
in Nashville.
List internship and career-related experiences you've had so far.
What are your career goals?
With an SAEM degree, there is so much you can do with it. I'm focusing on entertainment and the music industry. I would love to work for a record label either on the marketing team or as a publicist.
What are you looking forward to most for your upcoming senior year?
I'm looking forward to getting a new internship in the spring, which could lead into a job after graduation. I'd really like to intern for Stage AE or a radio station. Also, I'm excited to graduate, but it will definitely be bittersweet. It will be sad to leave Point Park but I feel prepared to work in my field.
What advice do you have for our incoming SAEM majors?
Get involved at Point Park and it will enhance your college experience. Network, intern and go to career fairs as much as you can. Put yourself out there.

Check out articles Thomas has written for Stage Right Secrets.
More About: Rowland School of Business, sports, arts and entertainment management, Moon Area High School, Pioneer Records, internships, scholarships