more news
SAEM Students Gain Hands-On Event Experience at Women Who Rock Benefit Concert
Tuesday, October 26, 2021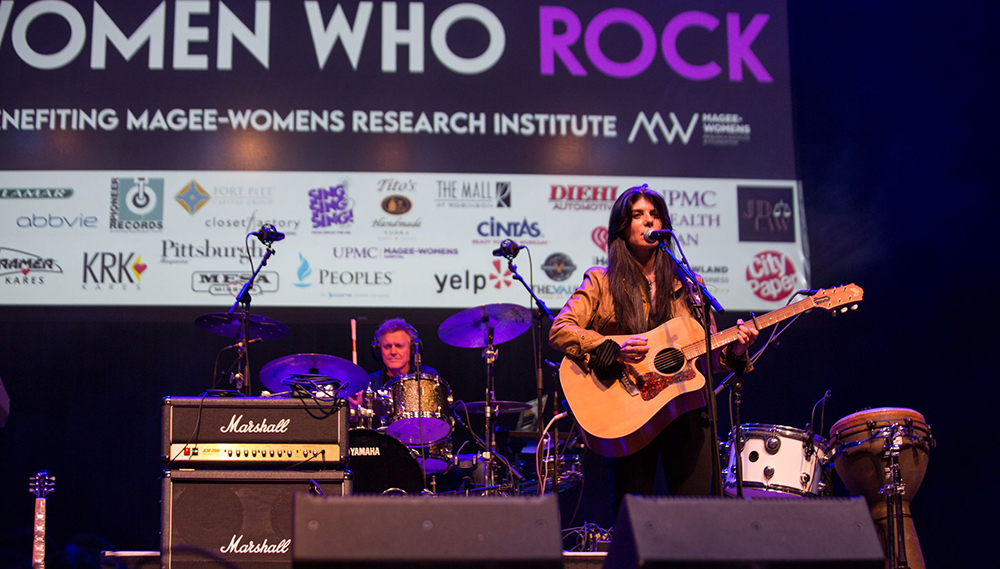 Lauren Monroe performed with her husband, Def Leppard's Rick Allen, at the Women Who Rock 2021 Benefit Concert at Stage AE. SAEM instructor Melinda Colaizzi is founder and CEO of Women Who Rock and invited several SAEM students to help out with the event. Photo by 

Kelli Daerr.
"SAEM faculty encourage us to go out and do the job. I've experienced so many great opportunities because they have motivated me to put myself out there in the industry, no matter what the position."
Maddy Sedberry '22, SAEM major
Point Park University's Sports, Arts and Entertainment Management professors strive to find real-world, hands-on experiences for students to experience each facet of the industry.
Instructor Melinda Colaizzi recruited several students to help produce the Women Who Rock 2021 Benefit Concert, presented by Gibson Gives at Stage AE on Oct. 16. Colaizzi is the founder and CEO of the organization, which champions women in music and women's health awareness. The concert, which raised funds for Magee-Womens Research Institute, included celebrity performances and appearances by Orianthi, Rita Wilson, Sheila E, Lauren Monroe, DJ Femi and Graciela, winner of the Women Who Rock Rising Star Contest, which was co-sponsored by the SAEM program and Pioneer Records.
"It was truly wonderful to be surrounded by such kind, hardworking and accomplished women in the entertainment industry," said Anna Hazo '23, a Peters Township High School alumna. "Everyone acted as a team player, and I was so fortunate to have been involved in such an inclusive atmosphere. "
Hazo and Maddy Sedberry '22, an alumna of Central Academy of Technology and Arts in Charlotte, North Carolina, volunteered to work at the event because they wanted to contribute to a worthy cause. During the event, they prepared gift bags for VIPs, assisted with admission at the door, managed merchandise sales and helped with tear-down at the end of the night.
Anna Hazo '23
"It's important that I'm able to offer my students hands-on experiences because the live event and music industry is a field where you learn by doing," Colaizzi said. "Offering my students valuable opportunities like interning, volunteering and attending Women Who Rock events gives them real-world experience."
In the Q&A below, Hazo and Sedberry share their takeaways from the event and their SAEM experience.
What are some of the lessons you learned from helping with the event?
AH: Communication, a positive attitude and working together are the most important takeaways. What especially made assembling the VIP gift bags so enjoyable was our open, supportive communication with one another and teamwork. Our output was very efficient.
MS: So much work goes into such a large benefit concert like this, and Professor Colaizzi pulled it off so flawlessly. I would love to be able to plan events like this in the future.
How does the SAEM program prepare students for careers in the live entertainment industry?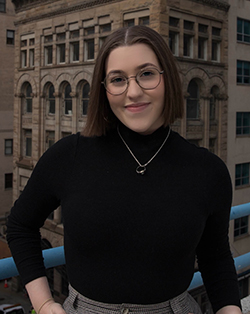 Maddy Sedberry '22
AH: The SAEM program provides hands-on opportunities in our field. We are first exposed to working in the entertainment industry our freshman year with a shadowing program of our choice. I shadowed at WISH 99.7. It is great that we are exposed to real-world situations our first year at Point Park. Students are required to have at least one internship to graduate and can complete up to three internships for credit. I am interning for the talent and booking department at Pioneer Records, our student-run record label. The internship requirement is extremely beneficial because it offers authentic work experience and connections with future employers. 
MS: SAEM faculty encourage us to go out and do the job. I've experienced so many great opportunities because they have motivated me to put myself out there in the industry, no matter what the position.
Why would you recommend Point Park to a prospective student?
AH: Point Park is centered around career readiness. If a student shows an interest in a career area, Point Park faculty will do everything in their power to help students succeed. The professors are experienced and offer exceptional input from their personal wisdom. The University is very unique in that it offers majors not widely offered by other colleges and universities, such as SAEM and COPA. At Point Park, students are encouraged to follow their heart. 
MS: I would recommend the SAEM program at Point Park to prospective students because they give you all the tools you need to succeed. As a senior, I have two paid jobs in the live entertainment industry, and I get volunteer opportunities almost every other week. It's a great environment to jumpstart your career before you even graduate.
More About: internships, Peters Township High School, sports, arts and entertainment management, Pioneer Records, faculty, Rowland School of Business