more news
SAEM Students Work at Simone Biles' Gold Over America Tour
Friday, November 5, 2021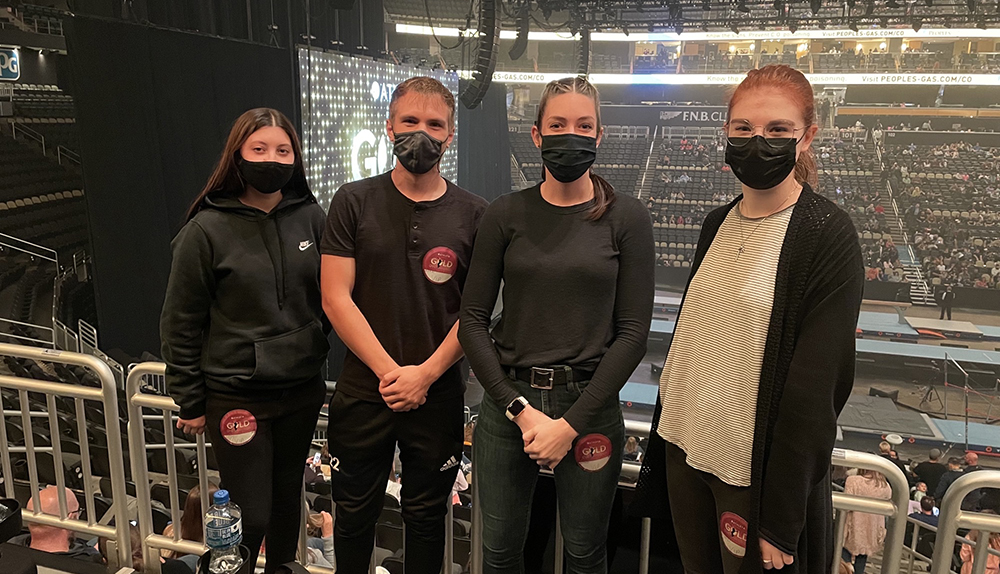 Pictured from left to right are SAEM students Lauren Ambrogio, Trey Bubin, Zoe Wockenfuss and Anna Feild at PPG Paints Area during the Gold Over America Tour on Oct. 29, 2021.
Point Park University Sports, Arts & Entertainment Management students Lauren Ambrogio, Trey Bubin, Anna Feild and Zoe Wockenfuss worked backstage at the G.O.A.T. Gold Over America Tour, starring Olympian gymnasts Simone Biles, Jade Carey, Jordan Chiles, Laurie Hernandez and more at PPG Paints Arena in Downtown Pittsburgh on Oct. 29, 2021.
"This experience was amazing," said Bubin '23, a Commonwealth Charter Academy alumnus. "I learned so much about the behind-the-scenes process of putting on an event like this. I learned how to handle unsatisfied customers, how to lead a big crowd of people around a packed stadium, what it is like to set up an event of this magnitude, as well as how to do all of that in an orderly and timely fashion."
Through contacts made during his more than 40 years in the live entertainment industry, Ed Traversari, MBA, professor of SAEM, connects students with opportunities to work at concerts and productions in the Pittsburgh region. The Gold Over America Tour is the latest example of his commitment to providing students with hands-on experience.
The students helped set up the VIP entrance and check-in tables, assisted with the check-in process, helped with tear-down and assisted with leading the children participating in the finale on and off the stage during the show. 
Bubin, who hopes to work in marketing in the soccer industry, knew the show would be a fulfilling learning opportunity.
"Working for any sports organization, you are not only going to be working for the sports team, but there will also be shows, concerts and other events to market for," he said. "This was a great experience for me to see what kind of shows I can potentially market in the future."
Bubin just transferred to Point Park and has already enjoyed a variety of hands-on experience through the SAEM program.
"I have worked with the Pittsburgh Pirates and Pittsburgh Penguins on selling tickets for their games," he said. "I am also currently working on an event that I am hosting for the sports teams of Point Park. Point Park has also given me opportunities to talk with people who are currently working in the sports industry in high-ranking roles, from teams like the Pirates, Steelers, Penguins, Golden State Warriors and FC Dallas."
Feild '24, a Susquehannock High School alumna, aspires to be a tour manager or tour accountant. During her freshman year last year, she wasn't able to experience opportunities working in the field due to the COVID-19 pandemic, but now that live events are making a comeback, she jumped at the chance to work at the gymnastics show. 
"I learned what is involved with a VIP experience of this magnitude and how to problem-solve and think on the spot with unhappy customers," she said. 
The Gold Over America Tour taught Ambrogio '24, a Pittsburgh Allderdice High School alumna, a lot about what goes on behind the scenes in setting up and getting ready for a tour. She wants to work in media for the NHL and has also participated in the SAEM program's Pittsburgh Penguins and Pittsburgh Pirates ticket sales trainings.
Wockenfuss '24, a Central Valley High School alumna, wants to be a sports photographer for the Pittsburgh Penguins. She was excited to work at the Gold Over America Tour because she was a gymnast for most of her life and competed on her high school's varsity team, plus she thought it would be a good opportunity to see if she enjoys working on live events. Like Bubin and Ambrogio, she has taken advantage of the SAEM program's sales training with the Pittsburgh Pirates.
"The SAEM program offers a very versatile degree, and I would definitely recommend it," Wockenfuss said.
Click the links below to read about other major productions with which our SAEM students have been involved:
More About: PPG Paints Arena, success story, Rowland School of Business, Central Valley High School, Pittsburgh Taylor Allderdice High School, Pittsburgh Penguins, sports, arts and entertainment management, Pittsburgh Pirates, Sports, Arts, Entertainment and Music Partnerships, faculty, Pittsburgh