more news
Students Discuss Success of HR Employer Partner Program
Wednesday, March 14, 2018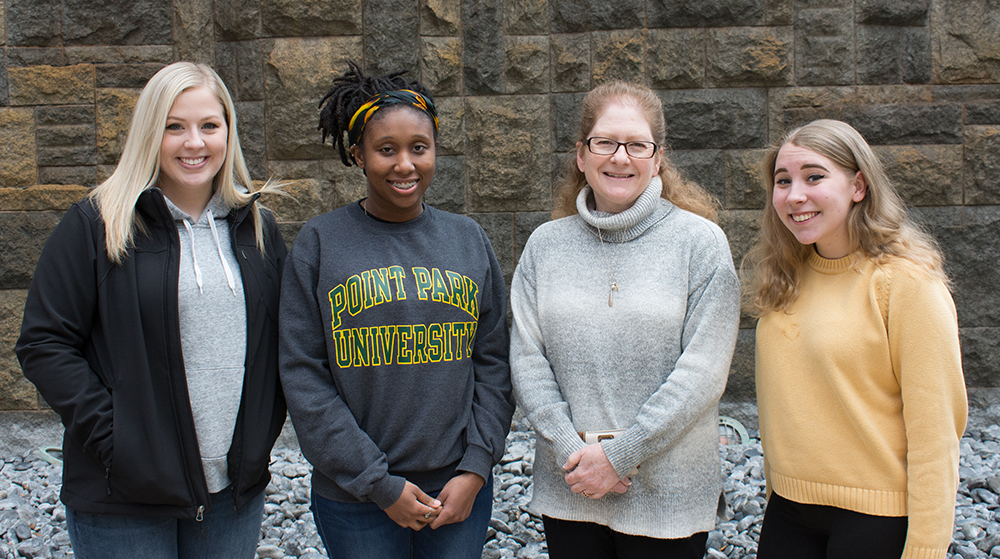 L to R: HR management students Rachel Maurice, Alannah Owens and Kristen Blazeyewski with Assistant Professor Sandra Mervosh (second from right). Not pictured: Lauren Androstic
Lauren Androstic, Kristen Blazeyewski and Alannah Owens are among the human resource management majors at Point Park University who have experienced valuable career-related opportunities with the new HR Student and Employer Partner Program.
This past fall, Assistant Professor Sandra Mervosh, M.S., SHRM-SCP, SPHR, matched several HR management students in the Rowland School of Business with employers throughout the Pittsburgh region. 
"Our students have greatly benefited from this program through shadowing opportunities, internships and other hands-on activities," Mervosh said.
For example, Androstic, a senior from Scottdale, Pa., and graduate of Pennsylvania Cyber Charter School, landed a full-time HR internship with PPG based on her partnership with John Balest. 
"Interning with a Fortune 500 company has been a dream come true and I could not be more thankful I joined Point Park's HR Partner Program," Androstic said.
"I've also been able to get an inside look at PPG and the many different projects it takes to run a successful global company," she added.
Blazeyewski's partner is Shameia Josey from the global health enterprise UPMC.
"Job shadowing Shameia has been a wonderful experience. I observed an exit interview, met the diversity and inclusion team and reviewed actual examples of performance improvement plans," explained the junior who graduated from Brentwood High School in Pittsburgh.
Blazeyewski added: "It was a great experience to help prepare me for what to expect in the real world. I learned a lot from Shameia that I wouldn't have gained from a textbook while also networking with professionals in Pittsburgh's HR community." 
Senior Alannah Owens from Pittsburgh Science and Technology Academy in Pittsburgh, lined up an internship for the summer through her partner Don Whitfield from PITT OHIO. 
"Interning for PITT OHIO this summer will continue to give me more experience in the HR field before I begin my fellowship in the fall with Pittsburgh Fellows," Owens said.
Owens also helped plan and assist with a women's conference held at PITT OHIO last month to recruit more women into the transportation services job field.
She added: "My favorite part has been getting to know lots of people through Don. He has given me career advice and been an amazing partner."
Learn More
Explore the human resource management program in the Rowland School of Business.
Request information, schedule a campus visit or apply online.
Photo by Brandy Richey, junior multimedia major
More About: human resource management, Rowland School of Business, The Pennsylvania Cyber Charter School, UPMC, Brentwood High School, Pittsburgh, Pittsburgh Science and Technology Academy