more news
Students in Marketing Course Collaborate with Point Park Alumni at Greater Pittsburgh Community Food Bank
Monday, June 5, 2023
Professor Paige Beal connected students in her Principles of Marketing course with Point Park University alumni at the Greater Pittsburgh Community Food Bank this spring to provide them with real-world client experience. Photo by Madi Fisher '23. 
Students in Professor Paige Beal's Principles of Marketing course developed mission-driven marketing plans for a real-world client this spring as they teamed up with Point Park University alumni working at the Greater Pittsburgh Community Food Bank to help the nonprofit organization develop ideas for increasing Generation Z volunteer recruitment. 
"Hands-on marketing plan development and interaction with clients increase our students' understanding of the course material," said Beal, associate professor of Sports, Arts & Entertainment Management. "Working in teams, the students discuss and collaborate on their plans, an interaction that inevitably results in more student engagement and enjoyment. Students often are intrigued by what they learn about the client and their business, which can result in internships. In turn, clients get direct access to a Gen Z focus group and ideas that keep them relevant to that demographic." 
Beal incorporates real-world clients in all of her courses. Aside from the food bank, students recently worked with:
For the food bank project, students formed groups and worked with Point Park alumni Zac Seymour '19, manager of marketing and digital media, and Maria Montaro '20, corporate and community engagement manager, to brainstorm creative marketing plans that addressed the organization's recruitment goals. They refined their plans using the knowledge they gained from Beal's lectures and coursework each week and presented their final plans to Seymour and Montaro as if they were doing a real-world client presentation.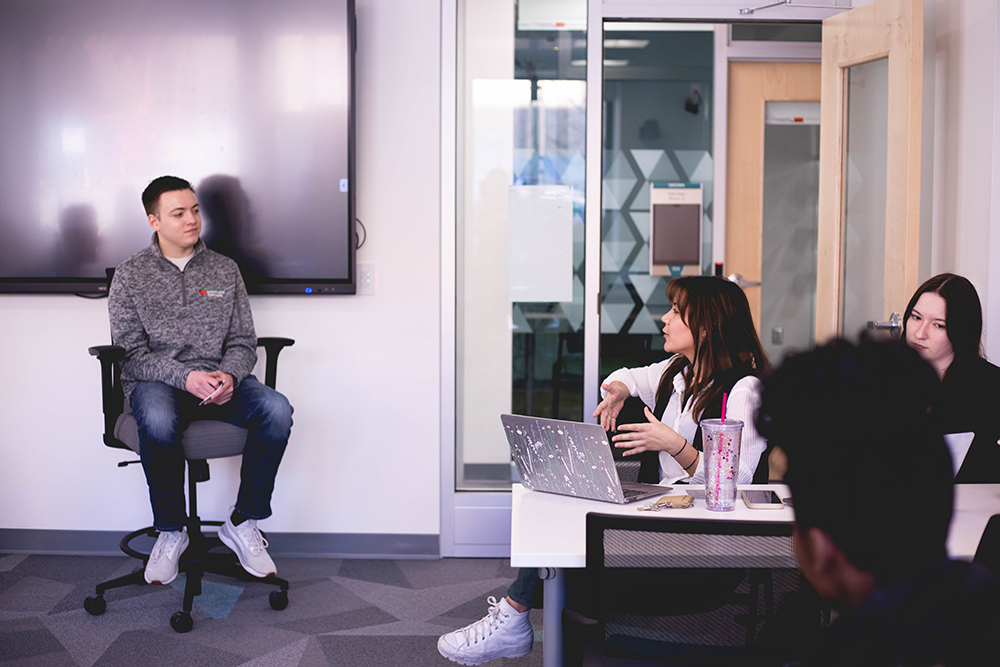 "When I was a student, some of my most beneficial experiences were when I was able to work with actual organizations," Montaro said. "Aside from getting field experience, I learned what it was like to be in the workforce, what the projects would be like, how to problem-solve and the work etiquette I would need. It's really nice to be able to share that with the next generation of Point Park students."
Montaro completed her Ph.D. in Community Engagement while working on the food bank's community engagement team at the peak of the COVID-19 pandemic.
"The skills I learned at Point Park were so helpful at a time when bringing the community together was so important," she said. "I think Point Park has some of the most innovative programs out there. The courses that I took were focused on real-world experiences. The topics were modern and relevant, and the content was always engaging. I also liked that all of my classes were small so I was able to develop better relationships with my cohort and professors."
Seymour, who majored in public relations and advertising and minored in photography, said he and Montaro left the class' final presentations with actionable plans that they will be able to adjust and consider for future strategies. Having benefitted from guest speakers and industry professionals coming to his classes as a student, he appreciated the full-circle opportunity to share his insights with current students.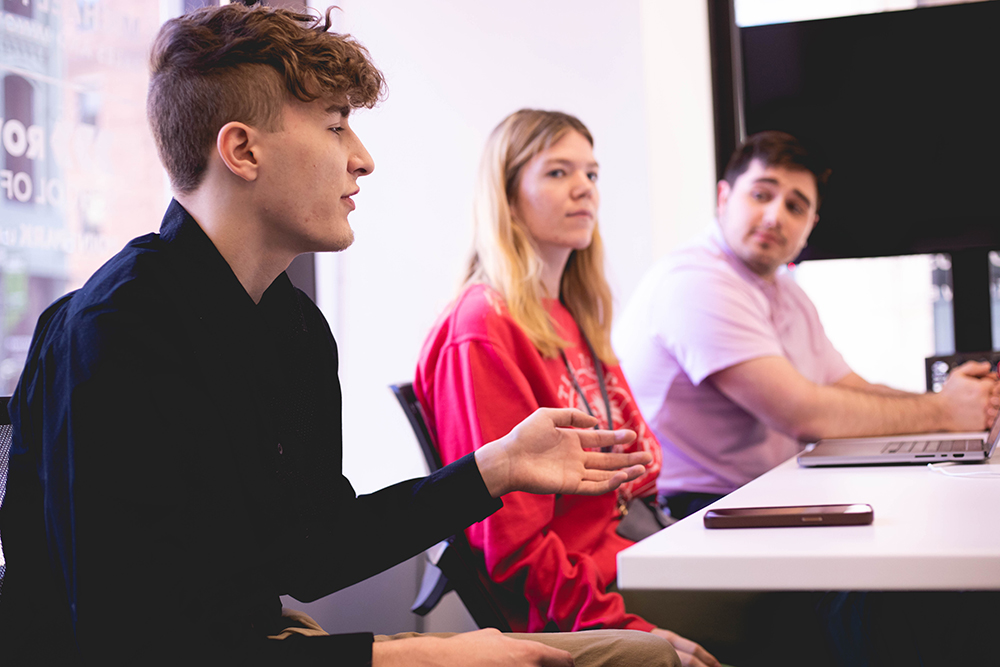 "Point Park's small class sizes and project-oriented approach, rather than a lecture-style approach, were deciding factors for me when I was considering colleges," he said. "That learning style worked well for me. In addition, my professors pushed for everyone to gain experience with internships. I was lucky to have multiple internships, and I'm fully convinced that Point Park's location in Downtown Pittsburgh, as well as my professor's connections, gave me an advantage in the selection process. I don't think I would have landed the internships I did had I chosen another university."
Elijah Corbin '25, an acting major and screenwriting minor, enjoyed working on the food bank project because he was able to apply what he learned in class immediately to a real-world example. 
"We got to step into the shoes of a marketer and experience what they would have to do when they get a job," he said. "I found my creative side while being the editor for my team, thinking about how to grab the attention of the audience, how to express ideas visually and make something cohesive. I am excited to apply this information when I create a personal website for my art."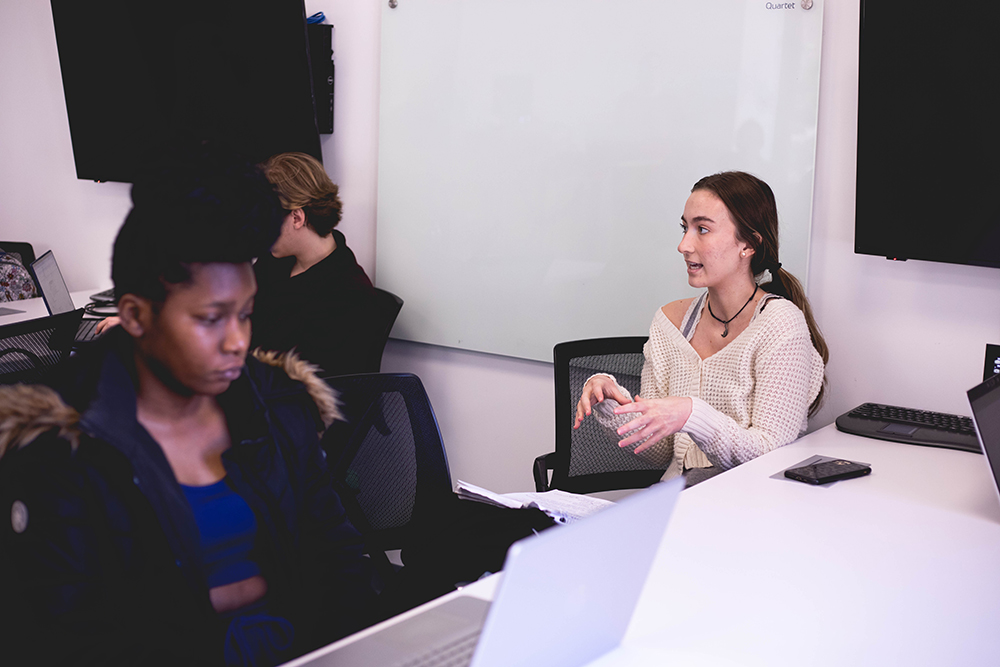 Corbin liked that the groups were able to meet with Seymour to ask questions about the food bank and brainstorm.
"It made me feel like we were contributing to a larger idea, that something we were doing in class could actually be of use to the real world," he said. "You don't get that feeling often in a class."
Amelia Hoeffler '26, a dance major with a jazz concentration and marketing minor, came into the course with some exposure to marketing from high school.
"I believe that taking this class took my marketing knowledge to the next level," she said. "I knew the basics of marketing, but now I know the specifics. Our work with the Greater Pittsburgh Community Food Bank left a positive impression on me as well. This was such a great introduction to being innovative and working with an actual nonprofit in the real world. It made me understand multiple aspects of marketing. It also helped me recognize the marketing process and how to market to a specific target audience. By taking this course, I was able to start my marketing minor on the right foot. I now feel extremely prepared to jump further into my minor next semester and for the rest of my college experience."
More About: sports, arts and entertainment management, Ph.D. in community engagement, public relations and advertising, Downtown Pittsburgh, community engagement, Pittsburgh, faculty, Sports, Arts, Entertainment and Music Partnerships, Rowland School of Business