more news
Economics and Finance Senior Tanner Hoffer Receives FEI Scholarship, Reflects on Merrill Lynch Experience and New Role at PPG
Student Profile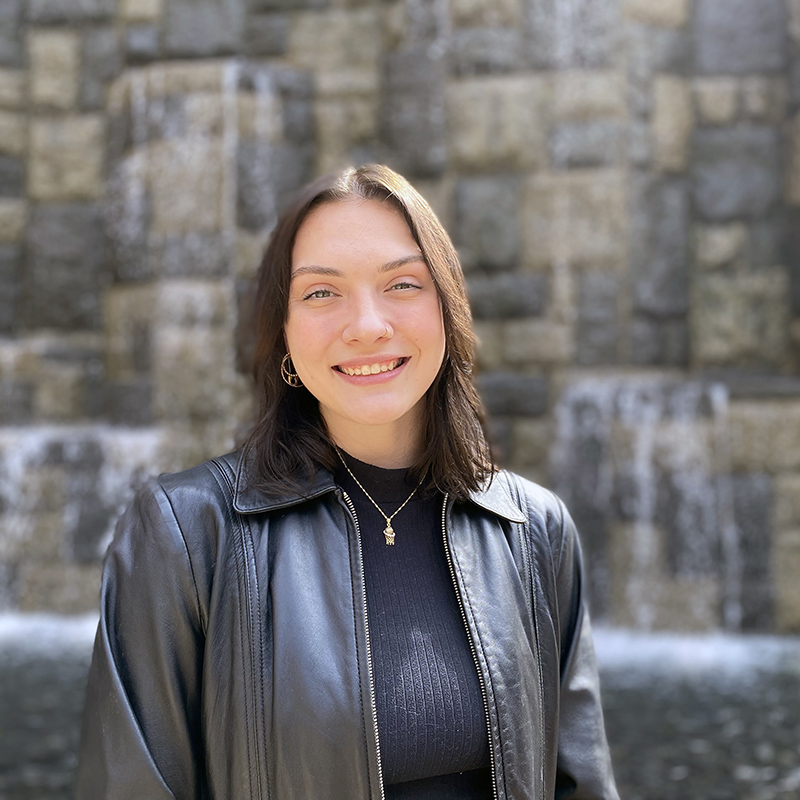 Meet Tanner Hoffer '23
Job Title & Employer

Seasonal Client Associate, Merrill Lynch, The Irick Group

Major

Economics and Finance

Minor

College Activities

Women's basketball team, Student Accounting Association and Accounting Career Awareness Program

Hometown

East Palestine, Ohio

High School

Crestview High School

Now Living In

Pittsburgh, Pa.

Dream Job

CFO or a financial leadership position

Hobbies & Interests

Camping with my family, reading, cooking and baking
"From my time working with Tanner, I feel that her educational experience helped her be prepared to work in a team environment. She knew how to proactively solve problems and communicate effectively. Her leadership training was apparent and appreciated."
Myah Moore Irick, senior vice president and founder, The Irick Group - Merrill Private Wealth Management
"Point Park has prepared me in every way possible. I looked up to professors who showed me the best interview tactics and networking tools. Every class I've taken provided me with opportunities to learn more and more about my future, and I've loved it."
Tanner Hoffer '23
Tanner Hoffer has successfully managed a jam-packed schedule during her Point Park University career.
On top of a full course load, the economics and finance major navigated a busy basketball schedule, a seasonal job at The Irick Group - Merrill Lynch Private Wealth Management, a server and bartender position at the Standard Market & Pint House and active roles in the Student Accounting Association and the Accounting Career Awareness Program.
Her diligent planning and time management paid off in her senior year, as she received the prestigious Financial Executives International Pittsburgh Kuldeep Shastri Memorial Scholarship and has secured a full-time job with PPG post-graduation. 
"From her first day at Point Park, Tanner has been an impressive student," said Jayne Olshanski, MBA, CPA, assistant professor of accounting. "She seemed to easily balance the rigor of attaining a degree, the demanding schedule of basketball and continual service as treasurer of the Student Accounting Association. She excelled across the board. It was my honor to nominate Tanner for the FEI scholarship to represent Point Park among top students from other universities in our region."
"Point Park has prepared me in every way possible," Hoffer said. "I looked up to professors who showed me the best interview tactics and networking tools. Every class I've taken provided me opportunities to learn more about my future, and I've loved it."
Learn more about Hoffer's Point Park experience in the Q&A below.
Describe your current role with Merrill Lynch and what your new position at PPG will entail. 
I met Myah Moore Irick, senior vice president, and Brianna Sullivan, financial advisor, of The Irick Group while I was a counselor for the Accounting Career Awareness Program, a week-long summer program that educates high school students about careers in accounting and finance and connects them with professionals working in the field. Myah and Bri showed our students different investment concepts, and I introduced myself right away. Myah mentioned that they were looking for a seasonal client associate, and after a few interviews and meeting some of the team members, I started the position.
Working at Merrill Lynch has helped me so much. I grew to understand what truly goes on within a wealth management firm and how much goes into making sure each client is satisfied. While I have taken courses to prepare me for interviews and what it is like to be in a genuine office, nothing beats genuine work experience. Merrill Lynch has taught me more than I could have hoped for.
At PPG, I will be in a financial leadership development position starting in the accounting support group. I will be in charge of inventory accounting for a plant in Barberton, Ohio, as well as Lake Charles, Louisiana. I will also have responsibilities related to process accounts and physical inventory.
What does it mean to you to receive the FEI scholarship?
Receiving the FEI scholarship was an incredible honor. To be recognized alongside reputable students from other schools felt great. I was proud of myself because it felt like my academic accomplishments were being recognized on a much larger scale, which is something I think all academically strong students should be able to experience in their lives.
What do you enjoy about Point Park's economics and finance program?
One of my favorite things about Point Park's economics and finance program is the small classes. Being able to make a connection with my professors is a valuable opportunity I do not take lightly. Many of my professors helped me with job opportunities and recommendation letters the second I asked. It was also nice that many of them taught multiple courses that I had to take, so I could experience teaching styles I liked throughout many semesters.
Describe some of your favorite faculty and courses. 
One of my favorite professors is Amy Cesario. She teaches managerial accounting and has been instrumental in the success of the Student Accounting Association. She has never backed down from helping me with any task regarding my education or career opportunities. 
One of my favorite courses was international economics with Dimitris Kraniou. While the course was challenging, I learned so much. Economics classes can feel repetitive at times, but Dr. Kraniou made sure that in each class a new topic was discussed thoroughly. I really benefited from the course and his teaching approach. 
How would you describe the campus feel at Point Park? 
Point Park's campus is always lively. While it's not the biggest school in Pittsburgh, you wouldn't know that by how many people are always around. Every time I am on campus, I run into someone I know. It is nice to know that I can always count on seeing a friend down the street. 
Why would you recommend Point Park to a prospective student?
I would recommend Point Park because of the atmosphere and small classes. For students who want to make connections with professors, advisors and students, this school is a perfect fit. The smaller student population makes the campus feel more like home. 
Connect with Tanner Hoffer '23
More About: success story, faculty, Rowland School of Business, athletics, ACAP, Student Accounting Association, Downtown Pittsburgh, accounting, Pittsburgh, student athletes, economics and finance