more news
Taylor Swift in Pittsburgh: SAEM Students Work the Large-Scale Concert at Heinz Field
Wednesday, August 15, 2018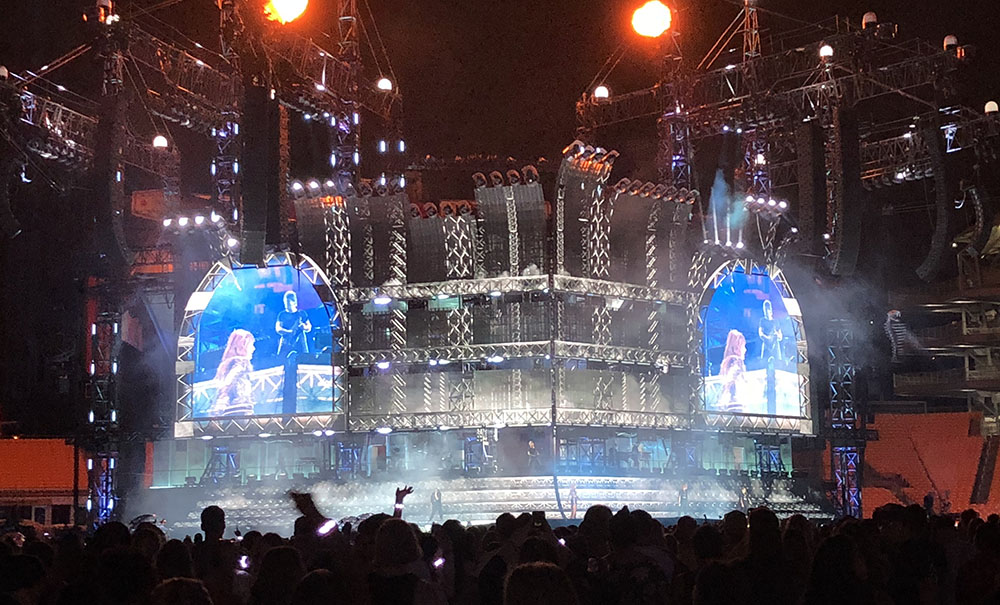 Photos submitted by Georgia Fowkes and Jason Varnish
Several sports, arts and entertainment management students including Georgia Fowkes '20, Leah Markley '20, Tyler Richey '19 and Madison Winger '21, along with alumnus Adam Sutermaster '13, worked at the Taylor Swift Reputation Tour concert at Heinz Field.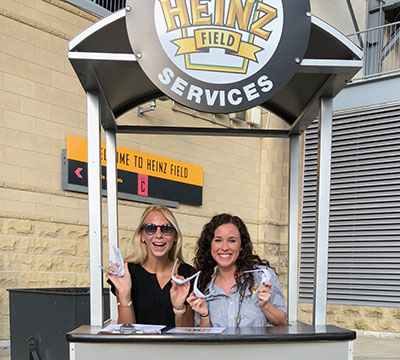 "It was such an amazing experience. It is so humbling to see the fans who come to her show decked out in handmade costumes, smiling and exciting to cheer for Taylor!" said Fowkes, a graduate of Montour High School in McKees Rocks, Pa. 
Fowkes and Markley, pictured left to right, distributed light-up wristbands to guests as they arrived to the show.
Richey worked load out after the show with the CAT Power team, who provides generators and power lines for Swift's entire tour.
"My favorite part was working with a supervisor of such professional quality. By working this show, I learned firsthand how large of a scale stadium concert tours truly are," explained Richey, who graduated from Connellsville Area High School in Connellsville, Pa.
His career goal is to work in the live entertainment industry as a stage or general manager.
Additionally, Jason Varnish, MS, owner of BOM Advisers and part-time instructor in the SAEM program, worked at the show by assisting the box office manager and staff with field seating preparation, customer resolutions and mobile ticketing.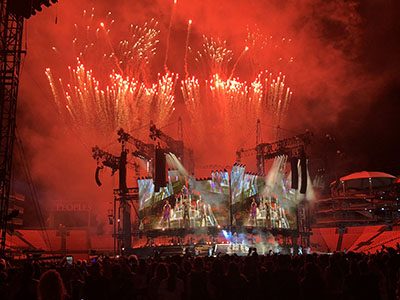 "I love seeing our students out in the field at these events putting to use what they learn in the classroom. This was definitely the largest and most high-profile show of the summer here in Pittsburgh. Students and alumni who worked at this concert should be proud of their part in it," said Varnish, who teaches the Box Office Management class in the SAEM program.
SAEM Associate Professor Ed Traversari, MBA, added: "When an artist as popular as Taylor Swift who has a concert production that is one of the largest in the touring industry comes to Pittsburgh, it's an incredible opportunity for our students to work the show in many different capacities. This is what we try to offer our students for all the concerts in Pittsburgh. It makes what we teach in the classroom come to life in a real-world experience."
According to Richey, his classes in entertainment management have greatly enhanced his understanding of the music business.
"I have also been able to meet and connect with many professionals both through class and my experience with Pioneer Records," Richey said.
Fowkes added: "Point Park is so awesome in the connections they give you and how everyone always wants to help you get to your next goal. I have never been surrounded by a better community and support system than Point Park. I am confident that the University will do everything they can to help me get to where I want to be."
Learn More
Point Park University Rowland School of Business students and alumni have worked at many concerts, events and shows in Pittsburgh within the past couple of years, including those listed below.
Read about their experiences:
More About: Montour High School, Heinz Field, Rowland School of Business, Downtown Pittsburgh, sports, arts and entertainment management