more news
Warner Music Nashville President & CEO Talks Candidly With Students About His Rise to the Top
Monday, November 27, 2017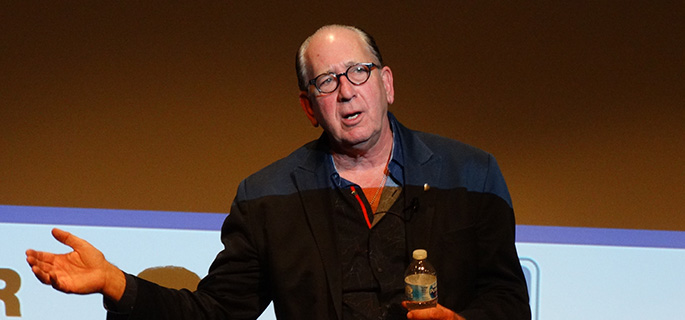 John Esposito — Warner Music Nashville's president and CEO — spoke to Point Park University students, alumni, faculty, staff and local musicians Nov. 16 about the music business and his path to overseeing one of the largest record labels in the entertainment industry.
The on-campus event was hosted by Pioneer Records, the University's student-run record label, and the sports, arts and entertainment management department.
"It was such a thrill for us to have John speak to our students. His experience and wisdom in the entertainment industry is second to none," said Ed Traversari, M.B.A., SAEM associate professor.
At the event, Esposito talked candidly about the importance of being decisive and out-hustling everyone to achieve your dreams.
"That is the key to how I became head of a record label," he said.

Originally from Western Pennsylvania (Punxsutawney), Esposito is an accomplished drummer and guitarist and a passionate Pittsburgh sports fan.
"I was lucky to be one of the students who met John in Nashville during a Pollstar conference trip. Ed set up the meeting and we got to visit John's office and have a conversation with him. He is such an incredible inspiration," explained 2015 SAEM alumna Madison Lescallette, box office/ticketing specialist for BOM Advisers.
"I firmly believe that the knowledge and personal connections I made at Point Park, and especially through the SAEM department, have been instrumental in the success I have had thus far, and will continue to help me throughout my career," Lescallette added.
Hear More From Students and Faculty
"I am interested in pursuing a career in the music industry, and John Esposito is at the top in this field. It was a big deal to have him speak at Point Park, and I knew I needed to hear what he had to say. Point Park has an incredible program that provides student with great opportunities. I'm only a freshman and I've already had five volunteer opportunities in the music field to help me gain experience and get my name out there." - Grace Offerdahl, freshman SAEM major
"John shared his music business perspective that reinforced the importance of knowing the business and understanding the consumer - and adapting to each as they continually change. He also reinforced repeatedly the importance of hustle for both bands and aspiring music business professionals." — Paige Beal, M.B.A., assistant professor and chair of the SAEM department
"I decided to hear John speak because I want to work for a label and have always wondered what paths it takes to be in a position of his caliber. I learned that no matter what you choose to do in life, tell yourself you can do and you will achieve it." — Molly Knepper, SAEM junior
"I was impressed with John's focus and the confidence he had in his own ability. He knew what he wanted to do and was resourceful in attaining that goal. I also thought his ability to explain situations in a business that has its own vernacular was very effective. Most importantly, John's ability to communicate life lessons, plainly spoken, was very inspirational to the students." — Mark Fritzges, SAEM part-time instructor and vice president of promotion for Atlantic Records
"Music is something I'm extremely passionate about. I've been writing songs since I was 12. I knew hearing John speak would give me an inside look into the music industry. After the event, I introduced myself to him. I am extremely grateful to go to Point Park because of the amazing opportunities we get to network with industry leaders." — Bryana Appley, freshman SAEM major
"It was so refreshing to hear a record label executive talk about building the foundation of an artist's career around their music, which is ultimately the most important ingredient. John's passion for the music business grew from his roots as a musician, and I found this inspiring. He was candid about the hard work and hustle that's required for success in the business, and I hope that resonated with the students." — Melinda Colaizzi, SAEM part-time instructor, performer/professional musician and founder/consultant of Pitch Consulting
Photos by David Rowell, M.F.A., SAEM assistant professor, and Brandy Richey, junior multimedia major
More About: student workshop, Pittsburgh, Rowland School of Business, Pioneer Records, sports, arts and entertainment management