more news
2017 Alumna Caite Miller Plans Events for Pittsburgh Magazine
Alumni Profile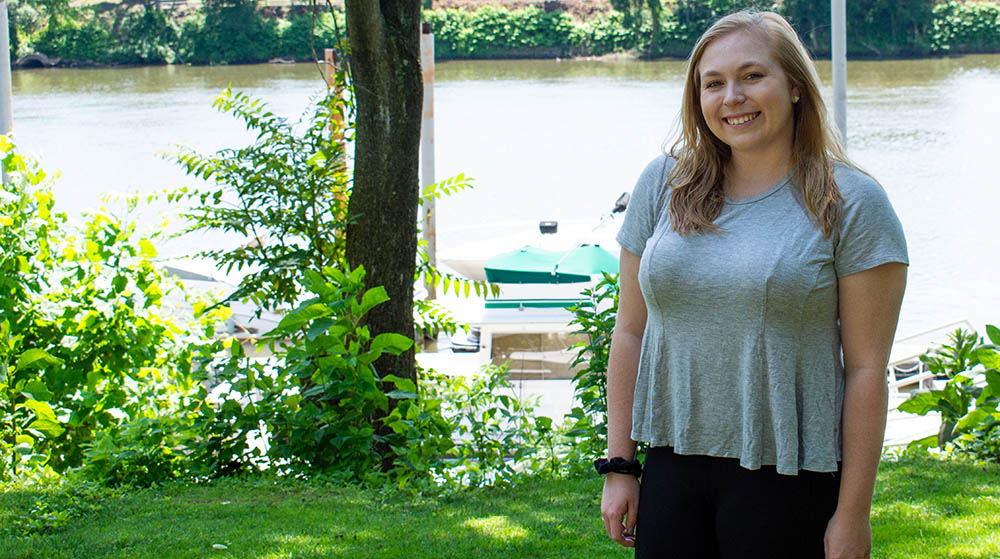 Meet Caite Miller
Job Title & Employer

Events Coordinator, Pittsburgh Magazine

Major

Public Relations & Advertising

Graduation

May 2017

College Activities

PRSSA/AdFed, work study with Conference and Event Services

Scholarships

Founders and Pittsburgh Promise

Hometown

Pittsburgh, Pa.

High School

Pittsburgh CAPA

Now Living In

Pittsburgh, Pa.

Hobbies & Interests

Dance, baking, crocheting and crafting
"I loved Point Park so much that I would go back and do it all over again. I loved the campus, the city, my professors and the students."
Caite Miller
How did you land your job?
This is one of my favorite questions to answer when people ask me about my new job. Since high school, I volunteered with my former dance teacher Casey Mahaven, of Mahaven Events. Throughout college and after graduation, I continued to work with her on several events she does with Pittsburgh Magazine, such as Ultimate House, Best Restaurants Party and 40 Under 40; this is how I met a majority of the Pittsburgh Magazine staff. The staff got to know me as a hard worker and someone who loved working their events. It wasn't until fall of 2017 that I was invited for an interview for their new marketing team. The next thing I knew I was starting my job as Pittsburgh Magazine's event coordinator.
Tell us about the work you do.
I am all events, all the time. I plan all of the logistics for our events. I do everything from helping to book the venue, inviting guests and hiring a photographer. Our marketing team is responsible for promoting events in the magazine, online and on social media. As a team, we create the language and the look/feel we want our event to have before we begin promoting it. Our roles are constantly overlapping, which makes us really all work together as a team.
In what ways did your Point Park experience prepare you for your career?
I learned a lot at Point Park. One thing that Point Park prepared me for was working in the real world (this sounds cliché, but it's true). Most of the work I did in college was for a real client or turned into an event or project. Point Park also offered so many great workshops, guest speakers and networking opportunities for me as a student that I felt confident when it was time for me to branch out on my own after graduation.
What was it like returning to campus — less than a year after graduating — to speak to students about a career in special event planning?
Weird, very weird. I was sitting in those seats less than a year ago praying to be where I am today. I was the student trying to take every little piece of advice I got from a guest speaker and apply it to my life. While I was speaking to the students I was just sitting next to in class a year ago, I wanted to inspire them, to show that that their dreams really are possible and that their hard work can pay off in the end.
What are your favorite Point Park memories?
Honestly, everything. I loved Point Park so much that I would go back and do it all over again. I loved the campus, the city, my professors and the students. If I had to choose my favorite memory, it's my trip to Iceland and Ireland with the International Media class. I took this trip after graduating and it was one of the best decisions I made. I got to enjoy these two beautiful places and I learned so much about their media compared to ours. What I didn't know was how much that experience would prepare me for my future job with Pittsburgh Magazine.
Final thoughts?
Point Park will always hold a special place in my heart and be my home away from home. This is where I met some of my best friends and where I made memories to last a lifetime. I am proud to say that I am a Point Park University alumni.
Lead photo by Brandy Richey, junior multimedia major.
Secondary photo by Nick Koehler, sophmore photojournalism major.


More About: AdFed/PRSSA, alumni, Pittsburgh CAPA, School of Communication, Pittsburgh Promise, scholarships, success story, public relations and advertising