more news
Broadcast Reporting Major Josh Croup Wins Mid-Atlantic Emmy
Tuesday, September 12, 2017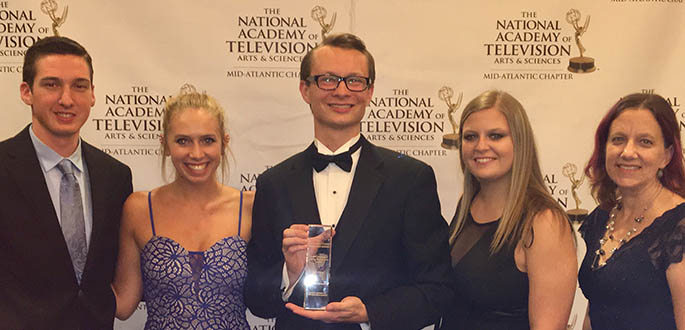 Point Park students Michael Turk, Sara Mackulin, Josh Croup, Allison Schubert and Associate Professor Robin Cecala

Josh Croup, a senior broadcast reporting major at Point Park University, won a Mid-Atlantic Emmy Award in the College/University Student Production-Talent category at the National Academy of Television Arts and Sciences awards ceremony, Sept. 9, in Hershey, Pa.
Croup is the news/sports director for U-View, Point Park's student-run television station. In January, he traveled with a group of Point Park's School of Communication students to Washington, D.C., to cover the inauguration of President Donald J. Trump. His work in Washington was among the clips he submitted for Emmy consideration.
"This is the biggest honor of my young career, and it's one that so many people deserve to share with me at Point Park University," Croup said. "I was extremely grateful to be nominated and was honestly just happy to be in Hershey at the awards ceremony alongside my friends from U-View. I would not be there without them."
Gina Catanzarite, a nine-time Emmy winner and a part-time professor at Point Park, inspired Croup to enter in the on-air talent category, one of the most competitive categories under College/University Student Production.
"She thought I had a chance," Croup said. "I tried to show off my versatility in the entry, which includes field reporting, anchoring, interviewing and sports play-by-play."
Since his freshman year, Croup has taken four classes at Point Park with Catanzarite.
"It's been great to see him develop as a journalist over the years, but it was clear from day one that Josh had not only had a natural aptitude but also a genuine passion for his career," she said. "We're fortunate to have him at Point Park, and the broadcast industry is fortunate to have such a talented journalist ready to enter its ranks."
More About: broadcast reporting, School of Communication, U-View, student competition, faculty, Butler Area High School