more news
Pioneer Careers: Caroline Collins '15 '19, FOX 26 Houston Anchor
Alumni Profile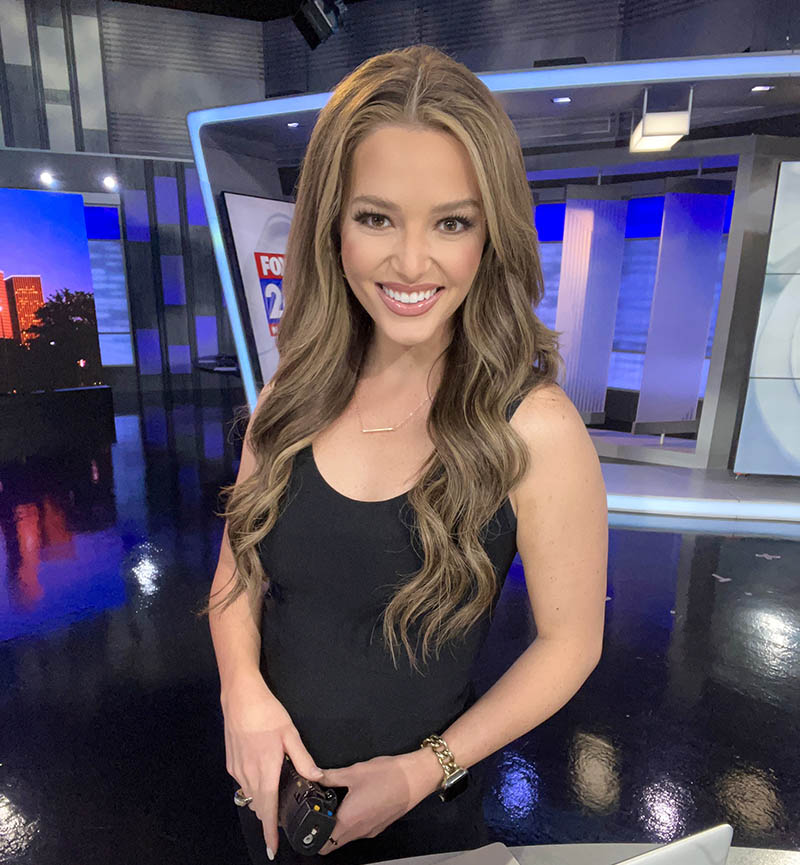 Meet Caroline Collins '15 '19
Job Title & Employer

Anchor, FOX 26 Houston

Majors

Broadcast Reporting, Communication Technology-M.A.

College Activities

Women's golf team, U-View

Hometown

West Middlesex, Pa.

High School

Kennedy Catholic High School

Now Living In

Houston, Texas

Hobbies & Interests

Golfing, Pilates, cycling, food, volunteering, traveling and attending sporting events
"I learned that being authentic, staying up-to-date on the ever-changing platforms and consistency was key in building and maintaining an engaged following. I owe a lot of my social media success to all that I learned in graduate school at Point Park University."
Caroline Collins '15 '19
Pioneer Careers is a new storytelling series by Point Park University that offers an inside look at distinguished alumni's exciting careers. Explore the story and TikTok below to learn what it's like to work in broadcasting and social media with Caroline Collins.
---
You have 1.6 million followers on TikTok and a strong social media presence. What has prepared you to manage these channels and stay on the cusp of what's trending in social media?
I learned in graduate school at Point Park University that consistency is key. Posting on social media every single day is also a requirement in my role as a news anchor. While I was getting my Master's in Communication Technology with a specialization in social media, I learned how to become a social media strategist and I applied all of my new skills to my own platforms.
What motivates you to create authentic content on social media?
Every single day I receive messages and emails from young women in high school or college who say I have inspired them to enter a career in broadcast journalism. I can't think of a better way to stay motivated than that! People stop me all over the country now and thank me for the content I create. I still can't believe it!
You recently joined the FOX 26 Houston team. Tell us more about your role, key responsibilities and goals as you begin this exciting chapter in your career.
I joined FOX 26 Houston (KRIV-TV) in December 2022. I'm a weekday evening news anchor. I anchor a combination of the 5 and 10 p.m. newscasts each night. I couldn't be more excited to be a part of this amazing team of experienced journalists in the seventh largest local news market in the country.
While my primary role is to anchor the newscast, I am still very much a reporter. Recently, I covered the tornadoes that devastated parts of southeast Houston. I was out in the neighborhoods hit the hardest and anchored portions of the newscasts from the damage. I also got to cover the 2023 Houston Rodeo, the largest rodeo in the world.
I realized the importance of social media in the broadcast journalism field when I got my first job as a general assignment reporter at WJET-TV in Erie, Pa. I can actually remember when Facebook Live was launched. I used it as a tool in news reporting and as a way for my audience to get to know me.
I had a Facebook Live video of me getting ready for a newscast perform really well in 2016. It's funny to think back to this because it was only the beginning. Now, millions of people follow me as I get ready for the news on TikTok. It's called GRWM, which stands for Get Ready With Me.
By 2017, I knew that a career in journalism meant staying on the forefront of social media and technology. My mom handed me a flyer that came in the mail from Point Park highlighting the M.A. in communication technology with a social media specialization (the program is now named M.A. in multimedia). I enrolled the next week. This was a huge wakeup call for me and eye-opening in many ways. I realized that social media and digital communication were the way of the future in broadcasting.
What are some of the most valuable lessons you learned in grad school?
I was taught how to optimize a brand on social media. I also realized everything that I was learning could be applied to my personal social media. I started to think of myself as the brand. I began implementing the social media strategies I was learning about in class and over time, with a lot of consistency, my Caroline On TV platforms exploded!
At Point Park, we learned a lot about knowing and targeting your audience. While I do share news on my platforms and use it as a tool to update my audience on what's happening, I recognize that they want to get to know the person delivering the news.
I learned that being authentic, staying up-to-date on the ever-changing platforms and consistency are key in building and maintaining an engaged following. I owe a lot of my social media success to all that I learned in graduate school at Point Park University.
What are your favorite Point Park memories?
I was on the women's golf team as an undergrad. I lived in the Boulevard Apartments with my teammate and very close friend, Chloe. I would often interview her and my teammates for my broadcasting assignments. I would take the camera and tripods all over campus and Downtown Pittsburgh shooting stories for our campus newscasts and classes. It was the best preparation for entering the broadcast journalism field. On-Camera Broadcasting was my favorite and most stressful class. We had to come camera-ready, all dressed up, and the pressure felt so real.
I loved my time as an intern at KDKA-TV. At that time, I worked as Susan Koeppen's intern and soaked up every tip. I also worked with the general assignment reporters in the field. It was like living a dream recording stand-ups with the KDKA microphone and learning from such an accomplished team.
I also made two hole-in-one's within two weeks of each other while I was a sophomore on the golf team! One of them happened in a conference championship, and I won a few tournaments.
What advice do you have for high school students considering a career in broadcasting?
The sky is the limit in broadcast journalism. It will take a lot of sacrifice, but you can go so far if you're willing to take the risk. It wasn't easy to leave my hometown viewing area of Youngstown, Ohio, where I was weekend anchor for nearly four years at 21 WFMJ. But, if I didn't pack up and move to California — where I was a weekday morning anchor for two years at KSEE 24 — my life would be entirely different.
All the sacrifices of moving far away from my close friends and family has lead me to where I am today. The opportunities I have as part of the FOX 26 Houston team are beyond what I ever expected!
So, I would tell people who are interested in this career to be fearless. Take a chance on yourself and a new city or state. Understand that you will have to work your way up, but once you're there, it's an incredible feeling. You may have to work the weekends, you may have to work crazy hours, but it's all worth it if you are passionate about what you're doing.
Become a great writer, get internships with local and even national news outlets, make connections in the industry and always dress for the job you want, not the job you have.
If you want to be an anchor, make sure to present yourself as an anchor. While I had to wear appropriate shoes and clothing when I was a multimedia journalist (MMJ), I made sure to always have an anchor dress ready to go if I had the chance to fill in.
Is there anything else you would like to add?
Journalism, social media and marketing are constantly changing. It's important to be adaptable and learn the new technology and platforms that become available.
If you are in broadcasting, say yes to every opportunity that comes your way, even if it means missing out on something fun. In the long run, your sacrifices will be worth it!
Connect with Caroline Collins '15 '19
More About: broadcast reporting, social media, journalism, M.A. in communication technology, success story, athletics, School of Communication, U-View, alumni