more news
Documentary Series Provides Communication Students with Professional Experience
Friday, March 28, 2014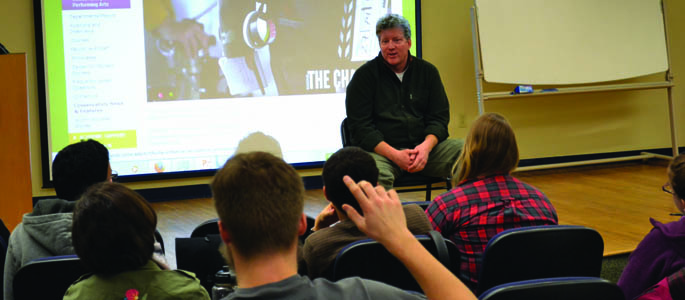 Veteran Hollywood producer Chris Moore speaks to School of Communication students in the JVH Auditorium.
School of Communication students are gaining professional experience working on an innovative entertainment project of national scope. "The Chair," a new documentary series produced in part by Point Park University, follows two directors as they compete to make the best feature film using the same script.
Executive Producer Chris Moore visited Associate Professor Heather Starr Fiedler's social media class this semester to discuss the role of social media in the entertainment industry. He challenged the class to generate the most innovative ideas that he and the other producers will consider and possibly execute on "The Chair's" social media.
"People like making stuff. Social media can help sell content while people are having fun making stuff," said Moore.
Following the meeting, the class began brainstorming several social media strategies.
"Our class has been spending a lot of time coming up with some creative ideas that 'The Chair' can use to promote the concept of the documentary series and also ideas to help promote the Point Park story within that," Starr Fiedler said.
The class plans to create social media editorial calendars that will provide a plan for "The Chair" to use once the documentary series is aired later this year.
In addition to the social media class, there are several School of Communication students working on the project.
Sarah Cunningham, a senior photojournalism major, is working as a photography intern with Blender, Inc., the integrated marketing firm assisting Point Park with publicity efforts on "The Chair." As part of her responsibilities, Cunningham regularly takes headshots, visits the sets to capture photos and attends events to take photos for marketing purposes.
"The skills I have acquired will absolutely be used in my career," Cunningham said. "This internship opportunity is beneficial for photography experience and is also helping to improve my communication skills."
Alex Perry, a junior journalism major, is a public relations intern at Blender, Inc. Perry coordinates alumni and student profile stories and supports general publicity projects related to "The Chair."
"I am gaining real-world experience by learning what it would be like to reach out to clients and participants in campaigns," Perry said. "Utilizing feedback and planning goals are all essential to me in developing my professional career."
Additionally, Abby Mathieu, a senior double majoring in public relations and advertising and journalism, is working as a part-time public relations assistant with Blender, Inc., where she takes the lead on writing stories for the web, assists in social media efforts and provides support for various public relations tactics.
"I have really enjoyed working with Blender this semester," Mathieu said. "It's been a great way to put some of the skills I have learned at my internships and Point Park classes to work."
Learn More
Follow "The Chair" project on social media: Facebook, Twitter and Instagram.
Media Inquiries
Contact Ramesh Santanam at rsantanam@pointpark.edu or 412-392-8106.
Text by Abigail Mathieu, a senior double majoring in journalism and public relations and advertising
Photo by Sarah Cunningham, a senior photojournalism major
More About: social media, journalism, internships, public relations and advertising, photojournalism, The Chair