more news
Globe Editorial Staff Takes Eight First Place Awards at Journalism Conference
Friday, April 12, 2013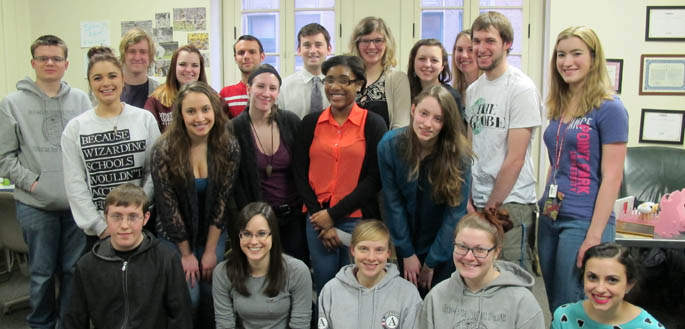 Globe staff members pictured above from left, back row: Alex Stumpf, Carl Bloss, Corinne Volosky, Connor Mulvaney, Pete Bridge, Kalea Hall, Emmiley Stern, Kim Roberts, Jon Andreassi and Alexandra Zegar. Center row: Kiersten Lewis, Dana Bohince, Celeste Begandy, Alicia Green and Sara Payne. Bottom row: Andrew Goldstein, Marina Weis, Kelly Cline, Jenni Bloodworth and Emily Bastaroli.
The Globe, Point Park University's independent student-managed newspaper, won 11 Mark of Excellence Awards at the Society of Professional Journalists Region 4 Spring Conference on April 6. The awards recognize outstanding student journalists. Staff members travelled to the University of Dayton with Aimee-Marie Dorsten, Ph.D., assistant professor of journalism and mass communication and adviser to The Globe.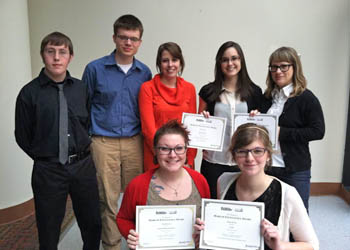 Staff members and Aimee-Marie Dorsten, Ph.D.
"The Globe won so many awards for writing, photography, editorial cartooning, as well as best all-around newspaper," said Dorsten. "When you consider the students won awards in one of the biggest regional competitions, it really showcases the talent and dedication of the editorial staff."
Kalea Hall, a senior majoring in journalism and multimedia, and current intern at the Pittsburgh Post-Gazette, served as editor-in-chief during the Fall 2012 semester and attended this year's conference.
"At the conference, we had the opportunity to converse with other students and professionals about issues we all face as journalists," she remarked. "Getting advice about our rights as student journalists, how to get internships and jobs, and how to cover certain topics enhances our education and gives us a different perspective from what we learn in the classroom."
Hall said that despite some obstacles, the staff members should be proud of their achievements.
"I watched last semester's staff, who were all mostly new to the paper, turn into a team that wanted to produce a better paper each week," she said. "Thank you to all of the faculty who taught and encouraged us in our efforts to produce a first-place paper."
Added Dorsten, "Clearly The Globe has been successful in recreating itself as a serious publication that prepares students to stand out in a competitive job market."
SPJ Region 4 includes parts of western Pennsylvania, Michigan, Ohio and West Virginia. First place winners will move on to the national competition held in August in California.
2012 Mark of Excellence Award Winners (small school, non-daily category)
First place
The Globe staff, "Best All-Around Non-Daily Student Newspaper"
Jennifer Bloodworth, broadcasting reporting major, "Editorial Cartooning"
Connor Mulvaney, photojournalism major, "Breaking News Photography and General News Photography"
Marina Weis, journalism and multimedia double major and current Editor-in-Chief, "Feature Writing"
Marina Weis and Connor Mulvaney, "General News Reporting"
Evan Skowvron, photojournalism and journalism double major, "Sports Photography"
Pete Bridge, journalism major, "Sports Writing"
Second place
Evan Skowvron, "Sports Photography"
Third place
Zachary Weiss, journalism and mass communication major,"Sports Writing"
Gregg Harrington, journalism and mass communication alumnus, "Feature Writing"