more news
International Media Class Visits Hearst Italia, la Repubblica, Rai Milan, Burson-Marstellar and More
Thursday, June 28, 2018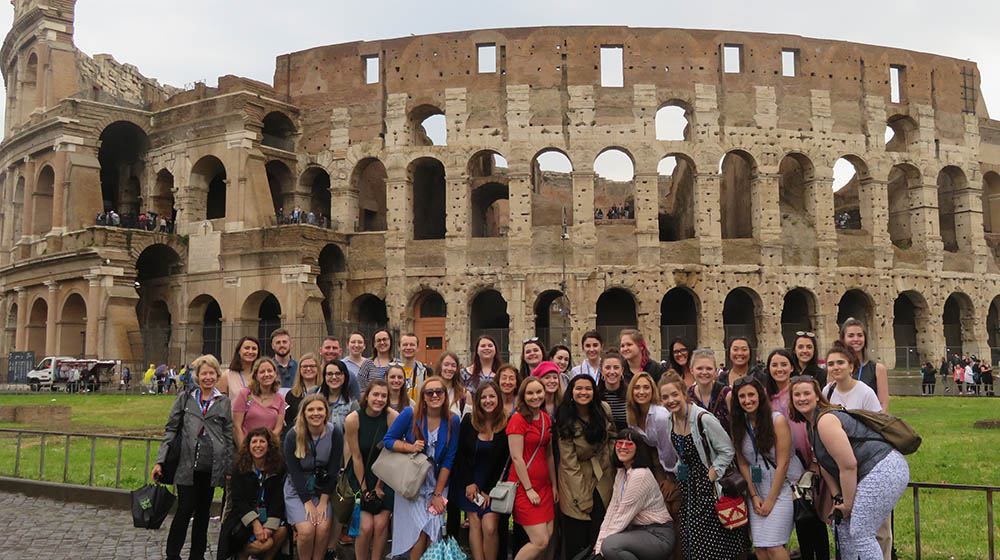 Point Park students and faculty outside of the Colosseum
Point Park University's International Media Class had an eye-opening experience exploring Italian media and culture during a two-week trip in May to Rome, Assisi, Florence, Venice and Milan.
"This class has been one of the best since we began teaching it in 2008," said Helen Fallon, M.A., professor of journalism and director of Point Park's Honors Program. "We had a great array and variety of guest speakers who prepared us for this journey, experienced something from every platform and saw amazing cities to grasp the diversity and beauty that is Italy." 
Twenty-six students took the class and made the journey. This year, a group of education students, led by Darlene Marnich, Ph.D., professor and chair, traveled with the class. They visited Italian educational sites and joined in the cultural visits.
Highlights included:
Opportunities abroad are made possible because of connections established by Point Park faculty. 
"It takes a village to make these trips successful," said Jan Getz, retired professor of broadcasting, who has helped to plan them since 2008. "Point Park is fortunate to have dedicated professors like Helen Fallon, Darlene Marnich, Bob O'Gara and Robin Cecala who go many extra miles so that students are able to have extra-enriching experiences." 
New this year, broadcast students enjoyed a dinner with Seth Doane (CBS News, Rome), Sylvia Poggioli (National Public Radio's senior international correspondent) and Jordan Foresi (SKY TV24, political reporter).
Learn more about the students' experiences by visiting the student-created website.
Experiencing Italy: In Their Own Words
"I learned so much about Italy, media and myself. What surprised me the most is that the culture is very different than that of the United States. I have been craving pasta since we left, and I cannot wait to visit Italy again to enjoy the delicious cuisine!" — Courtney List, senior public relations and advertising major who graduated from Serra Catholic High School in McKeesport, Pa. 
"The RAI TV and radio facilities tour in Milan was my favorite media visit. We've been learning about RAI all semester and it was cool to see its operations up close. RAI journalist Anna Vitaliani visited us in class while she was in Pittsburgh for a few months and reunited with us during our visit to her country. Everyone was so welcoming and hospitable." — Josh Croup, 2018 broadcast reporting alumnus who graduated from Butler High School in Butler, Pa.
"Absolutely everything we saw in Florence was incredible. There's so much history in the city, but it also feels modern. Seeing Michaelangelo's 'David' was one of the moments I really felt that I experienced something amazing. I also took a sunset Vespa tour through the Tuscan Hills with my friends on a free day." — Elizabeth Turnbull, a senior mass communication major who graduated from Norwin High School in North Huntingdon, Pa. 
"If ever given the chance to take this class, I would highly recommend it! Jan and Helen do such a wonderful job to make sure that the students get the most out of every experience. It's an adventure, and even if you think you may not know anyone who is going on the trip, you will leave with closer friends that you wished you had sooner." — Emma Federkeil, a junior broadcast production major who graduated from Knoch High School in Butler, Pa.
Italy Through the Eyes of Students and Faculty
Photos by Nicole Pampena, journalism major, and Jan Getz, retired professor of broadcasting
More About: education, faculty, Butler Area High School, Norwin High School, Serra Catholic High School, International media trip, study abroad, School of Communication