more news
Oyster Creative Co. is Home to Point Park University Alumni and a Professor
Thursday, March 17, 2022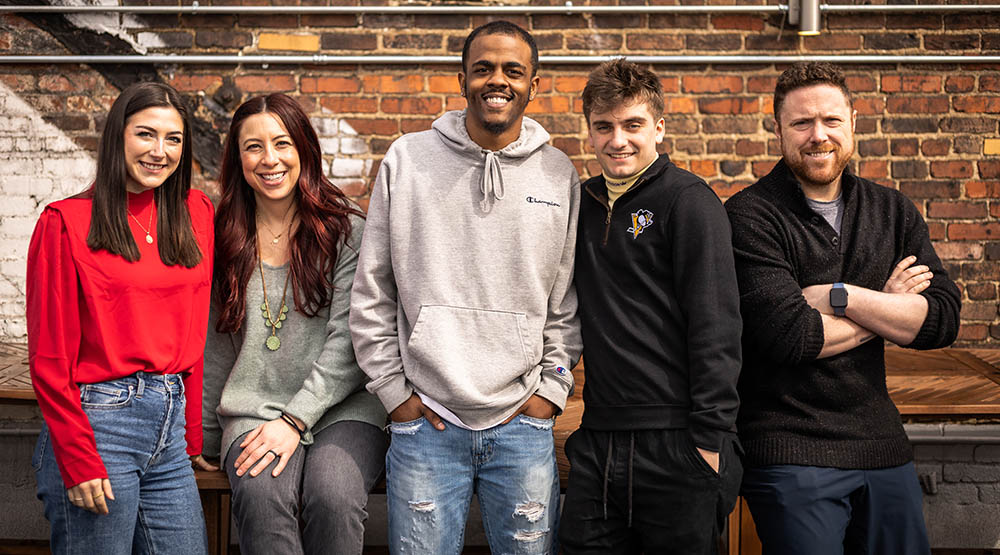 (L-R) Megan Clista, Jenna Lo Castro, Anton Johnson II, Gabe Sunderman and Dan Ayer. Photos by Nathaniel Holzer '22.
Three Point Park University School of Communication alumni and a professor are part of the team at Oyster Creative Co., a marketing agency in Pittsburgh.
"I am proud of the work we've been doing at Oyster and the tremendous relationship we've been able to cultivate with Point Park," said Jenna Lo Castro, Ph.D., assistant professor of public relations and advertising at Point Park and director of communications and strategy at Oyster. 
"My time at Point Park really helped to transform me into the professional I am today," said Anton Johnson II '21, PR and social media specialist at Oyster. "The professors want their students to succeed and they provided me with tools that helped me jump start my career after graduation."
In Their Own Words: Hear from the Oyster Creative Crew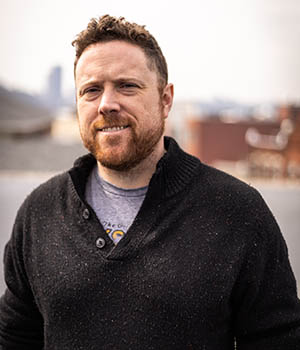 Dan Ayer, co-founder, writer, director
of PR & social 
media
What is Oyster Creative Co.?
We're a full-service marketing agency that's connected to a collective of strategists, artists, doers and builders who use every tool available to get you results. 
What led you to hire three Point Park alumni?
Megan, Anton and Gabe all were prepared to contribute from day one. They brought skills and understanding to Oyster, but were also able to adapt and learn. I think the combination of being ready to work right away, but still open to learning is so valuable.
Is there anything else you would like to add?
I'm so impressed with the School of Communication faculty. I've been in this industry, and they hustle and work to give their students opportunities to learn and succeed outside the classroom. They are truly the region's leading communication educators. Also, my mom, Pat Quolke, was a former part-time communications professor at Point Park. So my Point Park connections go way back!
---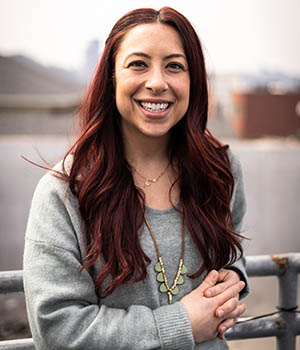 Jenna Lo Castro, assistant professor
and director of communications & strategy


What's it like working with Point Park alumni at Oyster?
Working with our alumni has been so refreshing. I love how they're eager and willing to learn. To me, what set them apart from other grads is that they're constantly working toward professional growth and looking for ways to improve their craft. There's this inherent drive in them and that is certainly evidenced in their work.
How do you incorporate your experience at Oyster into the classes you teach at Point Park?
My pedagogy is largely informed by the work I do at Oyster. I love how I can take a client project, process or scenario and share it with my students. Not only does it give them a deeper understanding of the ideas discussed in class, but it also gives them a first-hand account of those industry nuances that you don't find in a textbook.
Is there anything else you would like to add?
I am lucky to work with people like Dan Ayer and Jeff Barton who see and appreciate the value of higher education. Oyster is always looking for ways to contribute to student learning and growth. Just this past year, we became a sponsor of the PRSA Renaissance Awards' Bob O'Gara Student Scholarship, and we are currently accepting applications for our Big Idea summer internship — an opportunity aimed at creating a more diverse communications industry in Pittsburgh.
---
Megan Clista '20, manager of social 
media
How did Point Park's PR and advertising program prepare you for your role at Oyster?
In simple terms, I applied to my first position at Oyster (PR & social media specialist) because of Professor Lo Castro. She has an unwavering encouragement for all of her students. She prompted me to apply to the position, and her support as a professor, mentor, and, more often than not, a sound board for post-grad-life questions, got me through my first year full-time — especially during the pandemic. The connections I've made because of her have been endless.
What excites you the most about managing social media for Oyster?
Social media is not a natural skill set for me — it's a career path that pushes me out of my comfort zone and to be more creative and strategic every day. It's a position I've grown into and continue to grow into. In that way, everything I do on a daily basis is a surprise to me, and for that unexpected, unanticipated nature, I can't imagine doing anything else.
Is there anything else you would like to add?
My last semester at Point Park, I was a full-time student, working a full-time job, and each and every one of my professors were my biggest supporters to ensure I'd be successful in both. If you know me, you know I'm a type-A person with high expectations for myself. I wanted the 4.0 GPA, the run-to-the-next-meeting schedule, and to kick off my full-time career as soon as I could. Oyster took a chance on me, but Point Park made that possible for me.
---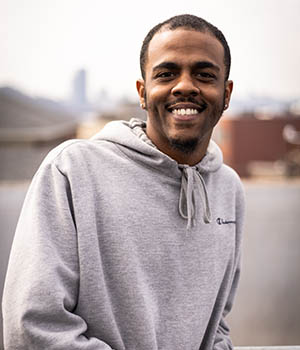 Anton Johnson II '21, PR & social 
media
specialist
As a recent Point Park graduate, what's it like working with alumni and a former professor at Oyster?
It's been awesome. I've known Gabe and Megan for a few years now, and I met Professor Lo Castro last summer, so it definitely eased some of my nerves. It was really comforting having so many familiar faces entering my first full-time job since graduating.
What are your key responsibilities as a PR and social media specialist?
Developing and executing strategies, performing public relations research and outreach and researching potential opportunities (events/media) for clients.
Is there anything else you would like to add?
I'm extremely proud of what I've accomplished since graduation. Even as a freshman, I was able to take advantage of opportunities provided by my professors. The amount of experience I gained as an undergrad allowed me to step outside of my comfort zone and grow professionally. I'm so blessed to work with an incredible and inspiring team at Oyster.
---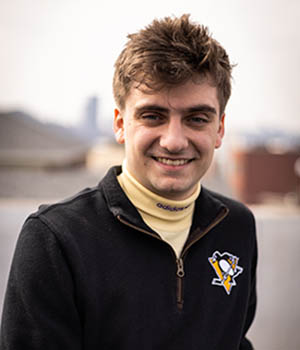 Gabe Sunderman '21,
media specialist
Highlight some of your favorite experiences as a multimedia major.
Some of my favorite experiences were the opportunities I had to see and experience the world of multimedia first-hand. Whether it was taking part in an actual news program video shoot, or having the opportunity to talk to a prominent figure in the multimedia industry, Point Park was the gateway for me to step into the world that I have always loved. Instead of watching from the sidelines, I was able to take the reins and do things for myself.
What steps did you take to secure a job at Oyster?
In early 2020 I applied and was accepted into the Oyster summer internship program, but we all know how things changed a few months later. Dan let me know that they had dissolved the internship for the summer, so I reached out to them about lending a hand with any work they needed. Throughout the summer of 2020, I continued working, and since then I've stuck with them through still uncertain times in the world of COVID. This experience has taught me the importance of reaching out for opportunities that you really want.
Is there anything else you would like to add?
Since classes were virtual for my senior year, some of the hands-on experiences I previously had just weren't possible through the school. Working at Oyster while finishing my degree gave me the opportunity to stay outwardly creative and have that hands-on work that I needed. I'm so glad things worked out as they did — it's been a fantastic growing experience.
More About: alumni, School of Communication, internships, faculty, success story, public relations and advertising, multimedia