more news
Pittsburgh Center for Sports Media and Marketing Welcomes Alumnus Miles Ritenour
Thursday, April 6, 2017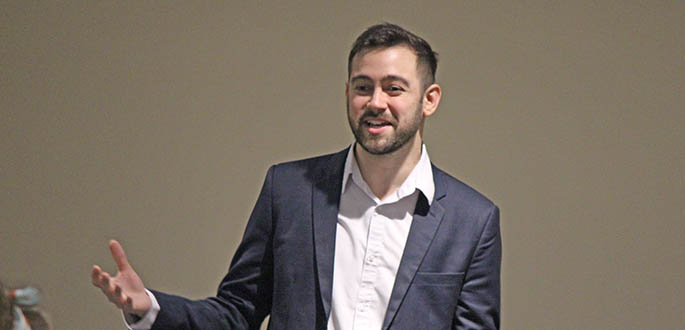 Miles Ritenour didn't take long to establish a solid career after graduating from Point Park University in 2010 with a B.A. in public relations and advertising.
He has quickly risen in the ranks in the marketing industry and currently works as the marketing communications manager at Anheuser-Busch in New York City. Since joining Anheuser-Busch in December 2016, he has overseen some of the largest marketing projects in the country including the Super Bowl, NBA All-Star events and the South by Southwest Music Festival.
Ritenour returned to campus March 28 for the final Pittsburgh Center for Sports Media and Marketing event of the spring semester. He stressed the importance of internships, discussed his work with some of the world's most recognizable brands and praised the students' decision to attend Point Park.
"You're obviously in a good place," Ritenour said. "You have a lot of good professors. They certainly know their stuff."

The Latrobe High School graduate has previously worked at Ketchum and WME-IMG. He has done work for several clients including Gillette, Kellogg's, Samsung and Dick's Sporting Goods.
Junior sports, arts and entertainment management major Brittany Bishop from Central Valley High School in Monaca, Pa., learned that there are more aspects to working in sports than with a team directly.
"It's nice to meet someone who was in your shoes not too long ago and who has become so successful in their industry," Bishop said. "It gives you hope."
Dani McSweeney, a junior SAEM major from South Fayette High School in McDonald, Pa., values the opportunities the Center for Sports Media and Marketing provides by bringing real-world professionals to campus.
"These people were in our shoes just a couple of years ago and now they're working in the industry in which we're trying to break into," McSweeney said. "It shows that it is possible to get into those positions."
Ritenour landed several internships while he was a student at Point Park. He interned with the Pittsburgh Penguins, Smith Brothers, Ketchum, the City of Pittsburgh Ethics Hearing Board, and was a stringer at the Pittsburgh Post-Gazette. He was also the sports editor of The Globe and involved with PRSSA.
John Mrozinski, a senior SAEM major from Central Catholic High School in Oakland, Pa., said the best advice Ritenour gave students was his strong emphasis on the importance of internships.
"Miles is a young, talented and energetic professional who proves that you can go far from Point Park," Mrozinski said.
Ritenour also encouraged students to chase as many opportunities as possible at Point Park. He started his college career wanting to be a television reporter and transitioned to print journalism before landing in advertising and public relations.
"It's okay to switch around and do different things here on campus," Ritenour said. "Those skills only help you. Just having a base knowledge of stuff is all you really need to get your foot in the door."
Story by Josh Croup, junior broadcast reporting major
Photo by Hailie Sandor, senior SAEM major
More About: success story, sports, arts and entertainment management, Central Catholic High School, internships, Center for Sports Media and Marketing, Pittsburgh Penguins, alumni, Rowland School of Business, School of Communication, South Fayette High School, public relations and advertising