more news
Public Relations and Advertising Major Wins Renaissance Scholarship from PRSA Pittsburgh
Tuesday, January 31, 2017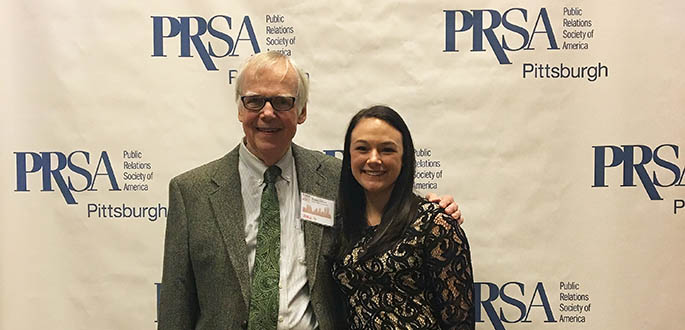 Lauren Joseph - a senior public relations and advertising major - received the Public Relations Society of America Pittsburgh Chapter's Renaissance/Bob O'Gara Scholarship at the PRSA Pittsburgh Awards Ceremony & Dinner, Jan. 26 at the Sheraton Station Square. She is pictured above with Point Park Professor Bob O'Gara.
Meet Lauren Joseph
Major: Public Relations and Advertising
Minor: Multimedia
Expected graduation: April 2017
Internships: Magee-Women's Research Institute, The Pittsburgh Downtown Partnership, Dickerson Creative Communications
Hometown: Scott Township, Pa.
High school: Chartiers Valley High School
Dream job: Founder and CEO of my own events firm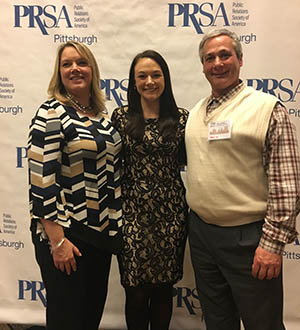 Lauren with her parents Connie and Chris Joseph
Why did you apply for this scholarship?
I applied for this scholarship because being recognized by PRSA Pittsburgh is an honor and could lead to potential networking opportunities. I am still searching for a job upon graduation so any personal exposure I can get helps!
What does receiving this scholarship mean to you?
Receiving this scholarship was such a humbling and exciting experience. Having the opportunity to speak in front of so many talented public relations professionals was amazing. I am so happy I was awarded this scholarship.
What was it like receiving this honor at the awards ceremony Jan. 26?
It was an incredible experience. So many great students applied for this scholarship and I am so honored to have been the one they chose.
How has your Point Park experience helped you to achieve your dreams?
Point Park has always pushed my classmates and me to gain experience outside of the classroom. I took full advantage of every networking event and internship opportunity that I could. Being able to apply what I have learned in the classroom to my work at my internships has helped me to grow in so many ways.
Final thoughts?
If I could give advice to students at Point Park, I would say to apply to every scholarship and internship that you can. You will be amazed at all that comes from it!
Learn More
School of Communication majors | Scholarships | Internships | Request information
Photo by Maggie McCauley, a senior double majoring in broadcast reporting and public relations and advertising
More About: scholarships, School of Communication, Chartiers Valley High School, AdFed/PRSSA, multimedia, faculty, public relations and advertising