more news
Student Spotlight: Meet Maggie McCauley, Pittsburgh Three Rivers Marathon Intern
Monday, April 11, 2016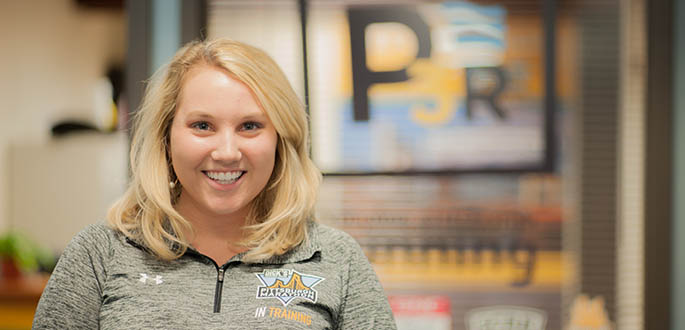 Meet Maggie McCauley
Internship: Sponsorship Intern, P3R, Inc.
Double majoring in: Broadcast Reporting and Public Relations and Advertising, May 2017
Hometown: New Bethlehem, Pa.
High school: Redbank Valley High School
College activities: PRSSA/AdFED, SAEM Club, Honors Program, Honors Student Organization, Orientation Leader, Point Park News Service, The Globe, WPPJ and U-View
Internships held: National Aviary (marketing), WQED Multimedia (broadcast production) and YPWE (communications and social media)
Hobbies/interests: Spinning, yoga, trying out new coffee shops, watching HGTV, helping to develop a social media picture sharing app, Thickit, and a contributing blogger to #412brunch with my roommates
Scholarships: Trustee and School of Communication
LinkedIn: Maggie McCauley
Twitter: @magmccauley
How did you land your internship at P3R, Inc.?
I volunteered with the Pittsburgh Marathon in 2015 after current employee and Point Park alumna Jenn Huffman (SAEM '14) reached out to me. My role was coordinating with sponsors and vendors at the finish line festival during marathon weekend. I loved being involved with the event, and asked about ways I could continue to be involved. That question led to an interview for my current position. I started with the P3R, Inc. in August.
What are your key responsibilities as an intern?
I coordinate with sponsors and vendors for our finish line festival, keep track of and help pick out our merchandise, research sponsor information, and do various projects including event planning and social media tracking.
What have you learned at this internship that will help you in your career?
I've learned a lot about the business side of communications and sponsorship, which are two things that I didn't have a lot of experience with before this opportunity. One thing that has made an impression on me is how important relationship building is and how keeping up with those connections is key.
Tell us about your Point Park experience.
I love that Point Park also provides me with professional experiences outside the classroom. I was able to attend the PRSSA National Conference in Atlanta last November. It was full of networking opportunities and professional development sessions. I also love that I have professors, like Camille Downing, who push me to work hard and encourage me to follow my dreams.
What factors led you to pursue your undergraduate degree at Point Park?
I wanted to go to a small urban school, so that professors would know my name and I would have opportunities easily accessible. I loved that I could start taking classes in my major right away, have professors who know the communications industry, and be surrounded by a small, driven and inspiring community.
What are your career goals?
My absolute dream job is to be a talk show host! I'm not sure what I want to do exactly, but I could see myself doing media relations, being a spokesperson for an organization, or a CEO of a company.
Is there anything else you would like to add?
Students should take advantage of the resources and departments that we have here on campus, such as Career Development and Alumni Relations. When you have a polished resume, interviewing skills, and a contact with an alum in your field, you're set to start building your professional presence and brand. Look up the people who are in your dream jobs or jobs you might enjoy. Reach out to them, ask to meet for coffee, and pick their brains. Finding those connections puts you on the right track.
More About: U-View, The Globe, WPPJ, internships, scholarships, broadcast reporting, Redbank Valley High School, Point Park News Service, AdFed/PRSSA, Honors Program, public relations and advertising, School of Communication