more news
School of Communication Undergraduate and Graduate Students Awarded Endowed Scholarships
Wednesday, August 31, 2022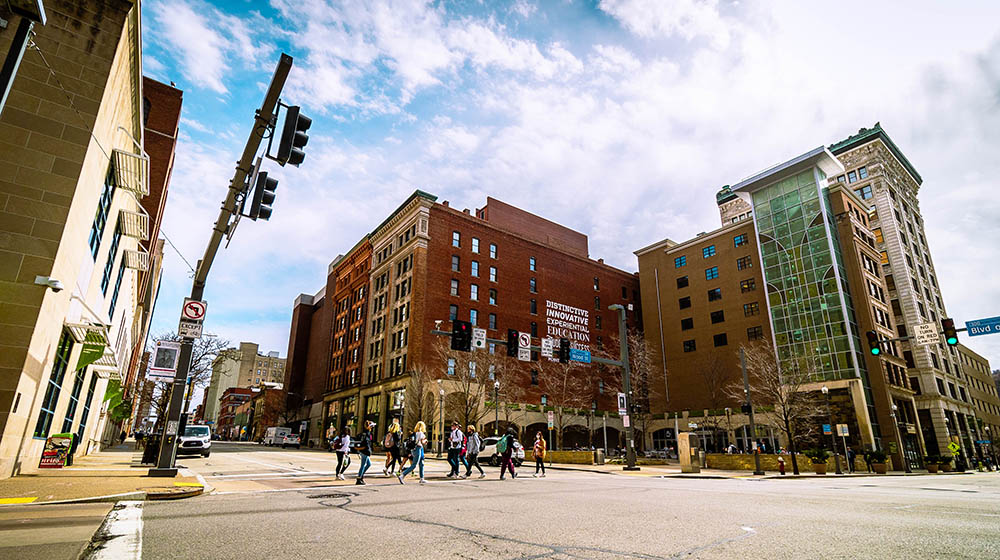 Point Park University undergraduate and graduate students were awarded endowed scholarships from the School of Communication for the 2022-23 academic year.
The scholarships recognize academic accomplishments, experience in student media and/or organizations, among other qualifications. Scholarship recipients include:
Myron Cope Scholarship: Zoe Vitelli and Natalea Hillen
Margy Snyder Memorial Scholarship: Alexa Shaulis and Erin Yudt
Pittsburgh Post-Gazette Scholarship: Erin Yudt
Andrew Bernhard Memorial Scholarship: Zoey Angelucci
Vincent J. LaBarbera Scholarship: Diana Navarrete
William J. Schmid Jr. Scholarship: Erin Yudt
William J. Thomas Scholarship: Erin Yudt
Kathleen Smith Graduate Student Scholarship: Lauren Suchy
In Their Own Words: Hear from Recipients


Major: Journalism '22
Minor: Public relations, advertising and social media
Hometown: New Castle, Pa.
High school: Shenango High School
Career goals: Communications position at a foundation or non-profit organization

"I chose Point Park because of their successful communication programs. I love going to school in Downtown Pittsburgh and have benefited from many internships and part-time jobs. As someone who has worked multiple jobs a semester in order to make enough money for school, receiving this scholarship has really helped. The scholarship will allow me to finish up my last semester without having to stress about the price of my classes as much. I'm extremely grateful."
---
Zoe Vitelli
Major: Broadcast production and media management '23
Minor: Multimedia
Hometown: Export, Pa.
High school: Penn-Trafford High School
Career goals: Produce my own TV show

"I chose the School of Communication because I was excited to gain hands-on experiences in my classes and begin at U-View my first week of school. Point Park's professors have so many connections in the communications field and they create a great environment for students to grow." 
---
Diana Navarrete
Major: PR, advertising and social media '23
Hometown: Tarentum, Pa.
High school: Deer Lakes High School and A.W. Beattie Career Center
Career goals: To work in PR and advertising to design and manage large projects

"I am blessed to have hardworking and supportive parents who have taken the burden to help pay for my college education. Few have this luxury. I am the first in my family to attend college, and now my brother's first year of college, this Fall 2022 semester, will be my last. Thanks to the Vincent LaBarbera scholarship, my parents only needed to pay for one tuition at Point Park instead of two this year. I thank God for giving me the courage to apply for a scholarship one last time before graduating and for Point Park's generosity in helping students like me." 
---
Major: Journalism '24
Minor: Psychology
Hometown: Sharpsville, Pa.
High school: Sharpsville Area High School
Career goals: Be a reporter for a TV station or print publication and travel the world

"I chose the School of Communication because I had heard of so many successful alumni, the media spaces are amazing, and the opportunities are great, like joining several media clubs and organizations, on-campus jobs and internships. Receiving these scholarships mean the absolute world to me, especially after this past year, as my dad unexpectedly was put on long-term disability. Any bit of help is appreciated, and to receive these scholarships from great donors is truly an honor."
---
Alexa Shaulis
Major: Broadcast production and media management '24
Minor: Graphic and interactive design
Hometown: Somerset, Pa.
High school: Somerset Area Senior High School
Career goals: To be a creative director for a TV station and do freelance graphic design/photography

"I chose Point Park because it gave me the opportunity to get hands-on experiences to make and create a variety of projects through student media like U-View and WPPJ. Receiving this scholarship means that I have the opportunity to continue to learn and grow my abilities. Coming to Point Park has helped me learn what I am passionate about and has helped me develop skills to achieve my goals."
---
Natalea Hillen
Major: Broadcasting '24
Minor: Marketing and Sales
Hometown: McMurray, Pa.
High school: Peters Township High School
Career goals: To be an on-air TV reporter/anchor/host in the sports or entertainment industry

"I chose Point Park because of the strong broadcasting program. Receiving the Myron Cope Scholarship means so much. I have always looked up to Myron Cope and continue to be involved in sports journalism at Point Park. It's truly an honor to receive this award."
---
Lauren Suchy
Major: MA/MBA in Media Communication '23
Hometown: Moon Township, Pa.
High school: Moon Area High School
Career goals: Continue to grow in my career as a PR professional and eventually return to education as a part-time professor in my field

"I completed my undergrad at Point Park so I already knew the incredible network of professionals I would have at my fingertips if I returned for grad school. I also liked the fact that they offered a concurrent program, meaning I could get my MBA while also furthering my education in the field of PR. In the short time that I've been back, I have been rewarded tenfold via networking, career and learning opportunities. I'm returning to school on my own volition and my own dime. Being awarded this scholarship was not only a financial boost, but also a bit of validation in my decision to further my education. I'm honored to have even been considered for this particular scholarship."
Learn More
Admissions & Financial Aid| Academics | Visit Campus 
More About: Peters Township High School, broadcast reporting, journalism, M.A./M.B.A., Sharpsville Area High School, Penn-Trafford High School, Somerset Area High School, scholarships, Moon Area High School, multimedia, School of Communication, public relations and advertising