more news
Student Media Outlets Interview Attorney General Candidates at On-Campus Debate
Thursday, November 3, 2016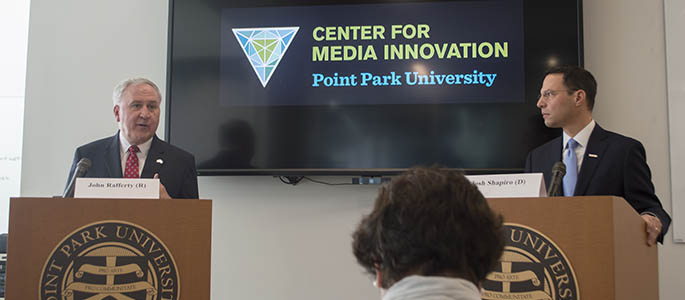 (L-R) Candidates for Pennsylvania Attorney General Republican John Rafferty and Democrat Josh Shapiro
Candidates for Pennsylvania Attorney General debated their priorities, concerns and plans for the office at Point Park University's Center for Media Innovation Nov. 2.
Photo Gallery
---
Learn More
"You only get to cover an election once in college, so for the candidates to come right to us on campus was awesome," said Josh Croup, a junior broadcast reporting major who was reporting for U-View, Point Park's television station.
During the hour-long heated debate between Democrat Josh Shapiro and Republican John Rafferty, moderator Jon Delano, money and politics editor at KDKA-TV, pressed the candidates on a variety of topics, including:
The most important role of the State Attorney General;
How they plan to avoid/prevent any kind of scandal from happening again in the office;
To what extent this office is a prosecutorial office with respect to criminal matters and to what extent is it a consumer protection office;
The issue of racial disparity in the enforcement of justice in the state of Pennsylvania; and
The opioid crisis in Pennsylvania and what they will do to alleviate a crisis that affects all parts of our society.
"It was an incredible experience to meet the candidates in person and photograph this live event on campus," said Shayna Mendez, a senior photojournalism major and apprentice for Point Park's Enrollment Marketing Department.
Following the debate, the candidates met one-on-one with Point Park student media.
"I'm incredibly thankful that Point Park arranged the time for the student media to interview both candidates, and especially grateful to both of the candidates," said Alexander Popichak, a sophomore broadcast reporting major, representing WPPJ, Point Park's radio station.
Photos by Shayna Mendez, a senior photojournalism major
More About: photography, broadcast reporting, U-View, WPPJ, KDKA, photojournalism, Center for Media Innovation, The Globe