more news
2015 Cinema Production Grad Interns at Cannes Film Festival, Makes Industry Connections
Friday, June 5, 2015


Meet Lexx Truss
Degree earned at Point Park: B.A. in Cinema Production, 2015
Born in: Tucson, Ariz.
Hometown: Greensboro, N.C.
High school: The Middle College at Guilford Technical Community College of High Point
Currently living in: Pittsburgh, Pa.
Hobbies/interests: Traveling, international experiences, nonprofits, social issues and mentorship
Twitter: @TrussLexx

"After these four years at Point Park, I am glad that it is now part of my story."
-- Lexx Truss

---
Related Links
What inspired you to become a filmmaker?
It was pretty much the only thing I truly desired to be. At a young age, I was introduced to the potential the art of film has to provoke emotions, inspire audiences and poetically influence social change. Pursuing my goal to become a filmmaker was more of a call to action. I felt as if it was my purpose to create and lead through that platform. With my mother's ongoing encouragement and my active interests, it was a natural process.
Why did you choose Point Park?
Growing up, I naturally wanted to attend film school in California but by the time I was in eleventh grade, I wanted to go a different route and stay in North Carolina to attend University of North Carolina Wilmington's film studies program. Due to challenging circumstances with my admissions process, I began to consider other options out of state and came across Point Park online. Even though by the end of my senior year I ended up being accepted by both schools, Point Park ultimately replaced UNCW as my top choice. I was simply compelled by the fact that the curriculum contained production courses throughout all four years rather than just offering film studies classes.
Who did you intern for at the Cannes Film Festival?
Exactly a week after graduation, I traveled to France and attended the Cannes Film Festival through The Creative Mind Group's Internship Experience program. My internship assignment was with Meyers Media Group but I also worked two pop-up internships with Shoreline Entertainment and Independent Filmmaker Project. Meyers and Shoreline are production companies based in Los Angeles and IFP is in New York City. I ended up making strong connections through all of the internships and even earned a free membership with IFP that provides access to exclusive screenings and events for a year.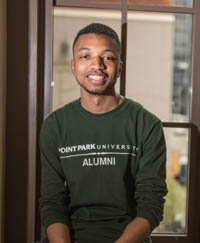 What's next for you?
This summer I'm working as a returning service camp staff member for the The Pittsburgh Project. Also, I'm in post-production of an independent television pilot entitled Schema, which I created during my senior year at Point Park with acting majors Neiman and Aaron Outlen. Once completed, we will submit the project to film and television festivals in independent pilot competitions.
In August, I will return to Raleigh, N.C., to work toward relocating to Los Angeles by December based on the connections I have made at Cannes and the Toronto International Film Festival last fall. I plan to take advantage of the connections and opportunities I have been exposed to and continue to build my career as an independent filmmaker. Also, I am still recruiting for Creative Minds and currently helping potential participants to apply for and attend future programs.
Anything else you'd like to add?
Several years ago I would not have expected my journey to lead to Pittsburgh at all. After these four years at Point Park, I am glad that it is now part of my story.
More about Lexx:
More About: acting, alumni, internships