more news
Highlights from the 2018 National High School Dance Festival at Point Park University
Tuesday, March 13, 2018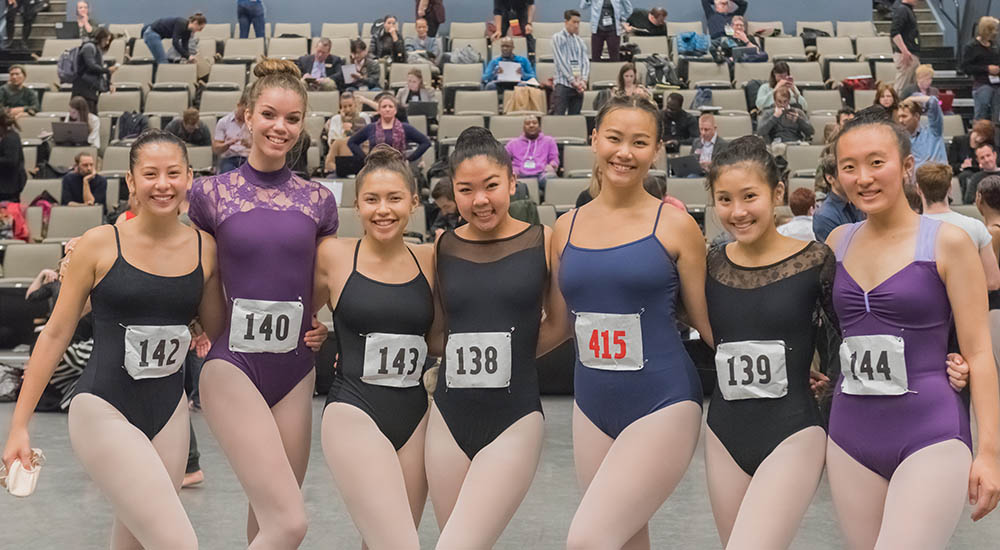 Point Park University's Conservatory of Performing Arts hosted 1,300 young artists from Australia, Canada, Taiwan and across the United States for the National High School Dance Festival Feb. 28 - March 4, 2018.
"The festival has gained an outstanding reputation for embracing and perpetuating the highest standard for the quality in dance education in high schools across the nation," said Kathryn Kearns, Ed.D., festival founder/executive director. "I want to thank Point Park University for hosting this amazing festival for the second time in a row."
"We were thrilled to once again welcome hundreds of energetic and eager students to campus to experience all things Point Park and Downtown Pittsburgh," said Krista Kay, Point Park's NHSDF coordinator. 
2018 festival highlights included:
Opening ceremony at the Byham Theater featuring Jessica Lang Dance, a New York City based dance company.
Scholarship auditions for dance programs and summer intensives in front of prestigious schools from across the country.
More than 150 master classes l

ed by guest artists and choreographers in Point Park's state-of-the-art 

dance facilities.
Two master classes with Jessica Lang Dance.
Workshops about the college admissions process, careers in arts management, business management, marketing for dance and performing arts, as well as creating and managing a professional dance company.  
Closing ceremony at the Byham Theater where more than hundreds of scholarships were awarded to students.
Additionally, Garfield Lemonius, associate professor of dance at Point Park, received the Outstanding Service Award at the festival.
"I was humbled and incredibly honored to receive the Outstanding Service Award, the festival's highest honor," Lemonius said. "The festival provides an environment where high school students, faculty and colleagues in higher education from all over the world can gather to celebrate the next generation of dancers.  Point Park University understands the magnitude of hosting such an extraordinary event!"
In Their Own Words: Participant Feedback 
Mikayla Henrich-Wong – Mid-Pacific Institute, Honolulu, Hawaii
"It's such a long journey to get here, but coming to Point Park University is so much fun. It's exciting to meet dancers from all parts of the world and take classes with new teachers." 
Jacob Amey – Arts & Communication Magnet Academy, Beaverton, Ore.
"NHSDF is inspiring and an eye-opening experience! I had the chance to learn what dance is like in the real world and audition for actual companies."
Micah Patterson – Creekview High School, Carrollton, Texas
"I was more than challenged in all of my classes and this is an awesome festival. Pittsburgh is a busy city, but in a good way, and I really like it." 
Maddy Starr – Central Academy of Technology and Arts, Monroe, N.C.
"I had so much fun taking a variety of dance classes. The lectures were so beneficial and I feel like I am a step ahead for preparing for college and a career in dance."
Maureen Tigner-Morison, dance teacher – Victoria School of Performing and Visual Arts, Edmonton, Alberta, Canada
"We brought 14 students this year and just love the dance studios at Point Park. Our students enjoy the sense of community that surrounds the festival, meeting new friends and watching the performances."
Joshua Manculich, assistant professor of dance and Point Park alumnus – Sam Houston State University, Huntsville, Texas
"It's surreal to be back at Point Park to teach at NHSDF. The festival is in one of the best spaces and it's so exciting that people from all over the country are here."
Kathy Follensbee, teacher – Dr. Phillips High School, Orlando, Fla.
"It's so inspirational to watch these young dancers. My students and I were in tears watching Jessica Lang Dance Company perform at the opening ceremony. We've all been so inspired." 
Photo Galleries
March 1, 2018

March 2, 2018
Master Class Featuring Jessica Lang Dance 
March 3, 2018
March 4, 2018: Closing Ceremony 
Photos by Point Park University students Annie Brewer, Nick Koehler and Brandy Richey 
More About: guest artists, National High School Dance Festival, faculty, dance, Downtown Pittsburgh, master class, Conservatory of Performing Arts