more news
Conservatory Theatre Company and Alumna Gab Cody Collaborate on The Alchemists' Lab
Tuesday, February 11, 2014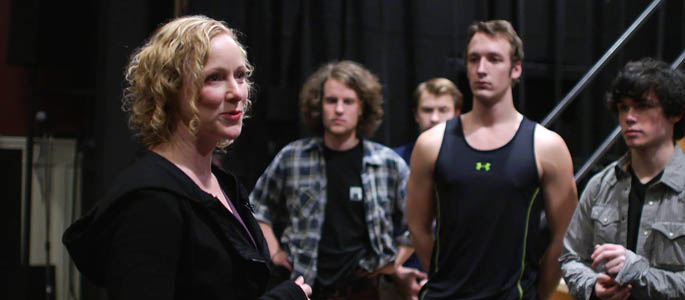 Gab Cody and Conservatory Theatre Company members during rehearsal. Check out more photos below.
M.F.A. in Acting Alumna Gab Cody ('11), a playwright and actress, returned to Point Park's campus during the fall 2013 semester to devise The Alchemists' Lab, in collaboration with the Conservatory Theatre Company. The play is a comedy about the trade of alchemy and the consequences associated with it.
Video: The Alchemists' Lab
---
Learn More
"I wanted to create something with the students, they are so talented," said Cody, who worked with the group to craft the play using the original characters in Ben Johnson's comedy, The Alchemist.
Alesia Knott, a senior musical theatre major, described the opportunity to create the script with fellow students as a collective effort.
"We did a series of workshops in which we improvised for several hours and created characters, scenarios and a cast. As the script was given and rehearsals began, Gab allowed us to improvise many lines and devise unwritten scenes," she said.
The show was filled with bogus medicines and wacky characters, and audience members remarked that the tone was "absurd" and "insane."
Though the director is normally in control of a show, Cody said she allowed the cast the freedom to humor the audience as they felt necessary.
"They continued to surprise and astonish me each night," she said.
"We all played a part in making this show a success," added Meleana Felton, a junior musical theatre major.
Click on photo to view images
In the News
Text by Annie Tomak, a freshman public relations and advertising student
More About: musical theatre, acting, alumni, Pittsburgh Playhouse, Conservatory Theatre Company