more news
Contemporary Choreographers Features Work by Alumnus Luke Murphy
Wednesday, December 10, 2014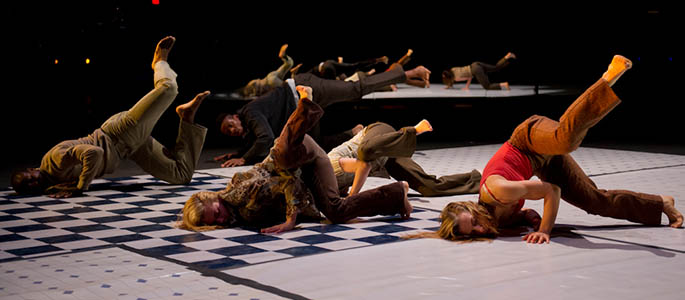 Students perform "This Room Was All Set For Us," choreographed by alumnus Luke Murphy.

Point Park University's Conservatory Dance Company continued its 2014-2015 season with Contemporary Choreographers, its annual performance that brings cutting-edge choreographers from around the country to Pittsburgh. Held Nov. 14-23 in the GRW Performance Studio, this year's show featured pieces by Ronen Koresh, David Morse, Troy Powell and Point Park alumnus Luke Murphy.
Murphy, a 2009 graduate, had a lot to share about his time as a student and how Point Park helped to prepare him for his future. Learn more in the Q&A below.
What was your role in Contemporary Choreographers?
I was asked to make a new work for the students for the Contemporary Choreographers concert. The piece "This Room Was All Set For Us," is roughly based on Jean-Paul Sartre's play No Exit. It's a work for six dancers and was made with a full group of fifteen. Each group approaches the work very differently and the two versions are slightly different as they capitalize on the chemistry of the dancers involved.
What was it like to be back at Point Park working on Contemporary Choreographers?
Coming back to Point Park has been a really brilliant experience. It still feels like only yesterday that I was a student here and it's been so invigorating to come back and share some of my experience with the dancers who are training here now. It was quite a quick process, so it was pretty intense physically, but the atmosphere in rehearsals hit at the kind of balance of focus and warmth which I think is crucial to being as efficient as possible. It's also been great to see so many faculty again.
What are some of the changes you've seen within the department since you went to school here?
It feels much bigger, the department had moved into the new building while I was a student but the top floor wasn't done yet so a lot of the older spaces were still in use. Being fully moved into the new dance facilities gives the program a kind of slickness. When I was a student moving from class-to-class it still felt a little like guerrilla warfare! I think there's a focus now on making sure students get a very broad palette of exposure to different things. That was definitely present when I was a student but I think more emphasis has been put on it now.
What's your key message to Point Park students?
Studying the art form and studying the field are different things. Make sure you do both. Watch dance, watch everything, even things you don't think you're interested in, you'll find out by watching. Study how the field works and what your options are. The professional world is both wide and varied and the more you educate yourself the more confident you'll be heading into it.
How did your Point Park training help you with your career path?
Well, I was really completely untrained before I came to Point Park, so without my training at Point Park I wouldn't have gone too far at all. I think I was lucky that during my time at Point Park I worked with some teachers that I really respected and connected with. That really created a set of values for how I approached the art form that to this day informs my ambitions, my choices and the overall direction of what I do. I'm afraid I don't think I can call dance a career as such, no matter what happens I'll never retire from dance, maybe from performing at some point or choreographing at another point, but never from the art form itself, I don't know if anyone ever can.
Photo Gallery
Text by Annie Tomak, a sophomore public relations and advertising student
More About: dance, success story, Conservatory Dance Company, Pittsburgh Playhouse