more news
Dance and Accounting Double Major Studies Abroad at American University of Rome
Thursday, June 18, 2015


Meet Julia Grubbs
Majors: Dance (with a concentration in Jazz) and Accounting
Expected graduation: May 2016
Hometown: Paducah, Ky.
High school: Heath High School
College Activities: Secretary of Dance Club, treasurer of Student Accounting Association, community outreach coordinator for the Honors Program and IMPULSE
Hobbies/Interests: Dance, traveling, skiing, yoga, exploring Pittsburgh and spending time with family and friends
Twitter: @jwgrubbs
LinkedIn: Julia Grubbs
"I definitely recommend the dance and accounting programs, both for the level of education and the personal attention I receive whenever I need it."
-- Julia Grubbs

---
Related Links
Why did you decide to study abroad at American University of Rome?

I always knew I wanted to see the world; I love hearing people's stories and how others live so different from me. After my freshman year at Point Park, I talked with a student who studied abroad in Rome, and after hearing all about it, I knew I had to go. The culture and the experience, not to mention the food, really appealed to me. I couldn't pass up this amazing opportunity. I knew I would probably never get to live in another country for four months with the ability to travel every weekend so now was the best time.
What factors made you choose Point Park and a double major in dance and accounting?
The dance department at Point Park is the main reason I chose the school. I wanted the opportunity to train with the best instructors in all disciplines, surrounded by some of the most talented dancers in the country. I also wanted a real college atmosphere. Point Park has definitely provided this for me, along with the rest of Pittsburgh. The University may be situated in the heart of the city, but I still feel like I'm on a college campus surrounded by other students.
I knew I wanted to double major and have always loved math. After taking an accounting class, I knew it fit my personality extremely well. Accounting is something I can do anywhere, regardless of where my dance career takes me.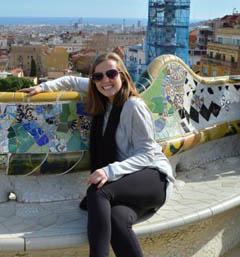 Tell us about the classes you took in Rome.
The majority of my classes were for my core requirements but I was able to tailor them so that I could see and experience what I was studying. I took Art of Rome, which was an on-site class that took us to the Colosseum, St. Peter's Basilica and so many other locations with incredible art. Additionally, I took a macroeconomics course and learned more about the global side of economics and the policies of European countries. Though not for credit, I also took a ballet class at a dance studio in Rome and was immersed in an unknown - the Italian language - along with my comfort zone, dance.
Why would you recommend Point Park's dance and accounting programs?
I found where I fit in at Point Park. I definitely recommend the accounting and dance programs, both for the level of education and the personal attention I receive whenever I need it.
The dance instructors are extremely knowledgeable and challenging, teaching students how to take care of their bodies and how to really study dance and the body, as well as to grow as a dancer and a person, as opposed to just going through the motions.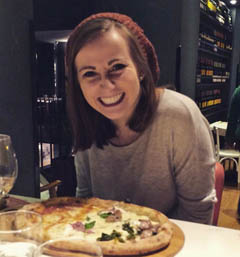 The accounting faculty have worked so well with my dance schedule, accommodating my needs as a double major. I receive personal attention and quality instruction that will be useful in my career.
What advice do you have for students who are considering studying abroad?
Studying abroad allows you to immerse yourself in something that is entirely different from how you grew up, and to learn more about the world around you - its past, its people and its beautiful landscapes. Learning and being immersed in another language opened my eyes to the possibilities of connecting with other people and how others communicate so differently than we do. I will probably never again have the opportunity to travel every weekend and visit the Eiffel Tower, the canals of Venice or Lake Bracchiano, a lake traveled to mostly by only locals. I have another home halfway across the world and there really are no words for that.
What are your career goals and how is Point Park helping you reach them?
Studying abroad has opened my eyes to new possibilities I can take with my career, leaving me with more options than ever. I want to dance professionally, either for a company or on Broadway, while also pursuing an accounting career and my C.P.A. licensure. Point Park has allowed me to follow both of my interests, and provided me with an amazing network of people to advance me in both tracks of my career goals.
More About: Conservatory of Performing Arts, dance, jazz