more news
Ghost Tales from Point Park University's Pittsburgh Playhouse
Friday, October 27, 2017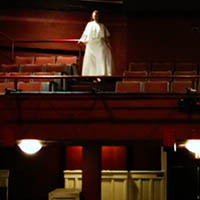 Legend has it that there's something strange inside Point Park University's Pittsburgh Playhouse - read on if you dare.
An invisible man and woman - also known as John Johns and The Lady in White - are rumored to have kept their spirits alive since they passed away in the Playhouse.
"One of the many ghosts who like to haunt this place is the Lady in White," said Kim Martin, producing director of the Pittsburgh Playhouse. "I've heard that at night she paces the balcony of the Rauh Theatre calling her dead husband's name."
John Johns had a heart attack on stage and later died in his dressing room.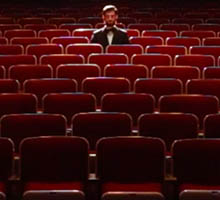 "He was an actor at the Playhouse," said James Dworek, technical director. "Some say you can see him in the seats dressed in a tuxedo."
Happy Halloween from Point Park University!
Spooktacular Stories
Learn More
Conservatory of Performing Arts | The New Pittsburgh Playhouse | Request Information | Visit Campus
More About: funeral service, Conservatory of Performing Arts, Pittsburgh Playhouse