more news
Hollywood Producers and Editors Attend 2018 Cinema Arts Showcase at Point Park
Tuesday, May 1, 2018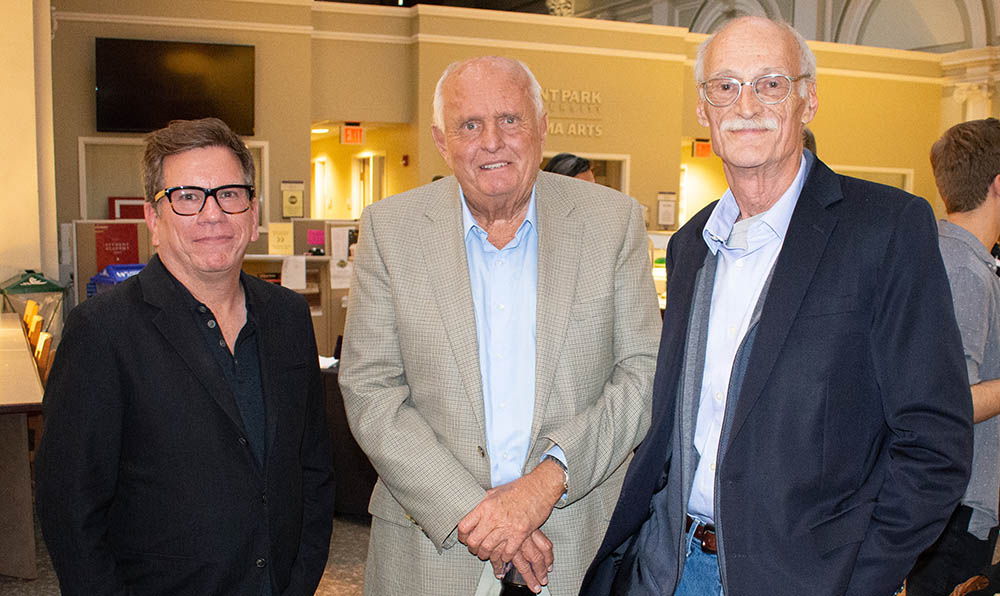 (L-R) Bob Ducsay, Gray Frederickson and Robert Miller in the University Center. More photos below.
Hollywood professionals critiqued students' work and met one-on-one with them at Point Park University's 2018 Cinema Arts Senior Showcase April 21-22, including:
Bob Ducsay – editor, Star Wars: The Last Jedi and Godzilla
Gray Frederickson – producer, The Godfather Part I, II and Apocalypse Now
Robert Miller – producer, The Crucible
"This was a great way to speak with a professional working in the field. Mr. Ducsay gave great insight — advising us to work hard, show enthusiasm and offered tips on how/where to get started," said Kelsey Myers, a cinema production major who graduated from Titusville High School in Titusville, Pa. 
At senior showcase, students had the opportunity to present their work during the thesis screenplay reading, animation showcase and Production 4 film screenings. The Hollywood guests participated in a Q&A and a reception with students, faculty and staff. 
Students' Perspectives 

Paige Staudt's Role in Showcase
"As a screenwriting major, I participated in Actors Read Writers. An excerpt from my original TV pilot, "Nightingales," was read aloud to the audience, and I was blessed to witness the fantastic work the actors did not only with my script, but with my fellow classmates' as well ... I've established my own voice in writing and learned keys to the trade, which I wouldn't have had outside of Point Park." More about Paige.

Zach Brown on Meeting the Professionals
"It was incredible to have industry professionals who have produced legendary work see our films and give us advice. One of the key things I took away is that you can have all the skills and talent, but if you don't collaborate well with others, then you won't find work ... This industry is all about who you know and being in the right place at the right time. Get out there, network and work hard." More about Zach.

Mina Hoffman's Point Park Experience
"Throughout my four years at Point Park, I was lucky to have the opportunity to hit the ground running. We were making films in our first year, and I was able to learn so much from that. By the time Production 4 rolled around, myself and my crew knew what to do. We were able to work quickly and efficiently to tell a meaningful story. I now have the skill set to confidently go out and make it happen!" More about Mina.

Taylor Dolniak on Collaboration
"One of the most rewarding aspects of being a cinema production student is being surrounded by a small and tight-knit community. Your classmates are just as hardworking and dedicated as you are, and it's an honor to have had the opportunity to collaborate with so many talented artists. I wouldn't want to be graduating with any other group of talented crew members and friends who have made this journey with me."

Advice from Kelsey Myers
"My advice to prospective cinema arts students is to come in and work hard. Every film/experience leads to more opportunities that can make you a better filmmaker, so take on as much as you can handle. The professors are a great resource, so be sure to build relationships with them. Most importantly, have fun and enjoy the process of filmmaking. In the end, we are making movies and it doesn't get much better than that." More about Kelsey.
Photo Gallery: Cinema Arts Showcase 
In the News
Photos by Brandy Richey, junior multimedia major
More About: guest artists, animation and visual effects, animation, screenwriting, Conservatory of Performing Arts, cinema arts, cinema production, cinema arts showcase