more news
Hundreds of Scholarships Awarded to High School Dancers at NHSDF Closing Ceremony
Sunday, March 6, 2016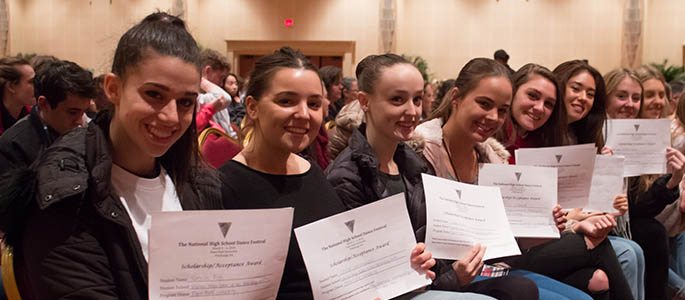 After three exhilarating days of dance classes, auditions, performances and making new friends from around the world, participants in the 2016 National High School Dance Festival gathered Sunday morning for the closing awards ceremony, where more than 300 students received scholarships to help them pursue their dreams of a career in dance.
"Thank you to the teachers, students, college representatives and the many departments at Point Park University who worked tirelessly to make this festival a success," said Garfield Lemonius, Point Park associate professor of dance, to open the awards ceremony at the Wyndham Grand Hotel in Downtown Pittsburgh.
During the ceremony, schools and dance programs from across the U.S. and abroad - including Point Park - awarded more than 300 scholarships to high school dancers who had auditioned for dance programs and summer intensives on the festival's first day.
"This has been a wonderful festival and the facilities at Point Park and in Pittsburgh are beautiful," said Kathryn Kearns, Ed.D., executive director and festival co-coordinator. "We thank you so much for coming and wish you safe travels."
What Participants are Saying About NHSDF at Point Park
More About: Downtown Pittsburgh, Conservatory of Performing Arts, National High School Dance Festival, international, dance