more news
Point Park University-Produced Series 'The Chair' to Premiere on Starz
Thursday, April 10, 2014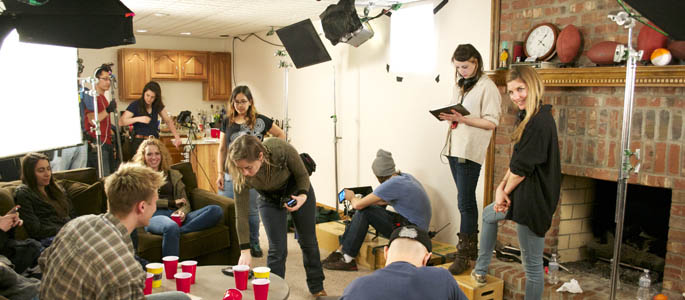 Filmmaker Anna Martemucci (far right) on the set of 'Hollidaysburg,' one of two films featured in the 'The Chair.'
The Point Park University-produced documentary series, "The Chair," will air this fall on Starz as the channel's first original unscripted series.
"Point Park is extremely excited that Starz will be distributing and airing 'The Chair.' It will be a terrific opportunity to see the University profiled, to see the ways the city was utilized for the films, and to see the efficient and hardworking crews in action," said Associate Professor Nelson Chipman.
The 10-episode series, filmed in Pittsburgh, follows two up-and-coming directors as they compete to make two separate feature films from the same script. "The Chair" will document the creation, marketing and theatrical release of both adaptations, which will also air on Starz. Both directors have the same budget and, through multiplatform voting, the audience will determine which director will be awarded $250,000.
More than 100 Point Park students and alumni from a variety of majors supported the TV series and two feature films as interns, employees and through class projects. Additionally, production offices were located on Point Park University's campus in Downtown Pittsburgh.
"Point Park University is proud to act as an economic driver and incubator for original works of entertainment that can help boost the local economy, while also giving students and alumni an outlet for developing the kind of experience they need to thrive in the real world," said Point Park President Paul Hennigan.
"The Chair" is produced by veteran Hollywood producer Chris Moore, and Pittsburgh native and renowned actor, Zachary Quinto, and his production company, Before the Door Pictures.
"Working in Pittsburgh with the support of Point Park University was an invaluable component in creating this show and these two films," said Josh Shader, who produced the two films.
"We are thrilled to be teaming up with Chris Moore on 'The Chair,' a truly unique and compelling project that gives viewers an inside look at the filmmaking process and allows them to weigh in on the final product and see how creative minds can interpret the same material in different ways," said Carmi Zlotnik, Starz managing director.
"The Chair" chronicles Los Angeles filmmakers Shane Dawson and Anna Martemucci as they make their feature films, also shot in Pittsburgh, from a script by Dan Schoffer. The film is a coming-of-age comedy about a group of former high school classmates who return home from college for Thanksgiving.
Follow "The Chair" project on social media: Facebook, Twitter and Instagram.
Point Park Features
In the News
Photo by Sarah Cunningham, a senior
photojournalism