more news
Stage Management, Technical Theatre/Design Students Receive Awards, Network at Conferences
Friday, April 12, 2013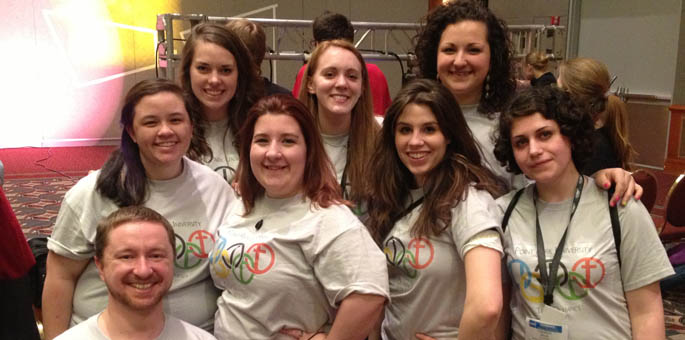 Point Park students and Aaron Bollinger, head of technical theatre, at the USITT Conference.

During the spring semester, several Conservatory of Performing Arts students were awarded the opportunity to attend annual theatre conventions and job fairs. The students who go are selected after a portfolio interview review conducted by Stephanie Mayer-Staley, associate professor and head of design, Aaron Bollinger, head of technical theatre, and Kim Martin, production manager at the Pittsburgh Playhouse.
This year, eight stage management and technical theatre/design majors travelled to Louisville, Ky., for the annual South Eastern Theatre Conference, March 6-10. Seven others attended the annual United States Institute for Theatre Technology Conference, March 20-23 in Milwaukee, Wis. Bollinger and adjunct theatre faculty member Andrew Ostrowski accompanied the groups.
---
Related links
Stage Management Program
Technical Theatre/Design Program
Conservatory Requirements
Request Information
"SETC is a great opportunity for our students to network, as well as find jobs," said Bollinger. "USITT is focused on providing workshops to keep professionals in tune with exciting innovations in the industry. Those attending see new equipment, talk to vendors and just like SETC, our students have the opportunity to network."
At both conferences, the groups participated for the first time in the stage management Olympics at SETC and the tech Olympics at USITT (competitions in events related to stage management). Seniors Lorely Dedrick, Heather Olcott and Nik Nemek placed first, second and third at SETC. Seniors Maria Bruno and Carissa Gilson earned a second and third place award at USITT.
"I took a number of workshops and classes at SETC ranging from new technology, dance and musical theatre," said Olcott. "I also interviewed with 16 different companies from all over the country."
Madison DeCoske, a senior stage management major, was one of the students at USITT who had the chance to interview with a big name company in the entertainment industry.
"Attending USITT was such an amazing experience because I interviewed for an internship position with Cirque du Soleil," she said.
Added Bollinger, "I'm so proud of all of the Point Park students that participated at both conferences. They returned to campus with new goals to achieve and it's just really a great thing to experience with them."