more news
Theatre Professor and Alumna Direct 'Heads' at The Pittsburgh Playhouse
Thursday, February 13, 2014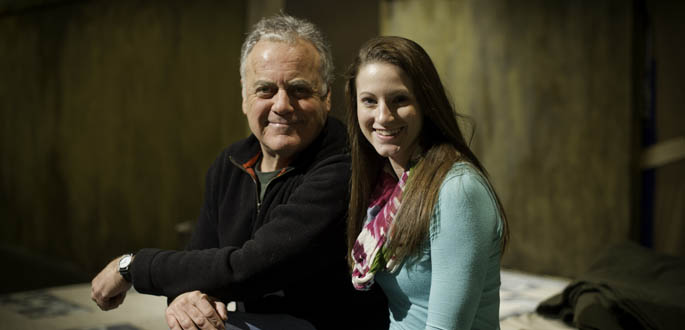 Professor John Shepard and alumna Kate Bodner on the set of Heads at the Pittsburgh Playhouse. View more photos.
Conservatory of Performing Arts Professor John Shepard teamed up with his former student, Kate Bodner (COPA 2013), to direct The REP's production of Heads at the Pittsburgh Playhouse, Jan. 31 - Feb. 16. The play portrays the internal and external struggles of four hostages in a war zone in Iraq.
"It was very rewarding to work with one of my former teachers and the actors. John gave me many pearls of wisdom as he directed, and I learned small acting techniques from watching each actor," Bodner said. "I was very fortunate to observe, understand and participate in his process of direction."
Shepard says he encourages his current or former students to work with him on his projects.
"It's the best way for a student who is interested in directing to get started. Kate asked if she could assist me on this show and I was happy to give her the chance," he said.
Bodner credits her Point Park experience and classroom instruction to help her get her start as a director.
"I took several directing classes at Point Park, and learned how to talk to actors and directors in a way that would best represent my views or opinions on a play. I felt very prepared in my script analysis to understand the subtext of the dialogue and action," Bodner said.
When asked her advice to a student interested in a career in theatre, Bodner encourages her peers to stay focused on their goal.
"It's difficult not to compare your career and accomplishments to other people, especially in a field that is so competitive. However, if you accept and love the path that you are following, and are always willing to fail better, you will be artistically fulfilled in the way you need and deserve," said Bodner. "Immerse yourself as much as possible into every aspect of your craft, but still maintain your individuality as a person."
The REP, the only professional theatre company of its kind housed within a university, gives rich artistic opportunity to faculty, students and alumni alike.
In the News
Text by Annie Tomak, a freshman public relations and advertising student
More About: faculty, The REP, alumni, Pittsburgh Playhouse, theatre